As the voice of Owners, the ROA are consistently promoting the impact and benefits of ownership whilst working to make ownership more rewarding.

Once again we will be hailing our popular "ROA Owner of the Day" for the Aintree Grand National Festival, which showcases an owner with a runner at the meeting. We are also proud sponsors of the Aintree Festival Leading Owner Award. Both initiatives will be championing Owners' successes and their contributions to the sport.
ROA Owner of the Day
ROA Owner of the day - Randox Grand National Day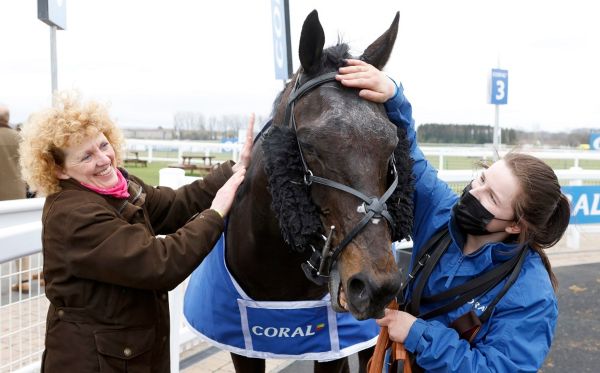 Today's (Saturday 9 April) ROA Owner of the Day accolade goes to Colin and Nicola Drysdale from St Andrews. They own Mighty Thunder, who runs in the Randox Grand National Handicap Chase (5.15pm), the most famous jumps contest in the world and, at £1 million, by far Britain's most valuable.
The Cheltenham Gold Cup might be Britain's most prestigious jump racing prize, but the pool of owners in with a realistic chance of winning it is pretty small.
That is not the case with the Grand National, even if modifications to the fences over the years have made the race less of a lottery than it once was. It's still a handicap when all is said and done, with the 40 runners all having the same theoretical chance of winning, at least in the judgement of handicapper Martin Greenwood.
The Aintree spectacular is also perhaps still the one contest above all others liable to get the pulse racing, and Colin Drysdale, who owns the Lucinda Russell-trained Mighty Thunder with wife Nicola under their Allson Sparkle company name, was certainly getting pumped up when speaking on Thursday afternoon.
He says: "I'm excited, nervous and trying to keep my lunch down! Everything seems to be building now. I've tried to keep it in the back of my mind for weeks, but it's becoming very real. I've just seen on Lucinda's FaceBook page Mighty being loaded onto the horsebox, so it doesn't half start the nerves jangling.
"The National has been a lifetime fascination for me. When I first met Lucinda she asked what I wanted to buy a racehorse for, what my ambition was, and I said, 'I want to win the National'. At that time Lucinda had not won the National, and she said, 'So do I'. It is going to be an excellent day, I can't wait."
Russell has now experienced the elation of winning the famous prize, with One For Arthur in 2017, and the successful jockey that year, Derek Fox, is again the man in the plate for trainer and owners this time.
Fox has ridden Mighty Thunder in two of his three starts this season and, while on the surface his 2021-22 form does not entitle him to serious consideration, Drysdale believes he will give the rider a great spin.
"If you look at his form this season, it doesn't look very exciting, but his first run was in a very hot three-mile Charlie Hall Chase," he says. "He's not a three-mile horse, he was put in there just to get his speed up a bit and for a cobweb blow, so we were actually quite happy with fourth place there.
"After that we went to the Becher to try to give him experience over the Aintree fences, but unfortunately weather conditions that day were abysmal and he just doesn't like heavy ground, so we made the difficult decision an hour before racing to pull him out. He'd have hated it.
"We then thought we'd go for the Welsh National three weeks later instead. But the same thing happened, the heavens opened about 48 hours before, it never stopped raining, and the ground was absolutely abysmal. But because the same thing had happened as before the Becher, we just thought we're here, it's the Welsh National, we'll give it a go.
"We should have stuck to our gut instincts though, as he just cannot handle that sort of ground and unfortunately we had to pull him up. Lucinda then tried to give him a confidence boost in the Edinburgh National in February, and he was travelling like a dream but almost as soon as he hit the front he was pulled up.
"Tom Scudamore, who rode him, reported he had gurgled badly, and said he thought he needed a wind op. So we put him in for it. The surgeon said often there's not a lot to see but in his case there was an obvious obstruction, which has now been removed."
The now nine-year-old, who also had wind surgery in 2018, is reported to have benefited from it, sparking hopes that he will give a good account of himself at Aintree.
"We've had him out for a racecourse gallop at Kelso, and he was spot-on there," reveals his owner. "And then after his last bit of hard work before the National, he wouldn't have blown a candle out. I gave him a cuddle after the workout and he was bone dry. So he's back to the old Mighty, thankfully."
He continues: "They did water the course on Wednesday, but there's been no significant rain since and the forecast is for it to be dry on Friday and Saturday, so they're predicting a good to soft surface, which would be spot-on for him.
"So, as far as we're concerned, the wind op has been successful, Mighty's in very good form and the ground conditions will suit him. Let's see what happens, I am very hopeful!
"Lucinda is quite happy that he seems to have been forgotten about. His two pull-ups were for valid reasons, we believe he's right back to his best, he may even be better than his best to be honest, so I reckon that he's going to represent really good value for anyone who follows him on Saturday."
At the time of writing, Mighty Thunder was a general 33-1 chance, for those who are tempted to bank on a return to form.
"We've got some staff coming down, some good friends and family," adds Drysdale. "There are 12 of us in total in our party, we've got a table booked for the day and we're just going to try to enjoy it.
"We live in St Andrews, on the north-east coast of Scotland, so it will take us about five and a half hours to get down there, which isn't bad."
Mighty Thunder's eight victories to date have all come closer to hand, the biggest of which came a year ago, when Tom Scudamore - son of Russell's partner Peter - partnered him to a famous success in the Scottish Grand National at Ayr, before which he had won the Edinburgh National and finished second in the Midlands version.
"We were allowed to go to Ayr but weren't allowed to touch the horse or anything, there was a separate area for owners and no crowds," recalls Drysdale. "It was one of the best experiences of my life, but with no atmosphere whatsoever.
"The difference is going to be incredible between that terrible atmosphere at the Scottish Grand National last year and what Aintree is going to be like on Saturday. I was at Ayr for the Scottish National last Saturday and the atmosphere was absolutely electric, it was first class. I did have a touch of sadness thinking how poor it was the year before.
"Hopefully we'll never go back to that again, but I'd still take having a Scottish National winner with no crowds anytime and can't complain."
Mighty Thunder is one of three horses the Drysdales own, the others being three-time winner Aurora Thunder and Thunder In Milan, who at £80,000 was easily the most expensive of the trio but, somewhat typically, the least successful, so far at least.
"Aurora Thunder had a terrible fall at Ayr last Friday but she's a tough little mare and she was absolutely fine after it," reports her owner.
"Lucinda schooled her herself a few days later just to see if she was okay, and she didn't back off anything, it's not put her off at all. She's a really good prospect actually.
"As for Thunder In Milan, because I've always had my passion for the National and wanted a National horse - I didn't realise Mighty Thunder was going to be a National horse - I decided to push the boat out and go for something I thought would be good for the National.
"He is out of Baby Briggs, who is a full-sister to Ballabriggs, the National winner, and he's by Milan, the sire of One For Arthur, so you've got Grand National winner on one side and Grand National winner on the other side - and he was tailed off in his last race! So it does not always go to plan."
Neither, to put it mildly, has the Drysdales' business during the pandemic. Allson Sparkle Ltd is Scotland's largest independent on-trade wholesaler as supplier to more than 3,000 pubs, clubs and hotels throughout the country, and the hospitality industry is still suffering, especially north of the border.
"In Scotland they are still insisting on masks in hospitality, which is very difficult for the staff, and I would say trade is back to around 85 per cent of where it was pre-Covid," says Colin Drysdale. "I think once we lose the masks it will return to business as usual.
"The trouble with hospitality is that no-one can get staff any more. It seems to be, for hospitality, out of the frying pan and into the fire, for two years now. But we're getting there. It's a lot better than it was."
Pleasure will definitely come before business on Saturday, though hopefully some sparkle and celebratory drinks will be a feature of the owners' big day out on Merseyside.
"I think it's going to be a really good race this year, there are some exciting horses in there, I think it will be great," says Drysdale.
Let's hope so.
ROA Owner of the Day - Randox Ladies Day
Today's (Friday 8 April) ROA Owner of the Day is the Racegoers Club, who along with Michael Ogilvy, Andrew Morley and Graham Shaw, own Some Day Soon, who contests the 20 Years Together Alder Hey and Aintree Handicap Hurdle (1.45pm), the opening race on ladies' day.
The title of the first race at Aintree on Friday shouts about the two decades long partnership between Alder Hey Children's Hospital and the racecourse, with the local hospital the worthy official charity of the meeting.
One of the sets of silks being carried in the contest is on behalf of a racing club whose history and relationship with the sport goes back much further, well over 50 years in fact.
The Racegoers Club, a not-for-profit organisation whose aims are to drive support for British racing at all levels, and encourage attendance, engagement and ownership, is represented by the Jamie Snowden-trained Some Day Soon in the two-and-a-half-mile Grade 3 contest, which, typically for a big spring festival handicap, will take some unravelling.
The nine-year-old, who comes into the race fresher than all bar one of his opponents and is the mount of Adrian Heskin, is owned by the club in partnership with Michael Ogilvy, Andrew Morley and Graham Shaw.
Mary-Ann Sandercock, who runs the club and is assisted by a couple of her colleagues at the Racecourse Association, says: "There are 20 Racegoers Club members involved in Some Day Soon, who the club owns half of, so effectively the 20 members have a two and a half per cent share each.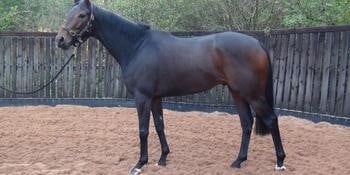 "We own him with Michael, Andrew and Graham, and he runs in different silks from season to season. He'll be carrying the Racegoers Club colours on Friday - and needs to buck the trend somewhat as we've had more luck when he's carried Michael's colours!"

Some Day Soon has not been seen on the course since October, when he was third at Aintree, one of a dozen places he has accumulated in a 23-race career highlighted by five victories, four of which have come over hurdles.
He started out with JP Magnier and Pat Flynn in Ireland, before being picked up by Tom Malone for €35,000 at the Goffs horses-in-training sale in October 2017, since when he has been a very reliable member of Snowden's Lambourn yard.
Sanderson continues: "In his first full season for us he did really well in novice hurdles, especially in the summer when he won four on the bounce. He's a summer jumper really.
"He was then a good third to Thyme Hill in the Grade 2 Persian War at Chepstow on his return, at the start of the 2019-20 season, and he has won again since then - over fences at Stratford - and run some other good races.
"He probably needs to come down the handicap a bit and he's possibly not the easiest horse to place, but he's in great form, Jamie reports, runs well fresh and likes a flat track such as Aintree having finished a good third there on his most recent run.

"He's been great fun for the owners and generally extremely consistent. It's a big ask on Friday but Jamie thinks it's worth a try and I think he could run a big race."
Sanderson herself has been laid low by Covid-19, confined to her attic with Benylin for company and not much else, but Some Day Soon will certainly not lack for support at Aintree on what will be a very welcome big day out for the Racegoers Club members who are shareholders in him, alongside Ogilvy, Morley and Shaw.
"There's a limit on owners' badges but there will be plenty of us there to cheer him on," reports Sandercok.
"It's been a tough time for the Racegoers Club during Covid, especially during the periods when owners and racegoers were unable to go racing. We've tried to keep club members entertained and engaged, via Zoom and through stable visits and events, etc, but there's nothing like going racing.
"The Racegoers Club is important to members and they are very supportive of the programmes we put on. It's about community, the love of going racing.
"It was founded in 1968 so has been going a long time. Covid has probably been the toughest period we've ever had."
Officials at Aintree will know the feeling, with this year's National meeting the first with crowds since 2019, and will be as pleased to see racegoers and owners as racegoers and owners are pleased to be back.
This could be a big week for the Racegoers Club, for there is also the return of their other horse, the Ed Walker-trained Tenaya Canyon, to look forward to.
"We lease her off Whitsbury Manor Stud and she is due to run in a Listed race at Bath which they sponsor [the Lansdown Stakes] next Thursday," reveals Sandercock.
"She won a novice event as a two-year-old and progressed nicely as a three-year-old, winning another couple of races including a Racing League contest at Doncaster.
"She's rated 91, is said to be working very nicely and we're hoping to get some black type."
A five-furlong sprint at Bath feels the polar opposite to the Grand National meeting, but such variety is pretty much the beating heart of British racing, and both occasions will hopefully go with a swing for the long-established industry institution that is the Racegoers Club, and their fellow owners.
ROA Owner of the Day - Randox Opening Day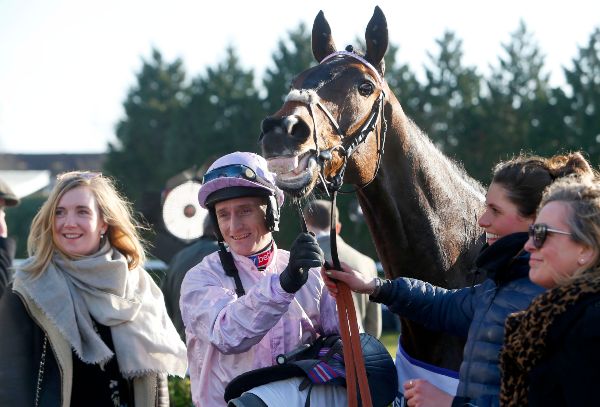 Today's (Thursday 7 April) ROA Owner of the Day is the Megson family from Leeds. They own Global Citizen, who contests the Close Brothers Red Rum Handicap Chase (4.40pm), the final event of ITV Racing's coverage of day one of the Grand National meeting at Aintree.
Five years on from costing his owners an eyewatering sum, Global Citizen brought tears of joy to the Megson family when triumphant in the Grand Annual Chase at the Cheltenham Festival. Could he do it again at Aintree?
The Ben Pauling-trained ten-year-old kept on strongly under Kielan Woods to spring something of a surprise at Cheltenham, the 28-1 shot beating favourite Andy Dufresne by three lengths. In doing so he was chalking up a seventh victory for the Megsons - he won his bumper and has mixed and matched successfully over hurdles and fences - while he also has a handful of placed efforts to his name.
He faces another big-field handicap chase assignment on the first day of the Grand National meeting, but looks set to be among the market leaders this time.
The big spring festivals would certainly have been on the mind of his owners from the get-go, given it cost them £275,000 to acquire him from Willie Murphy - for whom he had landed a point-to-point at Bellurgan Park by four lengths - at the 2017 Tattersalls Ireland Cheltenham April Sale.
Recalling the purchase, Andrew Megson says: "Matt Coleman from Stroud Coleman had seen him. We watched his point-to-point in Ireland on a video - which looked like it had been filmed on a hand-held mobile! - and he had won it very impressively.
"We weren't at the sales but Matt was there, with Jonjo O'Neill, who we were with at the time, and we were dialling in. I was on the phone, and we had the live stream on, but that's about 30 seconds behind what is actually happening.
"As the price was going up, I popped into a different room from where my wife was watching. She didn't think it sounded too bad but I could hear the numbers rocketing up! We got him on the last bid and were delighted to.
"It was a slight shock to Jane when I said how much we'd paid. We thought the maximum he would go for was £175,000, and clearly we were £100,000 out!"
Global Citizen couldn't have made a better start for his new connections, winning a Worcester bumper by seven lengths, but, as is almost inevitable over the course of a 23-race career thus far, there have been some downs to go with plenty of ups.
Megson says: "When you pay that sort of money you're expecting a really good horse. He started off fantastically well, winning the Dovecote in 2018, which stands out as he took apart a really strong field.
"He's won The New One Hurdle, the Wayward Lad Chase, but whilst he looks as strong as a bull, he needs to be on form. He's not a horse who can give his best if he doesn't feel quite right.
"He ran well in the 2020 Arkle Chase and came a really creditable fourth, especially considering Brewin'upastorm fell in front of him. But that obviously took a lot out of him, because last season he just didn't finish a race. He ran only three times and ended up in the County Hurdle, in which he was pulled up after about a mile.
"However, Ben was convinced there was still a really nice horse there, he's been so patient with him, nurtured him back. He'd lost his confidence."
His owner continues: "He started this season by running okay at Ascot, where he showed plenty of speed, and then moving on he did well at Haydock in a Grade 2, coming second to Tommy's Oscar, who went on to run in the Champion Hurdle, and was then third to Goshen at Sandown, where he would have been second but for hitting the second-last flight, which was no disgrace.
"Ben then said he wanted to put him back over fences and into the Grand Annual, as he thought he was off a great mark. Which of course culminated with that run.
"We did expect a big run. Did we expect him to win that well? No. It was a day I will never, ever forget. It was unbelievable and I actually cried when he'd won.
"Jane and our daughter Lily, and her partner Tom, were there. Lily doesn't watch, and her older sister doesn't go jump racing as she can't bear to see it. Lily just looks away, but then when she realised we were jumping and screaming she joined in."
A Cheltenham Festival winner would be pretty hard to beat but, having started favourite for the Grade 1 Top Novices' Hurdle at the National meeting in 2018, there might even be a sense of unfinished business at Aintree and a follow-up victory would be sure to spark more delirium.
"He's come out of Cheltenham fantastically well, where he won on ground that really didn't suit him," reports Megson. "Ben thinks he might even be in better form. He's a lot stronger horse than he was two or three years ago, and we still think he's off a favourable mark.
"But it's a competitive race and he's 7lb higher. We'd expect him to run the same race under Kielan Woods, who we believe is a fantastic jockey.
"Ben has worked miracles getting him back to where he is, and we're very excited but still nervous. It will be incredibly nerve-racking come Thursday morning."
The Megsons have a Doncaster-based business, My Pension Expert, a financial services company, and live in north Leeds, so win, lose or draw at Aintree, they won't have far to go.
That applies to Friday too as Global Citizen's stablemate Severance contests the conditional jockeys' and amateur riders' handicap hurdle.
"He came fourth in the Morebattle last time, where his wind caught him out and he's had an op since," reports Megson.
So that's Thursday and Friday at Aintree - will they attempt to get the hat-trick up on Saturday?
"I have been to the National in previous years but we're not going this time - there's only so much the liver can take!" answers Megson.
The family has several horses with Pauling, and their thirst has certainly not yet been quenched.
Megson says: "We've got Harpers Brook, who has had a few issues but we think is a really nice horse. We've also just bought a horse from Willie Murphy, who sold Global Citizen, called Rock On Cowboy, who we're hopeful about, and one from Adrian and Sabrina Maguire, Joe Dadancer, who fell in his point-to-point but had looked a winner all the way."
Winners or decent runs aside, asked what other aspects of ownership particularly appealed, Megson replies: "The relationship with the trainer and the yard is really important. There's an awful lot said about horseracing, but the horses love it. It is great fun and you do meet some fantastic people."