Enhance your Grand National Experience
TAKE A COURSE walk tour OF THE ICONIC FENCES PRIOR TO RACING
The Course Tour is perfect for those who want to see the fences prior to racing during Grand National.

For 2020, Walking Tours will run throughout the three days. Each tour will take approximately 60 minutes depending on how busy the Course is.
The Racemakers are there to help you enjoy your day and will give you as much information as possible, however due to timings, this is not an in-depth guided, historical tour but more of an opportunity to see the iconic fences!
The Course Tour is absolutely FREE, however donations will kindly be accepted on the day for The Jockey Club's own charity, Racing Welfare.
TIMINGS
Grand National Thursday
Course Walks will start from 11:00am to 1pm
Ladies Day
Course Walks will start from 10:30am to 1pm
Grand National Day
Course Walks will run from 10.10am to 1pm
Where is the starting point for the course walk?

The start point for the tour is in the centre of the course. If accessing from the Grandstand side, you will see the archway located near the Princess Royal stand.
What happens on the course walk?
Please make your way to the centre of the Course, as directed by the signs, and go to the Walking Tour chalet to pick up your Walking Tour brochure. The Walking Tour will take appropraitely one hour to complete and you will be taken to Becher's Brook where the tour will terminate. Your Racemaker will walk you back to the start line, or you can continue round the Course on your own, as you wish.
Please note that this is not a full, historical guided tour but more of an opportunity to see the fences prior to racing. Due to the size and scale of the Festival, we cannot offer personal guided tours during the event.
WEATHER

In the event of severe wind and rain, the tours may be cancelled at short notice. However they will continue to run if there is light rain, as long as the conditions are reasonable. It is advisable to bring a coat or jacket with you.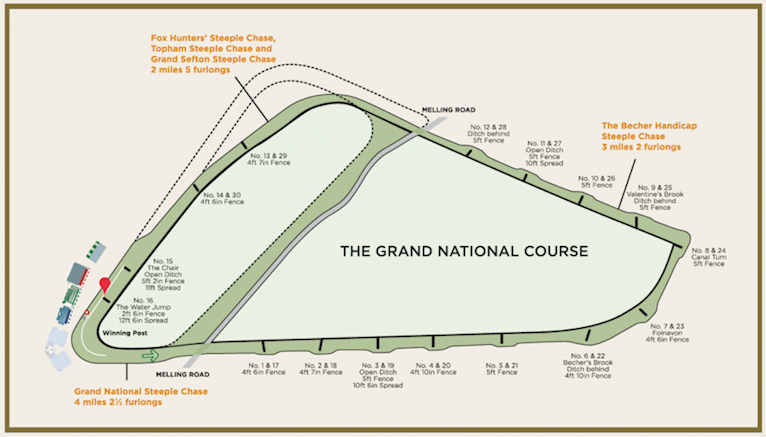 See how the iconic Grand National fences are built in the video below.