Fergal O'Brien is looking forward to running Benny's Bridge in the Matchbook Imperial Cup Handicap Hurdle here at Sandown Park this Saturday.
Last year, Matchbook doubled the bonus for any horse to win both Sandown's Imperial Cup and any race the following week at the Cheltenham Festival from £50,000 to £100,000.
The bonus remains at £100,000 for this year in a bid to attract owners and trainers to Matchbook's handicap hurdle, worth £75,000, on March 9 and persuade winning connections to go on to Prestbury Park. A total of 26 entries have been made for Saturday's feature with a maximum field of 22 allowed.
Talking about the six-year-old gelding who was last seen when winning at Cheltenham on trials day, O'Brien said:
"Benny's Bridge was very impressive in his first handicap at Cheltenham on trials day. He ran over two miles and it looked like a very good bit of placing but I can assure you there was an awful lot of luck involved!
O'Brien added:
"We were disappointed when he got beaten the time before at Market Rasen. The handicapper gave him a mark of 119 and he has gone up to 126 now and I think the handicapper has still been very fair with him. We are looking forward to running him at Sandown Park in the Imperial Cup.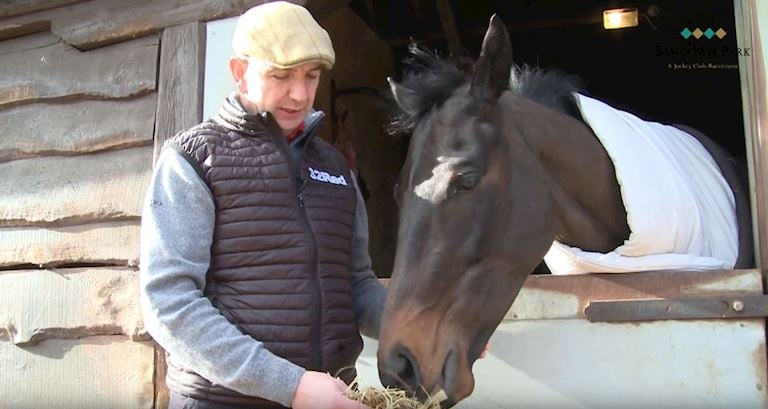 Talking about Benny's Bridge future plans, O'Brien said:
"If he runs well there (Sandown Park) we will see about Cheltenham and where he goes next. Sandown is his next mission and I think he will handle the track and he goes on any ground and is very versatile. The important thing with him is a fast run two miles, so hopefully he will get that, and he will run well."
Speaking about the bonus, Matchbook's CEO Mark Brosnan, said:
"We are excited to invest £100,000 in our continued commitment to British racing and support of The Jockey Club, doubling the previous bonus we brought back to the Imperial Cup in 2017. We look forward to seeing some Cheltenham contenders at Sandown Park on what is a fantastic day in the lead up to the festival."
A bonus was first introduced in 1992 and was reinstated last year after the 2016 Imperial Cup was not sponsored.
The last horse to lift the bonus was David Pipe's Gaspara, who took the Fred Winter Juvenile Novices' Handicap Hurdle three days after scoring at Sandown in 2007.
Confirmed entries for the Imperial Cup Handicap Hurdle: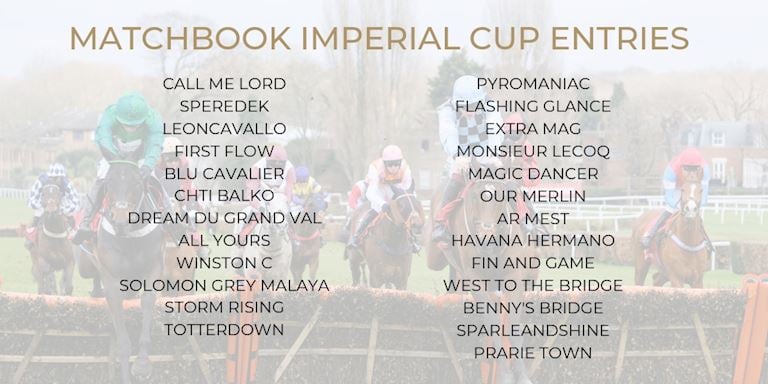 All Yours (FR), Ar Mest (FR), Benny's Bridge (IRE), Blu Cavalier (GB), Call Me Lord (FR), Chti Balko (FR), Dream du Grand Val (FR), Extra Mag (FR), Fin And Game (IRE), First Flow (IRE), Flashing Glace (GB), Havana Hermano (IRE), Leoncavallo (IRE), Magic Dancer (GB), Malaya (FR), Monsieur Lecoq (FR), Our Merlin (GB), Prairie Town (IRE), Pyromaniac (IRE), Solomon Grey (FR), Sparkleandshine (IRE), Speredek (FR), Storm Rising (IRE), Totterdown (GB), West To The Bridge (IRE), Winston C (IRE).
Matchbook Imperial Cup Day is on Saturday 9th March 2019.
Only three days before the start of The Festival™ Presented By Magners at Cheltenham, this fantastic day is all about gathering your friends and getting geared up for the week ahead!