You've spent time choosing your raceday outfit and if you are heading for the Premier Enclosure or Hospitality Suites you will want to get things just right. Sorted your suit, shirt, tie, cufflinks? – if you haven't, the Hawes & Curtis style guide is there to help, and as Sandown Park's fashion partner you will pick up the best tips.
When thinking about your outfit did you ever consider a hat? A famous designer once said "why stop at the neck?" as a well chosen hat is the perfect accessory for a stylish day out at the races.
What hat to wear?
Racecourse style at Sandown Park is in general a more relaxed affair but the Randox Health Gentlemen's Day Style Award prizes of three tailored suits are up for grabs this year so we have no doubt you'll want to look sharp A great look for men for summer racing is a straw Panama, felt trilby or traditional flat cap, see suggestions below: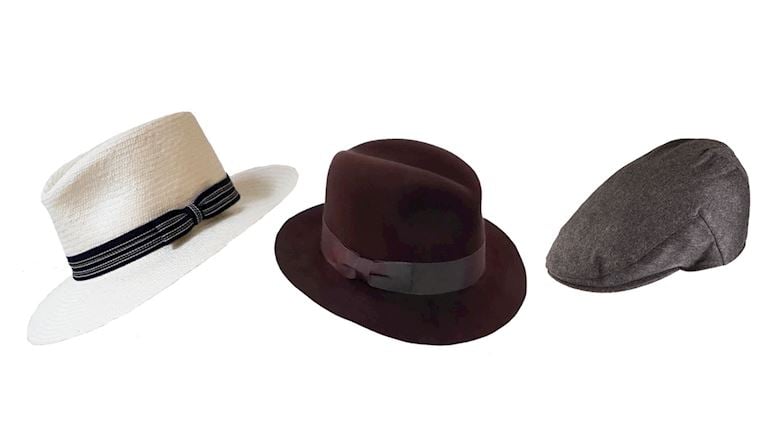 Pictured: Custom Panama (Joanna Zara); custom fur felt trilby (Joanna Zara); Balmoral cashmere flat cap in charcoal (Christy's)
Although a lot of debate about what counts as a trilby all these classic styles come in a number of different shapes and colours. We can say that a genuine Panama will have been woven in Ecuador, but we don't all have access to this luxury; so take time to look at what's out there and go for the hat that makes you feel at your best. Here are some top tips:
Hat shapes
A general rule of thumb is to choose a hat with a "geometry" opposite to your face sh­ape. This means that the hat will complement rather than exaggerate your face shape. Below is a rough guide to hat styles that suit the four most common face shapes – and the ones to avoid!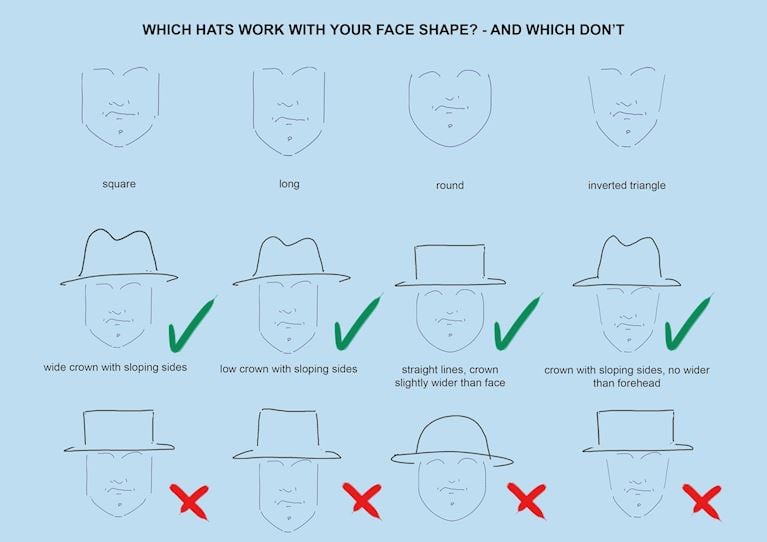 Hat colours
For felt hats and caps try a neutral colour that work with the rest of your look - such as a navy, brown, tan, charcoal grey or deep olive.
For straw hats like a Panama, the options are usually natural shades, ranging from almost white, through to creamier shades or light tans. The top tip is to avoid choosing a colour that is too close to your skin tone and go for something either much lighter or much darker.
Hat fit
The fit is important as racecourses are notoriously "breezy", so if your hat is too big you might end up chasing after it. If the hat is too small you'll be uncomfortable. Luckily, most men's hats come in a range of sizes which will be the measurement around your head at the point where the hat touches it (this point should be about 1cm above your ears).
Hat quality
If you want a hat that you will wear time and again, invest in the quality. Look for genuine Panamas, there should be a mark inside indicating "woven in Ecuador" or felt hats in wool or "fur felt" as this is the best quality material. Flat caps for warmer weather should be in linen, lightweight wool or cashmere. A sign of quality is that the trims should be sewn on and not glued into place.
Of course, nothing beats a custom-made hat, you'll get an exact fit, top quality materials and the shape and colour of your choice.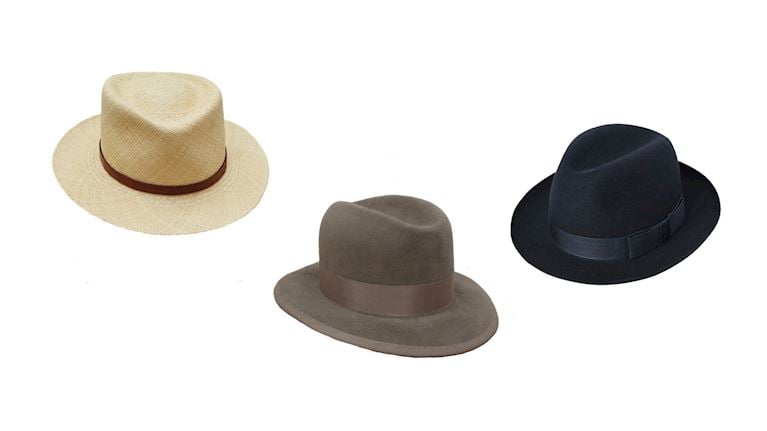 Pictured: Handmade Panama in light tan with custom leather trim; handmade fur felt hat with "Homburg" crown and downturned brim (both Joanna Zara); Christy's dark navy wool felt trilby (available at Hawes and Curtis)
About the Author:
Joanna Zara is an award-winning milliner who designs and creates custom and bespoke hats for men and women in her Hove studio. She designed the "Prospect" fedora for Royal Warrant holders Lock & Co of St James's. Visit Jonanna Zara's website.
Instagram: @jzmillinery
twitter: @jzmillinery
Facebook: JoannaZaraMillinery