All good things come to an end and as the curtain came down on yet another thrilling Jump racing season, Sandown Park played host to a memorable finale.
The day began with Champion jockey Harry Skelton, trainer Paul Nicholls and conditional rider Danny McMenamin being awarded their silverware with the traditional trophy presentations.
And there was drama to follow on the track, including a quick-fire double for Bryony Frost and Paul Nicholls and a thrilling finish to the bet365 Gold Cup.
We sent Nick Seddon and Graham Clark to review the action …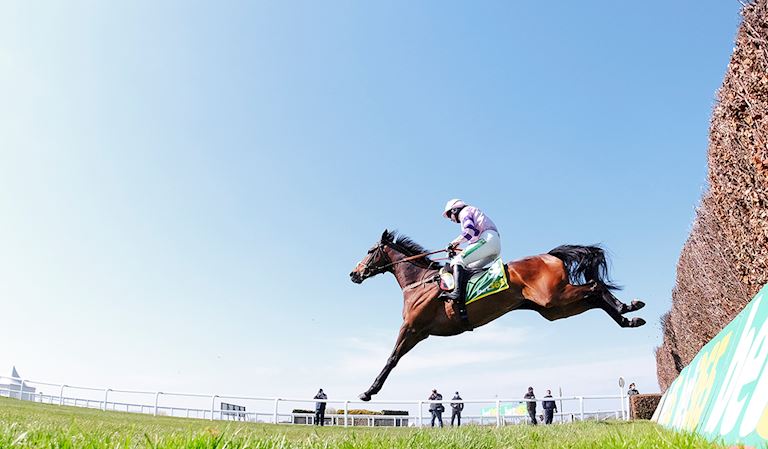 "GREAN MACHINE" LANDS QUICK-FIRE DOUBLE FOR NICHOLLS AND FROST
Trainer Paul Nicholls and Bryony Frost celebrated a quick-fire double as Greaneteen landed the Grade One bet365 Celebration Chase to deny Altior a record-extending fourth win in the race.
Just half an hour earlier Frost and Frodon had battled to success in the Grade Two bet365 Oaksey Chase and after securing her fourth career Grade One victory on a horse she calls "The Grean Machine", Frost said: "I'd been a bit frustrated as I wanted to get to 50 winners for the season. After getting injured at Aintree I started today on 45 – but I'd go through it all again to have an hour like that!"
The 9-4 favourite, Altior, wore cheekpieces for the first time and went off in front under Nico de Boinville. Entering the home straight, he began to show signs of tiredness and was passed by Greaneteen approaching the second last. From that point onwards, the result was not in doubt and Greaneteen went on to score by three and three quarter lengths at 13-2. Sceau Royal was another 12 lengths away in third.
Frost added: "Altior is a force to be reckoned with on a bad day or a good day. I used how my horse travels very forward on his bit. He likes to get on with his job so I just allowed that gap to come down going down the hill so I thought we better take it and hunt him and close him down so we don't have to do the hard work on the uphill part of the course. Luckily it worked out to our fortune."
Looking back on her season, Frost added: "There have been some serious lows and brilliant highs. For me personally I've ended up on 47 so I've been so close to matching my best season and with the two months short and being out for those couple of days after Aintree I'm happy with how it has gone.
"We've won a King George with Frodon and we've been able to put the icing on the cake as it were today with him with a massive battle which he is known for and to get Greaneteen his Grade One is huge.
"It has been a massive turn of the clock this afternoon. I did say to Bob in the car, who drives me everywhere, I really hopes today goes well for me. For getting a Grade One with the little 'Grean Machine' as we call him it's just epic, it's awesome."
After the race Nicky Henderson said he would wait before making a decision on Altior's future, with some wondering if the 11 year old superstar might be retired.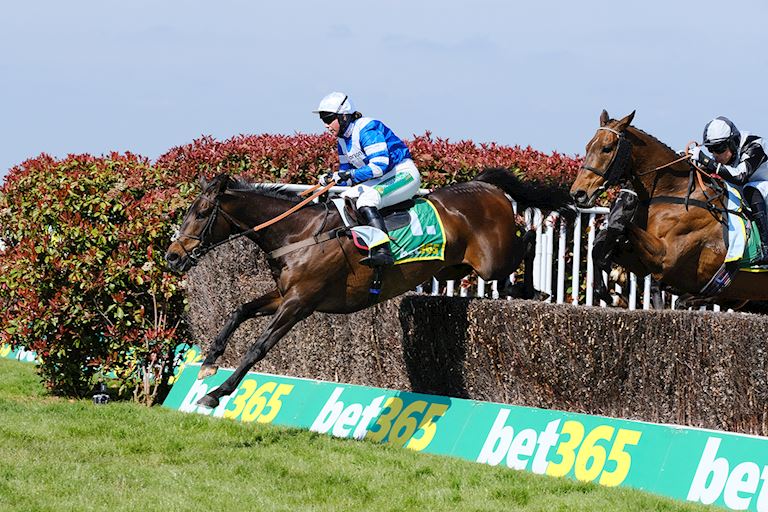 FROST HAILS FRODON AS "THE DEFINITION OF BRAVE"
Bryony Frost has described Frodon as her "best mate" on more than one occasion, having partnered him to victory in at the Cheltenham Festival and in the Ladbrokes King George VI Chase.
And after securing another landmark victory on the nine year old – the Grade Two bet365 Oaksey Chase – she was heaping more praise on him here, hailing him as "the definition of brave".
Victory in a thrilling finish was Frodon's 17th career success and the £23,919 first prize takes his earnings close to £1 million.
And Frost said: "On form, you'd call us a certainty but nothing is in racing. He's had a long season and Paul's done a fantastic job along with everyone at home to make sure he's here and have enough energy levels to take this race on.
"Yes, he's plenty good enough to be seeing them all off but we were tired and they took us on down the back and I thought we were beat when Nico (de Boinville, on Mister Fisher) loomed up like that on us, but he is the definition of brave and the definition of determination. He is everything you want and, my God, as a partner out there, you just dream of horses like him."
Frodon finished fifth in the WellChild Cheltenham Gold Cup last month and trainer Paul Nicholls added: "He's an amazing horse. It's been a bit of a challenge in getting him back because he did have a hard race at Cheltenham and he looked fantastic.
"Watching halfway through I thought he just looked a little bit flat today - he was a little bit flat out but he's got a lot of class and he got away with it and galloped on strong. But it was still a good performance."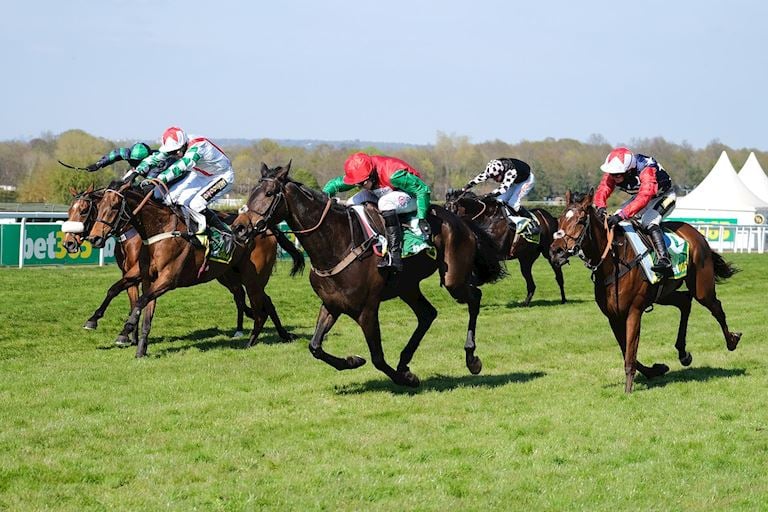 POTTERMAN CROWNED BET365 GOLD CUP WINNER IN STEWARDS' ROOM
Trainer Alan King admitted it was "a strange feeling" to win the Grade Three bet365 Gold Cup with Potterman following a stewards' enquiry.
It was the 7-2 favourite Enrilo, trained by Paul Nicholls and ridden by Harry Skelton, crowned champion trainer and champion jockey respectively earlier in the afternoon, who finished first past the post by three-quarters of a length with a short-head back to the third.
However, after leading over the final fence, Enrilo drifted to his left interfering with the fast-finishing Kitty's Light (9-1). The stewards concluded that Enrilo had interfered with Kitty's Light and ruled that the finishing position of the two horses should be reversed. This meant that Potterman, who was not involved in the interference, was awarded the race as he got up on the inside to take second.
Today was not the first time the result has been decided in such circumstances in the extended three and a half mile contest, with Topsham Bay (1993), Docklands Express (1991) and The Dikler (1974) all awarded this race in the stewards' room after interference took place on the run-in.
Winning trainer Alan King said: "I'll be totally honest with you, I've only seen it live, so I've not seen a replay. Obviously I'm delighted to get it. It's not quite the same but there we are - we are not going to complain about that.
"It is a strange feeling. I've not had this feeling before as we weren't interfered with. It is a strange one. A lot of people said you would definitely get it and here we are."
Christian Williams, trainer of Kitty's Light, said: "I think the best horse in the race has eventually finished second. It is tough to take but I'm very proud of the horse and Jack (Tudor, jockey)."
And Paul Nicholls, trainer of the Enrilo, added: "I haven't seen the head-on but it was a bit of a strange one in the fact that the horse who never would have won, won the race.
"I can see we got put behind the one we caused interference with. I haven't seen the head on, but he's a big green horse who when he gets in front idles a bit, but as Harry said when they actually came to him he won going away and the best horse won the race.
"Could you say that the third would definitely have won the race? I don't know, but I haven't seen any head on shots. Harry thought we'd keep it, AP thought we'd keep it and others didn't, so I don't know."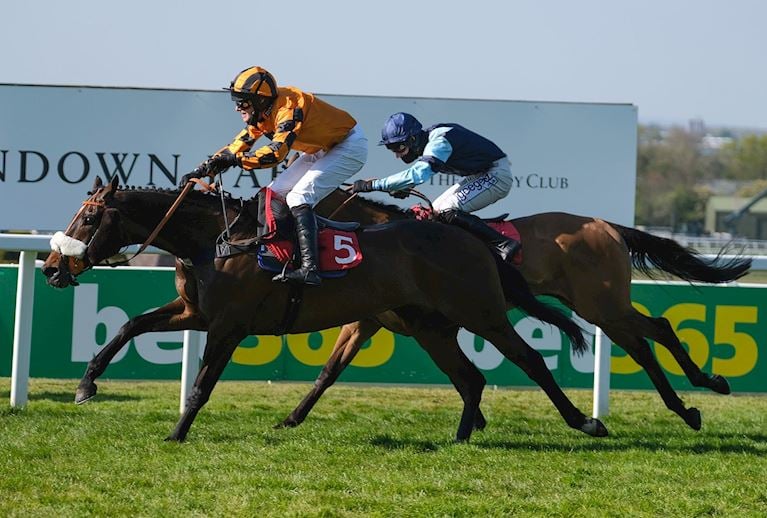 YOUNEVERCALL DIALS UP BACK TO BACK SELECT HURDLE VICTORIES
The Grade Two bet365 Select Hurdle saw Younevercall become the first dual winner of the extended 2m 5f contest as he repeated his 2019 success.
Returned as the 5-2 favourite, the Kim Bailey-trained 10 year old was never far off the lead and ran on well after the last to take the race, which was first introduced in 2014, by half a length from Indefatigable.
Winning jockey David Bass said afterwards: "He was brilliant. The race was perfect for him. It was ideal today as he didn't have to carry a penalty as he won this two years ago.
"He was well in at the weights. I would have liked it to have gone a little bit smoother but I don't mind how they win as long as they win.
"Even in the early days when he ran at Doncaster he hung badly right-handed. We said then we will try and stick right handed and his form seems to be a lot better this way round.
"He ran really well at Cheltenham in the Stayers' Hurdle and Ciaran Gethings who rode him was delighted with him. He said he cantered through the race. This was always the perfect race for him. Like I've said all season it is a real team effort with him as he likes to be fresh.
"I thought he looked amazing in the parade ring. He didn't look like he had been to Cheltenham. He is quirky but the key is keeping him fresh. The owners are a great bunch of owners. They are a really great syndicate and it is great they have got a fun horse."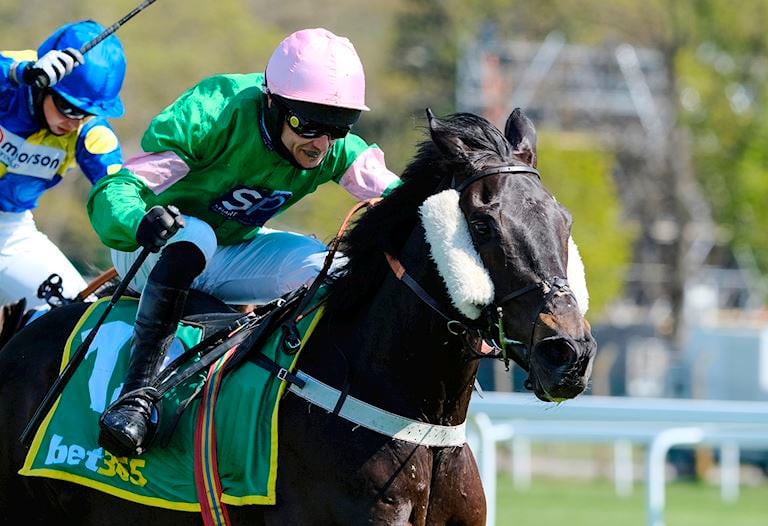 HERBIERS STICKS TO THE PLAN FOR DELIGHTED GREENALL
Oliver Greenall insisted his smart four year old Herbiers had stuck to the plan as he landed the two mile bet365 Novices' Championship Final Handicap Hurdle at Sandown Park.
Jockey Paddy Brennan timed his run superbly on the four year old, taking the lead at the last hurdle before going on score at odds of 15-2 by an impressive three lengths.
The race was the culmination of a series of qualifiers, with horses eligible for today's final if they had finished in the first four of a qualifier. Herbiers qualified when third at Newbury in March before going on to success at Ascot in a handicap hurdle later the same month.
Winning trainer Greenall said: "That was always the plan today. He won a bumper in France before he was purchased by my father (Lord Daresbury).
"Paddy won on him at Ascot and he's given him a great ride today. He was worried he'd got there a little too soon last time so he dropped him in. He's only a four year old so he's got him jumping and he's said again today he got there too soon.
"Paddy said it was almost too quick today, he was a bit worried about that so I don't think he needs this ground at all, it's just how it has worked out really.
"It's what we needed. We've been having loads of winners - that's 37 now this season and we've been progressing every year, but to have a nice horse like this is great. We've got three or four new ones yesterday and we're really pleased."
Jockey Brennan added: "He's a lovely horse and he's got a wonderful attitude. For a four year old it was a good performance, he had to knuckle down there early and I'm really happy. He's still a baby and he's got talent, so it's all about the future with him."