Bryony Frost will be crowned Stobart Champion Conditional Jockey of the year this Saturday at the bet365 Jump Finale at Sandown Park Racecourse, topping off a year to remember for the 24-year old jockey.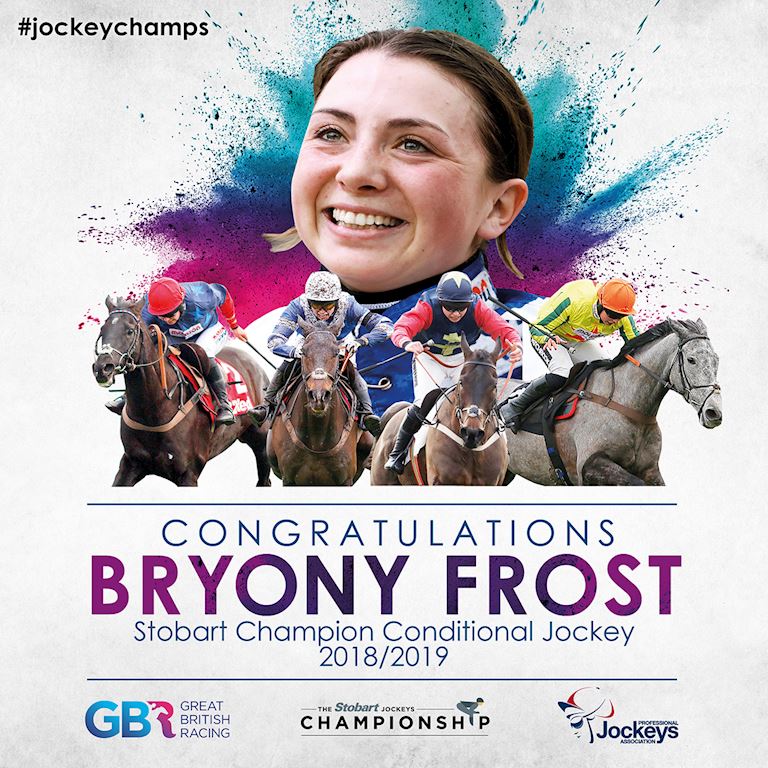 Frost has secured a total 49 wins during the season, beating second-placed James Bowen who reached 38 wins before taking out his professional licence and third placed Ross Chapman (36 wins) to win the illustrious title that has previously been won by the likes of Richard Johnson, who will be also named Stobart Champion Jockey for the fourth consecutive time on Saturday and the legendary AP McCoy.
The Devon-born jockey is only the second woman to win the Stobart Champion Conditional Jockeys' title, following Lucy Alexander who won in 2012/13.
To mark Bryony Frost's incredible season, Great British Racing have put together a press pack to highlight her outstanding achievements alongside other jockeys such as Richard Johnson.
The press pack includes information such as, an overview of her year, a stat-file of her season, Stobart Champion Jump Jockey, and Northern Jump Jockey of the Year.
Her stand-out win of the 49 came on Thursday 13 March at the Cheltenham Festival, when Frost and Frodon became front-page news after clinching victory in the prestigious Ryanair Chase – and therefore becoming the first ever female jockey to win a Grade 1 race at the Festival.
That win, which saw her land the Stobart Jockey of the Month award for March, will live long in the memory of Frost: "I'm beyond lucky to say I've joined up with some exceptional equine athletes in my career, but Frodon to me and so many others has become a symbol in himself. I'm living to make memories and Frodon made a fairy-tale a reality." She said.
Upon collecting her Stobart Conditional Jump Jockey title, Frost continued: "It makes me really proud to be crowned Stobart Conditional Jump Jockey. Even with a painful five months in total on the sidelines, the support behind me from my trainers, owners and most of all the horses I have been teamed up with, have made it possible. This makes me only look forward with fast eyes into the news season."
Just four days after that historic victory at Cheltenham, Frost suffered a broken collarbone after a fall at Southwell which meant she couldn't ride in the Randox Health Grand National and has been on the sidelines ever since. Providing she gets the all-clear, Saturday will also mark her return to action, something Frost has been determined to do ever since the fall.
Frost has been entered to ride both Black Corton in the bet365 Oaksey Chase and Present Man in the bet365 Gold Cup at Sandown Park.
Another highlight in a hugely successful season for Frost was back in November, when she secured her 75th victory of her career aboard Marienstar at Kempton Racecourse.
This meant she had officially ridden-out her claim and joined the professional ranks. However, with her licence not due for renewal until October 2019, she was still eligible to compete for the Stobart Conditional Jockeys' title.
During the season Frost enjoyed 17 victories with soon to be 11-time Champion Trainer, Paul Nicholls, 16 wins for Neil King, and six victories for her dad, Jimmy Frost. On those relationships, she said: "I'd be lost without my Dad, I'm like a sponge to his experience. Paul Nicholls believed in me when I was just a young-head but he took a chance and gave me my first big opportunities and to become part of such a great team.
"Neil King has been breaking all kinds of personal records this season and I'm pleased to be able to push, maintain and increase his winners. I also have my agent Dave Roberts, who helps me be in the right race at the right time and keeps me moving forward. We all strive to win but it's our horses that want it more than anyone. With them behind us, it is why we do this."
Article credit: Great British Racing
Ends
Notes to editors:
To mark Bryony Frost's incredible season, Great British Racing have put together a press pack to highlight her outstanding achievements.
The pack includes information such as:
An overview of her year
A stat-file of her season
Stobart Champion Jump Jockey
Northern Jump Jockey of the Year
Great British Racing have also created a celebratory graphic to highlight her achievement.
To download the graphic, click here
About Great British Racing:
Great British Racing is the marketing and promotional arm of British horseracing - the second biggest spectator sport in the country. Our role is to widen the horseracing's fan-base and to help maintain British racing's position internationally as the best in the world.