"Nicky and I have been friends and competitors for years, it's been a great rivalry"
On Saturday 27th April 2019 at Sandown Park's bet365 Jump Finale, Paul Nicholls will be crowned champion trainer for an incredible 11th time.
Following his tenth title in 2015/2016, Nicholls has been made to wait for number 11, having finished runner-up to his great rival, Nicky Henderson, for the past two seasons. Nicholls and Henderson have dominated national hunt racing for over a decade winning the last 13 titles between them. Ahead of season finale the pair visited each other's yards to check out the facilities and discuss their different training methods.
The pair started at Nicholls' Ditcheat yard in Somerset and Henderson was impressed with what he saw, commenting:
"It is always fascinating watching any different yard, I love going around different places as there are so many different ways of doing it. There is no right way and there is no wrong way, it is just getting your own system going according to what facilities you have got available.
"There was certainly something happening all the time. Here there and everywhere, and it's got a good atmosphere about it, just a really nice feel about it."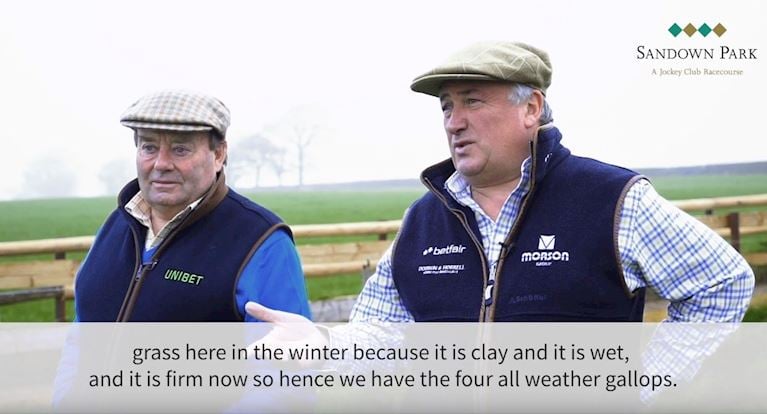 Having watched first lot at Ditcheat, the pair then drove to Nicky Henderson's Seven Barrows base and Nicholls was equally excited to see his counterpart's set-up, saying:
"It is really fascinating to see all the array of different facilities. I am really blown away by these grass gallops, they are fantastic! If this was in Somerset there would probably be 3,000 cows turned out on it; I am sure Nicky wouldn't like that.
"They are really old-fashioned grass gallops that have been here years and they are great facilities. It is fascinating to see how everybody does it and the different things at their disposal. You can see from what we do, it is totally different. I have often thought and just said to Nicky, that if we swapped yards it would probably take us two years to get the hang of it, we would be totally lost."
Nicholls was also quick to pay tribute to his rival, saying:
"Nicky and I have been friends and competitors for years and it (the championship) always finishes at Sandown. I've been a bit luckier this year and we've got a little bit of an advantage at the moment so hopefully we won't get turned over, it's been a great rivalry."
The bet365 Jump Finale takes place at Sandown Park on Saturday 27th April. Tickets are on sale here or 0344 579 3012.