Jessica Harrington joined the many who paid tribute to mighty Tiger Roll after her mare, Magic Of Light, finished second to him in today's
Randox Health Grand National
.
Sent off at 66/1 under Paddy Kennedy, Magic Of Light was beaten 2¾ lengths, but finished 2¼ lengths clear of third home Rathvinden (8/1). Walk In The Mill was fourth at 25/1.
Harrington said: "Tiger Roll is an amazing horse, and much better this year than last year. He is the most gorgeous little horse and a joy to watch over these fences."
Of Magic Of Light, who became the first mare to be placed in the National since Dubacilla in 1995, Harrington said: "Paddy said she was doing too much and just running away - she loved it. I didn't expect her to run so well, and Robbie [Power, her first jockey] said don't bring her here - take her to the Irish National because the Aintree fences are too big for her.
"Then I took her to the Curragh to give Sandymount Duke a lead over their spruce fences, and she jumped them so well I said 'Sod it, I'll run her'. I'm glad I did, especially with Sandymount Duke having to be withdrawn.
"All the way round I kept thinking, she's going too easily, but then I saw Tiger Roll on her inside and I thought, oh no - yet she came back at him. She's amazing, the only mare in the race and only eight.
"Paddy is Jack Kennedy's older brother, and he rides out with me every morning and has ridden some good winners for me. He has his own breaking and pre-training yard. He is basically my second jockey, and when Robbie wanted to ride Jury Duty, who was owned by a friend of his who died, and our mare was a huge price, I said, yes, go ahead, and Paddy can ride the mare."
Kennedy returned with a cut lip, and said: "At The Chair she came out of my hands and I nearly came out over her head - luckily my head hit her head and that stopped me coming off!
"I couldn't believe how well she went, on my first ride in the National as well - she never missed a beat. She knew more than I did - she was grand. I saw Tiger Roll and I gave Davy a roar as he came past as he was going so much better than me. For a little bit at the Elbow I thought I might reel him in after what happened last year, but he was gusty and pulled out plenty.
"My horse she galloped all the way to the line, she is only an eight-year-old, she might be back here again."
Robert Walford, who trained fourth home Walk In The Mill, said: "I'm delighted he ran so well and James [Best] gave him a great ride. It is fantastic," while Best said of the horse: "He's been a lot of fun round there and the team at home got him spot on for the day.
"I have no excuses, and what a star the winner is - it's just magic to be in the top four and amongst it all. It was only my second ride in the National and I fell at the first before, so it was a great thrill, and I'm so grateful to the owner and trainer for letting me ride him.
"I just said to them, 'We know where we're heading next year'."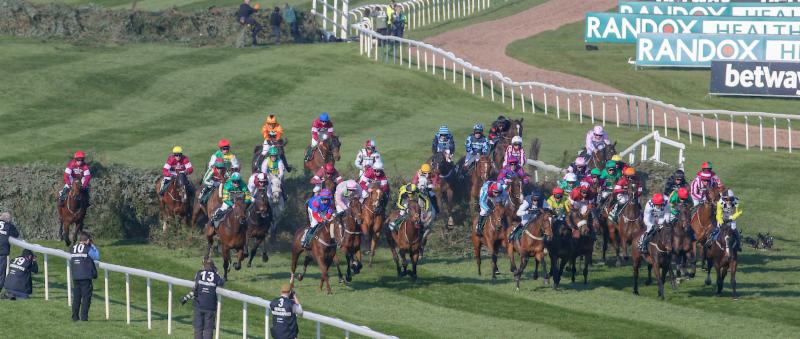 RATHVINDEN RAN A "BLINDER"
The third-placed Rathvinden (8/1) was up in the vanguard of the runners for much of the Randox Health Grand National and was just beaten five lengths into third by the winner Tiger Roll.
Willie Mullins, trainer of Rathvinden, said: "I am delighted, Ruby said he made a bad mistake at Valentines, I missed that - I didn't think he handled the water that well. He had every chance, he was up there galloping. Tiger Roll is fantastic," added Mullins as the enthusiastic Aintree crowd roared Tiger Roll back to the winner's enclosure.
Mullins trained Pleasant Company, who fell at the 27th fence today, to finish second in last year's renewal of the Randox Health Grand National.
Ruby Walsh said: "Rathvinden ran a blinder and jumped well apart from Valentines, Tiger Roll was just going so much better than me! From Becher's on I knew he was behind me and every time I saw him I could see Davy going so well."
Ruby Walsh also finished third in 2009 on My Will, won and was second on Hedgehunter in 2005 and 2006, was fourth on Kingsmark in 2002, and won and finished fourth on Papillon in 2000 and 2001.
MORE JOCKEYS
Ruby Walsh, third on Rathvinden, said: "He travelled super, we made a few mistakes and that didn't help in the end. But he has run a great race."
James Best, on fourth Walk In The Mill, said: "It was amazing. I don't know how it would be to win the race, but very exciting finishing fourth. Our worry was the first mile and a half of the race. I got a great start, I saw Ruby and thought if I follow him I can't go too wrong. He knows his way around here well. I am very proud of the horse and all the connections - they have him spot on."
Rachel Blackmore, 10th on Valseur Lido, said: "Ran a lovely race and jumped well - just wasn't as good as Tiger Roll."
Danny Cook, on Vintage Clouds (Fell 1), said: "I overjumped the first and fell."
Sean Bowen, on Monbeg Notorious (PU 11), said: "He didn't take to it at all."
Richard Johnson, on Rock The Kasbah (Fell 19), said: "It frightened him early on but then he started to get into a rhythm, but then he got brought down. I wouldn't say I was going to win, but he was starting to get into the race. It was much too early on into the race to tell how we were really going to end. It is amazing that Tiger Roll has done it again - he is an amazing horse. I will try again next year."
Andrew Ring, on Blow By Blow (PU 19), said: "I was getting a good enough spin, but then he came down at the big ditch."
J J Slevin, on General Principle (Fell 19), said: "We made a bad mistake, he wasn't travelling on
the second circuit so we pulled up."
Richie McLernon, on Minella Rocco (PU 21), said: "We travelled great. I was following all the right horses over the Melling Road, but we just didn't have that finishing kick. It was a pleasure to ride for JP [McManus]."
Nico de Boinville, on Step Back (PU 25), said: "I had a great spin, but we probably did too much early doors. He was loving it and when I went out onto the second circuit, I thought I would get round again... Maybe we should have gone for the Topham."
Henry Brooke, on Lake View Lad (PU 27), said: "The ground was just too quick for him. When we landed it was stinging him. I pulled up and looked after him - hopefully we will get a soft ground National."
Mark Enright, on Noble Endeavor (PU 28), said: "He jumped great, but started to feel the ground after the first circuit."
Adam Wedge, on Joe Farrell (PU 29), said: "The dead ground just caught him out down the back. He jumped well and gave me a fantastic ride."