After ending Altior's 19 race unbeaten run with Cyrname at Ascot last weekend, Paul Nicholls and Harry Cobden look ahead to next month's Ladbrokes King George VI Chase at Kempton Park Racecourse and also give an update on 2018 winner Clan Des Obeaux.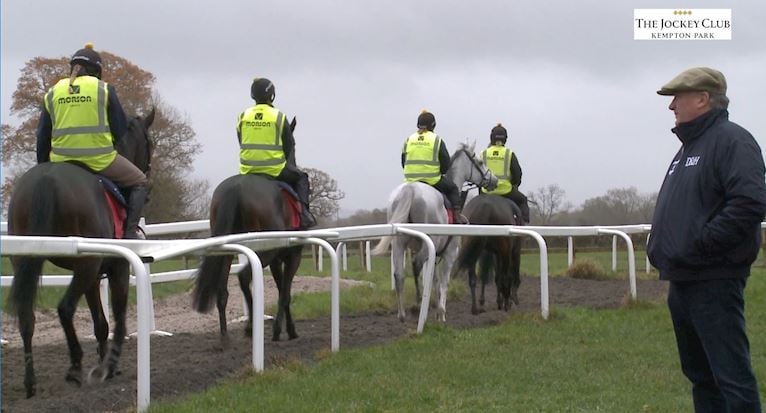 Stable jockey Harry Cobden on Cyrname and Clan Des Obeaux:
"Cyrname looks fantastic. It was a fantastic day on Saturday, he beat Altior and we are all very proud of how the horse performed on the day - I am absolutely delighted.
"I certainly wouldn't get off Cyrname to ride Altior at Kempton now, after Saturday. All our horses have needed a run this year as well. He was the best horse on the day, Altior might improve, we will have to see at Kempton.
"I wouldn't want Clan Des Obeaux half a length down on me turning in at Kempton because he wouldn't stop. He has obviously got a massive chance, he won the race last year. You might question the form a little bit, with Thistlecrack in behind him. All the same he won it very well. He has got a huge chance and I wouldn't rule him out of it.
"I will ride the one I think will have the best chance. Cyrname had a hard-enough race on Saturday. Clan Des Obeaux will be going there fresh and firing on all cylinders, he won't be far away."
Ten-time King George-winning trainer Paul Nicholls on Cyrname and Clan Des Obeaux:
"I am very pleased with Cyrname after Saturday. He obviously had a tough race. I think both horses (Cyrname and Altior) gave their best, ran very well and to a high level. He was a little bit tired on Sunday which you would expect but we cantered yesterday, cantered again today and we will just tick him over this week and then quietly get him ready for the King George.
"If Cyrname hadn't run in the race on Saturday, Altior would have won by half the track and everyone would have been applauding him and saying what a wonderful performance. It is probably the toughest race Altior has run in for a long time.
"I knew Cyrname was very well. You're never confident against a horse like Altior because he is a superstar, but I think it was a very good race and both horses ran to a very high level. Cyrname had Altior out of his comfort zone and just out stayed him.
"I'd like to think we would do the same at Kempton. I, personally, would be surprised if you see Altior in the King George. I am not sure what Nicky is thinking, [Altior] obviously stayed on Saturday but whether he wants to go up another three furlongs and give him another hard race so soon after that, I don't know. We are not afraid to take him on again. I think we have got a progressive horse, he has won his last three races and he looks very smart.
"Clan Des Obeaux needed his first run last year and, again, we have left plenty to work on. He is in good shape, looks fantastic. He is definitely a better horse this year. I think he has strengthened up, so a few pounds improvement will put him right in the mix.
"Kempton suits him well, they will go a real good gallop, he can get a tow into the race. Hopefully he will be bang there three out and then we can see what happens over the last three fences."
Notes to Editors
Kempton Park Racecourse is part of The Jockey Club which stages thrilling sporting occasions including the Randox Health Grand National, the Cheltenham Festival presented by Magners and The Investec Derby. With Her Majesty the Queen as its Patron, The Jockey Club is governed by Royal Charter to act for the long-term good of British racing. Founded in 1750, today The Jockey Club is the largest commercial group (2018 turnover: £214.6 million) in Britain's second-biggest spectator sport, operating 15 racecourses nationwide, The National Stud, Jockey Club Estates, Jockey Club Catering, Jockey Club Live, Jockey Club Services and charity, Racing Welfare. Every penny The Jockey Club makes goes back into the sport to help to make it the best in the world.
For further information please contact:
Emma Chamings, JSC Comms, on 020 77362494 or emma@jsccomms.co.uk or Hugo Barran, JSC Comms, on 020 77362494 or hugo@jsccomms.co.uk