GORDON ELLIOTT REVEALS WHY "PEOPLE'S HORSE" TIGER ROLL IS GOING FOR A HISTORY-MAKING THIRD CONSECUTIVE RANDOX HEALTH GRAND NATIONAL WIN
There was a moment after this year's Randox Health Grand National when trainer Gordon Elliott was finally able to understand what all the fuss around Tiger Roll was about.
It was long after the confetti cannons had fired in the winner's enclosure. It was long after the press conference and media interviews had finished. It was long after the flight back to Ireland and the celebrations in the pub. And it was even long after the Sunday winning parade for the photographers.
As he sifted through the mound of newspaper coverage and watched back the videos, Elliott could see that Tiger Roll was not only adored and revered by those who love racing, but by the wider public too.
Even though the Grand National at Aintree is the greatest steeplechase which the world stops to watch, not since the legendary Red Rum in the 1970s has a horse captured the imagination quite like Tiger.
"You don't really realise how much the horse meant to everyone" he explains to thejockeyclub.co.uk. "You see all the kids and all the different people who came to the yard.
"You don't really appreciate it when you're in the bubble yourself. You don't realise how much of a thing there is about this horse, you know? It's only after when you sit back and you watch the videos and read all the paper clippings, people have really got to like him.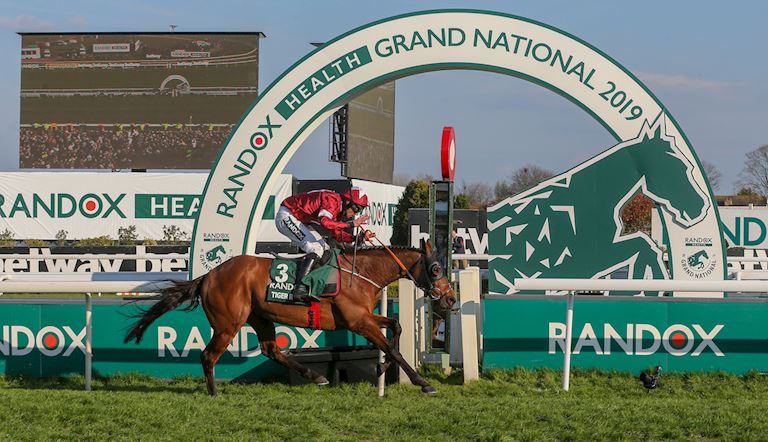 "You know, he's got a great name, Tiger Roll, and he's got a great heart. He's obviously won at four Cheltenham Festivals and to win two Randox Health Grand Nationals has been unbelievable.
"Everyone who comes into the yard, there's only one horse they want to see and that's Tiger Roll. He's a people's horse now and we're very lucky to have him.
"Red Rum was before my time but you've seen the videos and heard all about him. He was an amazing horse and to be in the same league as him is unbelievable."
Of course there are those who say Tiger Roll still has some way to go to be properly compared to Aintree's greatest ever competitor. Red Rum did, after all win the race in 1973, 1974 and 1977 and also finished second in 1975 and 1976.
But there is something about Tiger's swagger, his character and his gutsy determination which has transcended the sport, while also making him the poster boy of modern day Jump Racing.
Let's not forget, too, that he has won at four Cheltenham Festivals.
All being well, in April 2020 the Gigginstown-owned nine-year-old and jockey Davy Russell will attempt to make history by becoming the first horse ever to win three consecutive Grand Nationals. But he will run only twice this season before doing so, Elliott tells us.
He explains: "It's great to see him back, doing a bit of work again. He's had a nice couple of months of summer holidays.
"He went back to Gigginstown obviously. He was probably out there and had about 10-12 weeks out on grass. He hasn't had a saddle on him since Aintree and the National but he's done a few parades and had a few good days out, which is great.
"I've seen him a couple of times during the summer at Gigginstown and he was good and strong and I've seen him here when he was here for a while before he went off to do his flat work and he looked good.
"He'll probably do three or four weeks of flat work before he comes back to us in the main yard here.
"Obviously he won't be that busy this year. We're going to have to mind him now and pick and choose where we go. He'll probably have one run over hurdles, maybe something like the Boyne Hurdle (February) again. He'll go back to Cheltenham (March) for the cross country race and then we'll go for the Randox Health Grand National."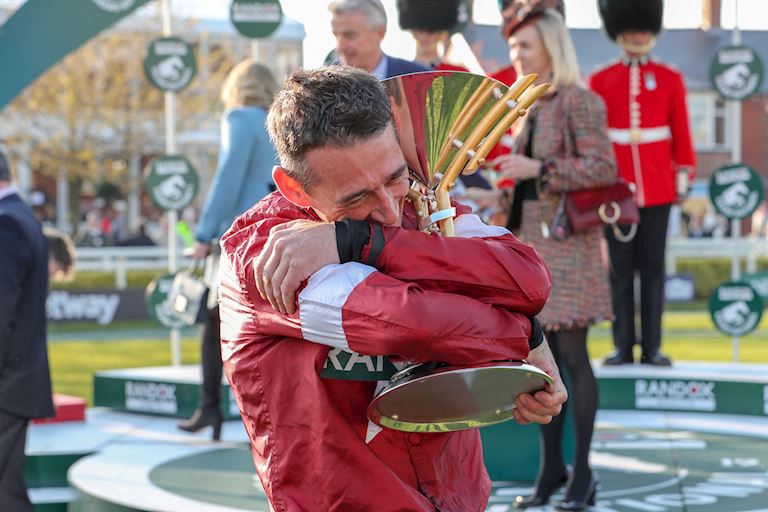 Ellliott, now 41, knows a thing or two about training racehorses. Since his first Grand National at the age of just 29 with Silver Birch in 2007 he has added Jump Racing's holy grail, the Cheltenham Gold Cup, and leading Cheltenham Festival Trainer to his CV.
Yet he says there are still those who think he should be testing Tiger Roll further. He explains: "People tell me I should be entering him in Stayers' Hurdles or Gold Cups but I was always taught and I'm a big believer in go for the race you think you can win at the Cheltenham Festival and the race I think I can win at the Cheltenham Festival is the cross country race, so that's where he'll go. But the number one this year will be the English National."
Ominously for his rivals Elliott believes 'The Tiger' has improved as a horse and, if everything in his preparation goes right, he will have a fantastic chance to make history come April 4th next year.
He added: "I suppose last year we thought he'd hose up until the last 50 yards and he just nearly got caught. I was still confident when he'd got past the line last year that he'd won but until they call the result you never know.
"This year was probably easier to watch. He travelled and jumped and did everything right. You know, it's a funny thing to say but he was arguably a better horse this year than he was last year.
"I think the build up to the English National this year is going to be unbelievable. The hype – people are talking about him already. Whether he wins, loses or draws if he gets back there to have a go at three in a row it's going to be great. The hype is going to be brilliant."
Tiger Roll will bring the house down if he makes history next Spring, but does he know just how impressive – and loved - he is?
"He knows he's good," smiles Elliott. "And he loves the attention. You just watch him walking round the parade ring before and after races. He knows he's Tiger Roll."