In Grand National history there have been just three grey horses that have conquered the world's greatest Steeple Chase a total of four times.
Past Winning Grey horses in the Grand National
The Lamb
The Lamb Grand National Grey Winner (1868 and 1871)
The Lamb was the first grey horse to claim victory in the Grand National in 1868. Winning again a few years later proved that a grey winning the race was no fluke.
Horse: The Lamb (6 yo)
Jockey: Mr George Ede
Trainer: Ben Land
Owner: Lord Poulett
SP: 9/1
Time: not recorded

Three years later The Lamb won the Grand National for a second time in 1871 but this time under jockey Mr Tommy Pickernall a dual winning rider in the Grand National himself.
Horse: The Lamb (9 yo)
Jockey: Mr Tommy Pickernall
Trainer: Chris Green
Owner: Lord Poulett
SP: 11/2
Time: 9m 35.7s
Nicolaus Silver
Nicolaus Silver Grand National Grey Winner (1961)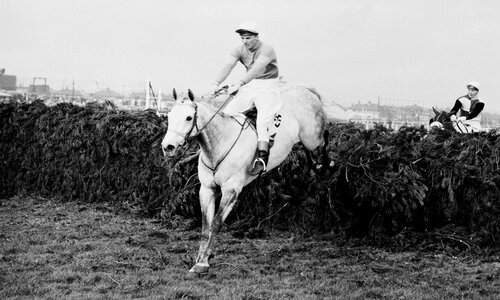 Photo Credit: PA Images
It was a remarkable 90 years later before another grey horse triumphed in the Grand National.
Horse: Nicolaus Silver (9 yo)
Jockey: Bobby Beasley
Trainer: Fred Rimell
Owner: Charles Vaughan
SP: 28/1
Time: 9m 22.6s
Neptune Collonges
Grand National Grey Winner Neptune Collonges (2012)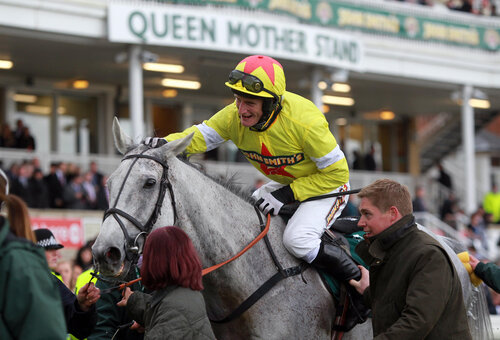 Photo credit: PA Images
There was another long wait of 51 years until the next grey winner. It was Neptune Collonges who was the third grey horse and the most recent grey to win the Grand National.
Horse: Neptune Collonges (11 yo)
Jockey: Daryl Jacob
Trainer: Paul Nicholls
Owner: John Hales
SP: 33/1
Time: 9m 5.1s
Grey Horses In The Grand National Who Were Pipped To the Post
Although grey horses to create excitement, not all who enter win. Below are some grey horses who came very close to winning!
1997 Suny Bay (2nd)
1998 Suny Bay (2nd)
2002 What's Up Boys (2nd)
2002 Kingsmark (4th)
2008 King Johns Castle (2nd)
Recent Grand National Grey Entries
Despite the superstition surrounding grey's not all are as lucky as the runners above! Below are some more recent grey entries you may remember!
Grey Horses In 2019 Grand National
Vintage Clouds
Lake View Lad
Baie Des Iles
Grand National Grey Horses 2017