THE GRAND HIGHLIGHTS
People from all over the globe flock to Aintree for the world famous Randox Ladies Day. World class racing goes hand in hand with show stopping fashion. And after a two year absence, the Style Awards 2022, sponsored by Never Fully Dressedwas poised to be better than ever. Here are all of our Grand Highlights from Ladies Day.
STYLE AWARDS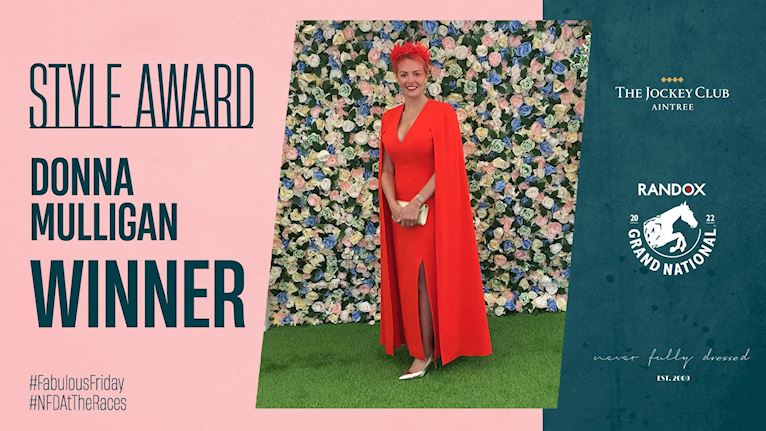 Aintree's Ladies Day is marked in the calendar of many all over the globe. It's truly the most prestigious award of the day. And the glam didn't disappoint this year.
From the brave and the bold to the subtle but staple we had it all. But there can only be one winner. Taking the best dressed crown at the 2022 Style Awards was Donna Mulligan. Draped in an elegant and bright red floor length gown with cape sleeves and a matching headdress paired with a pair of gold heels, Mulligan made a worthy winner of the award.
Donna said: "Unbelievable, I can't believe it. Hundreds of men and women spent the first part of their racing day queuing to get their pictures taken, so their outfits could be assessed by the judging panel."
The award was chosen by Never Fully Dressed representative Helen Flanagan, Jay Hynd, Gemma Cutting from The Guide and Liverpool-born boxer Natasha Jonas.
Donna's winning prizes include £5,000 cash, £500 Never Fully Dressed voucher the Ultimate UK Staycation Spa Break with Iconic Luxury Hotels, a £1,000 donation to the winner's chosen charity, a pair of Garden Club tickets to Ladies Day 2023 and a Randox Health package worth £500.
CELEBRATING 20 YEARS WITH ALDER HEY CHILDREN'S HOSPITAL
Jockeys past and present took time out today on the eve of the Randox Grand National to visit youngsters at Liverpool's Alder Hey Children's Hospital. The visit is part of a long-standing partnership with The Jockey Club and Aintree Racecourse, which this year celebrates its 20th year.
Reigning champion jockey Harry Skelton, who was joined by his wife and fellow jockey Bridget Andrews, said: "Seeing the kids coming out here today - it's like they have got another Christmas really. They come out smiling with a spring in their step and they absolutely love it. I think it's an hour well spent in my year. It is a pleasure to see and give them a bit of happiness."
Among those also in attendance was champion jockey-elect Brian Hughes, who described the experience as "humbling".
He said: "It's quite humbling and it probably hits home more when you have your own kids when you see what these families are presented with. If we can make their morning a little bit better we are the ones that are lucky to do that."
Former jockey Mick Fitzgerald, who is a patron of the charity, has been a big supporter of the project since its inception in 2002.
The Grand National winner-turned broadcaster said: "Life is precious and for some of these kids it's really precious. Now that I have kids you actually imagine what it would be like to have a child here and it would be very scary - that's why I say to all the lads take it all in as it makes you realise what really matters. I feel if we can do anything to help no matter how small it has to be a good thing. To see the kids' faces when they see Neptune Collonges is great."
Like Fitzgerald his former weighing room colleague, and now retired dual Grand National winning rider Ruby Walsh is another who's keen to underline the importance of the jockeys' visit.
He said: "If The Jockey Club and the jockeys can help support that and the funding and building of it then that is brilliant. The work people here do is incredible. A lot of jockeys have been big supporters and The Jockey Club has been huge in helping set this up and long may it continue."
The biggest attraction for many of the patients is being able to get close to Neptune Collonges, something his owner John Hales admits always brings a smile to his face.
He said: "Neptune hasn't been here for a couple of years but he loves coming here. We bring lots of Polo mints as the children love feeding them to him and he is so good with the children. It makes it all worthwhile for me, seeing the smile on the children's faces."
Among those to feed Neptune Collonges was three year old Jamie Clarke, who is from nearby Kensington.
His mum, Ashley Hughes, said; "It's dead good for Jamie as being in hospital you don't get to see much. We've been coming in and out since Jamie got his kidney cancer diagnosis in January. We ran down here to see the horse. If they do stuff like this it makes the kids feel like they are not in hospital and Jamie loves it if he can get off the ward. He loved feeding him a Polo mint."
Organisers from the hospital were pleased to see the event taking place in person for the first time since 2019. Fiona Ashcroft, CEO of Alder Hey Children's Charity, said: "We were delighted to welcome The Jockey Club today and celebrate our incredible 20 year partnership with them.
"It's the first time we've been able to welcome them at the hospital for three years because of the Covid restrictions. Our children and young people and staff were thrilled to meet Neptune Collonges and bring that Grand National magic to Alder Hey."

BOWENS CONTINUE TO DOMINATE IN THE RANDOX TOPHAM
Mac Tottie handed trainer Peter Bowen a record-equalling fifth victory in the Randox Topham Chase over the Grand National fences when successful this afternoon.
Bowen was previously successful with Dunbrody Millar (2007) and Always Waining (2010, 2011 and 2012). Nicky Henderson has also trained five winners of the race.
Mac Tottie is a previous winner over the Grand National fences, having taken the Betway Grand Sefton Chase back in November.
The 8-1 chance scored by four and a quarter lengths from Batcio in the hands of the trainer's son Sean.
Winning trainer Peter Bowen said: I don't know what it is about this place, but I love it, anyway! He just loves those fences. That's our fifth Topham Chase win, thank God. We could do with a National now.
"This horse was [son] James's ride originally, but he had to ride Fantastic Lady [who unseated James at the first] so Sean got the ride."
Bowen's son and winning jockey Sean Bowen said: "He is unbelievable. I'm not being biassed but dad is brilliant. When he wants to get one ready he gets one ready. After he won the Sefton it was always about coming back for the Topham. He (dad) obviously enjoys winning the race as that was the fifth time he has won it.
"You ride any winner it's brilliant, you ride a big winner it's massive but I literally can't describe to you what it is like to ride a winner for the family it is a lot different and absolutely amazing."
BACK TO BACK WINS AT AINTREE FOR AHOY SENOR
Ahoy Senor earned an emphatic win in an impressive field to win at Grade One level for a second year in succession at the Randox Grand National Festival in the Betway Midmay Novices' Chase.
Trained by Lucinda Russell and partnered by Derek Fox, the seven year old scored impressively by five lengths from Fury Road, with 11-8 Favourite Bravemansgame finishing fourth of the four runners.
Winning jockey Derek Fox said: "He was very impressive around here last year and he didn't have an awful lot to find with the big two. It looked like a good race on paper and he has done well to win the way he did."
"I hope he can develop into a Gold Cup horse and I'd be very excited to ride him in it. I'm looking forward to the future with him."
SECOND GRADE ONE SUCCESS FOR NICHOLLS AND COBDEN AT 2022
Gelino Belllo handed trainer Paul Nicholls and jockey Harry Cobden a second Grade One victory at the 2022 Randox Grand National Festival when successful in the Cavani Menswear Sefton Novices' Hurdle (3m 149y).
The 7-2 chance scored by four and a half lengths from Gentleman At Arms.
Winning trainer Paul Nicholls said: "He ran ok at Cheltenham in December and he's just needed all the time to mature. We've given him a lot of time and he won well at Newbury last time. We didn't want to go to Cheltenham with him as we thought he'd be better off here and he'll just keep getting better as he gets stronger.
"He'll go novice chasing next year, he's already jumped fences so bring on October. He's an exciting prospect and he can only get better. It all counts (towards the Trainers Championship), we've had a good week and it all helps."
Successful jockey Harry Cobden said: "I'm delighted with that after such a disappointing start to the day with Bravemansgame getting beaten. This lad's made up for it.
"Coming into the race I thought he had a great chance in a fairly open Grade 1 in which nothing stood out, and it was a good bit of placing from Paul who picked the race out a long time ago and bypassed Cheltenham. That was his Gold Cup."