THE GRAND HIGHLIGHTS
The day we've all been waiting for. The main event - Randox Grand National Day. Even the best of Hollywood script writers couldn't have written this. We've had emphatic wins, surprise wins and wins that you - or Sam Waley-Cohen - could only dream of in racing's most iconic race. Here are all of our Grand Highlights from the final day at Aintree.
SAM WALEY-COHEN BOWS OUT WITH RANDOX GRAND NATIONAL WIN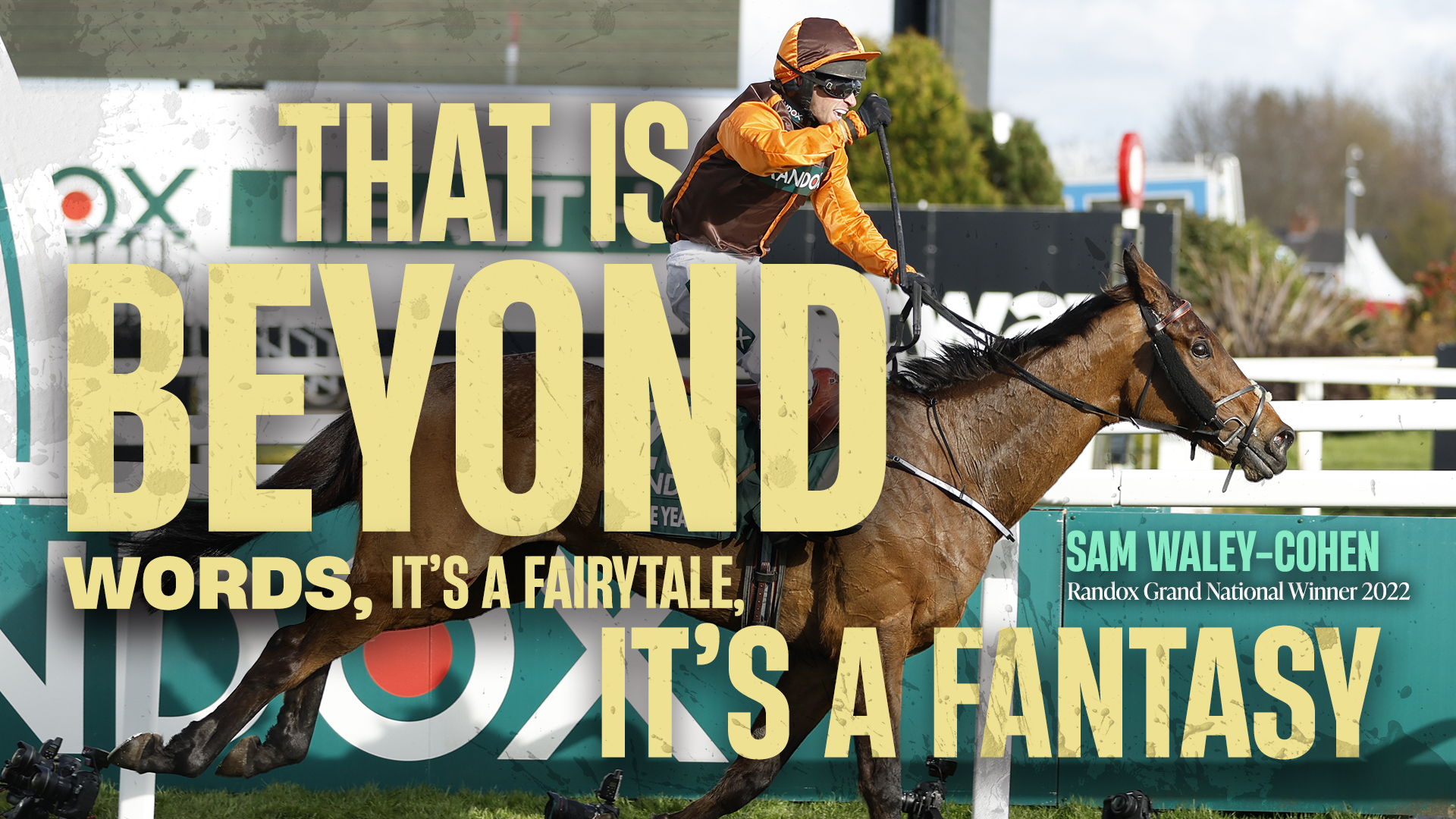 It was the perfect fairytale ending for Waley-Cohen who ended his racing career by winning the iconic Randox Grand National. The amateur jockey who turns 40 next Friday (April 15th) won't have a better present than this.
Waley Cohen took gold riding Noble Yeats, returned at 50-1, he defeated 15-2 Favourite Any Second Now by two and a quarter lengths with Delta Work (10-1) third and Santini (33-1) fourth.
He's proven to be a rarity in elite sport as an amateur amongst professionals, winning the 2011 Cheltenham Gold Cup on Long Run and boasting a fabulous record over Aintree's Grand National course. And now the Randox Grand National - the only amateur to do so.
Speaking on his iconic win he said: "This is beyond words. It's a fairytale, it's a fantasy, and I'm just full of love, and happiness and gratefulness.I always wanted to go out on a high, and I thought Thursday was going to be that high. It doesn't get better than this, and that's it now - out!"
Waley-Cohen reflected on his success at Aintree over the years, and also paid tribute to his late brother, Thomas. Summing up his success he said: "Being on the right horses, getting the luck, having the sun out. I do think Thomas is sitting on my back, I ride with his name on my saddle. These days are family days. Honestly, you couldn't make it up could you?"
And he was full of praise for his father, Robert Waley-Cohen who owns Noble Yeats. And his father returned the praise.
Robert Waley-Cohen, told ITV Racing "It's absolutely a dream come true – I can't speak, I've shouted too much! Just fabulous. You can't g:o without the horse, but the horse can't go without the jockey, so it's a team and thank God it's really worked. My cup runneth over."
Asked to sum up his son's talent, he said: "Dedication, hard work. He only rides about 30 races, apart from point-to-points, in the year, and his record is unspeakably good. I'm really emotional.
"It's fantastic, that is what we dreamed about for years. Sam used to ride a rocking horse, pretending he was riding Auntie Dot. That's how far back it goes."
Waley-Cohen reflected on his success at Aintree over the years, and also paid tribute to his late brother, Thomas. Summing up his success he said: "Being on the right horses, getting the luck, having the sun out. I do think Thomas is sitting on my back, I ride with his name on my saddle. These days are family days. Honestly, you couldn't make it up could you?"
The winning jockey completed the Grand National course six times from ten attempts in the big race itself, placing on three occasions and he revealed that it was his ride on Jett in last year's race which persuaded him to hold back on a retirement which he had been considering for some time.
And he now becomes the first amateur to succeed since Marcus Armytage won on Mr Frisk in 1990. He is also the first amateur jockey to ride the winner of the Grand National and the Cheltenham Gold Cup. He won the Cheltenham Gold Cup on Long Run in 2011.
Waley-Cohen boasts a formidable record in races run over the Grand National fences, having also won the Foxhunters' Chase (Katarino 2004 & 2005, Warne 2014), Topham Chase (Liberthine 2006, Rajdhani Express 2015), Becher Chase (Oscar Time 2014).
A seven year old, Noble Yeats becomes the first horse from that age group to prevail since Bogskar in 1940. Seven is currently the minimum age for a horse to run in the Grand National.
The winner was trained by Emmet Mullins and was his first Grand National runner. Mullins is the nephew of leading Irish Jump trainer Willie Mullins and began training in 2016. He is based in Bagenalstown, County Carlow.
Before his last and winning ride, he said: "The Grand National and the fences have been a bit of a love affair for me, I love the people of Liverpool and the atmosphere here and I get such a kick out of riding the fences.
"My boyhood fantasy really was to ride in the Grand National, which was an impossible dream for an amateur. One of my earliest memories is pretending to ride in the National so to actually ride in it and to have the chance to line up and say goodbye to everyone at the course I love is certainly fulfilling that dream."
WELCOME TO THE LEGENDS CLUB
Owner JP McManus became an "Aintree Legend" when he was inducted into the Aintree Hall of Fame by racecourse chairman Nicholas Wrigley on the morning of Randox Grand National Day 2022.
The Irish businessman is the owner of two Grand National winners; Don't Push It, ridden by AP McCoy to a long-awaited victory in 2010 and Minella Times ridden by Rachael Blackmore in 2021 to see her become the first woman to win the Grand National.
A plaque bearing McManus's name now hangs on the Hall of Fame wall in McCoy's Bar - named after the legendary 20-times champion Jump jockey, the rider best known for wearing McManus's unmistakable green-and-gold silks.
The first running of the world's great steeplechase that McManus can remember was in 1960. He recalled: "I remember Merryman II, who won that year, and then Nicolaus Silver the following year. The first I saw on television was Kilmore in 1962 with Fred Winter, and after that Ayala, Team Spirit… I remember them very well," said McManus, reeling off all the winners of the 1960s in the correct order.
"I didn't come here until 1976 [Rag Trade won that year]. Then I was here for all of them except for the year of Foot and Mouth Disease [2001]. I've had some wonderful memories here and it would be unfair to pick one over the others, but the day that Don't Push It won was very, very special. We've had a few disappointments, but you just celebrate the wins and forget about everything else.
"I love it, I look forward to it very much. And I hope that my grandkids who are here this year - all of them except my namesake, JP - I hope they want to come every year. It's lovely to have them here."
His first Grand National runner was Deep Gale, who fell at the first fence in 1982. Laura's Beau finished third for McManus in 1992, and Clan Royal was second in 2004. Twenty-eight years after his initial attempt with Deep Gale, Don't Push It finally handed him a much-desired success in the race.
He has five runners in today's Randox Grand National: Minella Times (ridden again by Rachael Blackmore), Any Second Now (Mark Walsh), Enjoy D'Allen (Conor Orr), Anibale Fly (Luke Dempsey) and School Boy Hours (Sean Flanagan).
ANYTHING CAN HAPPEN ON GRAND NATIONAL DAY
Gentleman De Mee (7-2) caused something of an upset in the Grade One Poundland Maghull Novices' Chase (2m), defeating 4-7 favourite Edwardstone.
The Willie Mullins-trained six year old won by four and a half lengths under Mark Walsh.
Trainer Willie Mullins said of his winner, Gentleman De Mee: "He's just improved in the past six weeks or so, which is probably due to the change in tactics and getting him confident in his races, rather than getting held up and being beaten early in the season. He's probably just maturing and growing into himself - he's a big horse.
"We'll see how he comes out of this - we'll see about Punchestown. Yes, I think the Champion Chase is a realistic aim for the future, rather than the Ryanair."
Winning jockey Mark Walsh told ITV Racing: "He's brilliant. He's a very forward-going horse. We tried to hold him up in his first few runs and it didn't work, so we just let him make the running and it suits him because he wings fences and he just loves to get on with it."
Asked about his ride in the Grand National on Any Second Now, Walsh added: "I'm really looking forward to it. It's always great to have a winner before you go in the National, it gives you a bit of confidence, so I'm looking forward to it."
Later, in the winner's enclosure, he said: "It was all very plain sailing. He got out in front and winged the fences. He only missed the fourth last but it was a good performance from him."
PARTY TIME FOR PARTY BUSINESS
Charlie Todd and Ian Williams will certainly be celebrating tonight. The final day at Aintree started off with a bang as Party Business landed the opening race on Randox Grand National Day, the Grade Three EFT Construction Handicap Hurdle (3m 149y).
The Ian Williams-trained six year old was returned at 11-2 and scored by three-quarters of a length from Irish raider Iikedwayurthinkin. And winning jockey Charlie Todd is now just one winner away from riding his claim. This was his 74th winner.
Ian Williams said: "That was a good duel up the straight, but I didn't think it was going to happen. I was anxious watching him early on. He didn't pick up the bridle early, didn't travel, didn't jump, was obliged to go very wide turning for home and we said to Charlie, if you get the opportunity, don't take it up during the last.
"I think that's possibly Charlie's last ride before losing his claim - he might have one more, but it was a solid effort and he's done well to get back up.This means a lot - it's a good day.
Winning jockey Charlie Todd has now ridden 74 career winners and needs one more to successfully ride out his claim. He said: "I probably felt the same as him (Ian Williams, in not being overly confident early on) but he has always been that way. He was arguably unlucky to have not run better at Cheltenham but he has won today. That is my first Graded winner and I'm delighted.
"Ian has been great to me. He has put me through the whole of my claim. I came to him as an amateur with no winners to my name and I'm still here now one winner away from my claim. Hopefully we can keep the great partnership going.
"I've got one more left on my claim now. I was very confident coming here today and I thought I could have nicked one yesterday at Fontwell but it didn't quite go to plan.
"I've ridden 74 winners and I've had some nice ones on the way but this one tops it. My whole family is here today and it is great for them to be here. I'm glad I can repay the boss for what he has done to me. I get on very well with him and he is almost like a father figure to me and he has done a lot for me."

Party Business Wins