UNIVERSITY OF LIVERPOOL BECOME PARTNERS
RANDOX HEALTH GRAND NATIONAL FESTIVAL, AINTREE RACECOURSE, FRIDAY 5th APRIL
Thursday 24th January – Aintree Racecourse and Women in Racing are delighted to announce Denise Lewis OBE will join the 2019 Aintree Grand Women's Summit.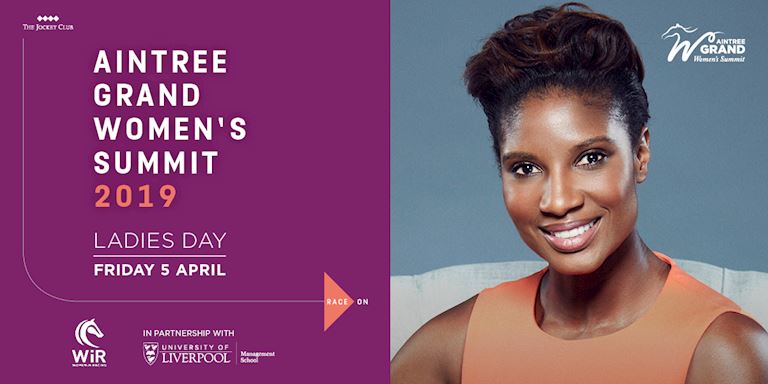 Denise is one of Great Britain's most well-known sports stars having won the Heptathlon Gold at the Sydney Olympics in 2000. Following her athletics career, she has gone on to be a successful Presenter and Broadcaster, covering sport and entertainment. In November 2016, Denise joined other exceptional figures in politics, business, sport and science to share her insights into being black and British in the BBC Two Series, 'Black is the New Black'.
Denise joins the panel alongside Tracey Neville MBE who is head coach of the England Netball team. They have enjoyed a period of unrivalled success, including Gold at the Commonwealth Games on the Australian Gold Coast a year ago, as well as the BBC's Sports Personality Team and Moment of the Year at the end of 2018.
Denise Lewis OBE, said: "I am thrilled to have the chance to join the Aintree Grand Women's Summit. Women's sport is developing in leaps and bounds and I look forward to being able to share my experience and learnings over the years as a professional athlete and performer. It is really exciting to be part of such a special sporting occasion and such an important date in the racing calendar."
Furthermore, Aintree Racecourse and Women in Racing are delighted to announce the University of Liverpool have become partners of the 2019 Aintree Grand Women's Summit. The University of Liverpool runs the Thoroughbred Horseracing Industries MBA (THIMBA) which is now recruiting for its fourth cohort/intake and has seen students produce exciting new research, including analysis of the performance of female jockeys.
The initial research project by Vanessa Cashmore revealed that the performance of female jockeys is equal to their male counterparts. Using detailed analysis techniques on data covering a 14-year period, the study suggests that once the quality of the horses they are riding is factored in, the performance of female jockeys is essentially no better or worse than male jockeys. Further analysis to look at this subject in more detail, including identifying possible measures to address the imbalance in riding opportunities for females, has been supported by the award of a bursary by Women in Racing.
Neil Coster, Director of Studies at the University of Liverpool, said: "We are really excited to partner with the Grand Women's Summit and have the opportunity to be part of this special event in Liverpool. Our MBA offers students a unique chance to understand the business dynamics of horseracing and we are delighted that a number projects studied as part of the MBA are influencing industry decision-making."
On Friday 5th April, Denise and Tracey will join Telegraph Columnist and bestselling author Bryony Gordon who will lead a panel of sports stars and experts on a discussion of mental wellbeing in sport.
Sport and mental health
Under the title 'Sport and mental wellbeing: A Powerful Relationship' the discussion will be shaped around the following key themes:
• The challenges professional sport presents to mental health;
• How professional athletes can look after their mental health – and any learnings for the wider population;
• The benefits of sport for mental wellbeing
• The role of coaches, organisations and support mechanisms in promoting good mental health;
• Discussion and sharing of best practice across different sports.
Telegraph Columnist and bestselling author Bryony Gordon, said: "I am really excited to be hosting the 2019 Aintree Grand Women's Summit, as part of the Randox Health Grand National Festival at Aintree Racecourse. Mental health is a topic close to my heart and the event will provide a unique opportunity to discuss it with a special panel of sporting stars and experts. I look forward to meeting everyone and leading what will be an insightful and fascinating discussion."
As with previous Aintree Grand Women's Summits the audience will be encouraged to be part of the debate and discussion.
Details of other panel members will be announced in the coming months.
Details of the day
For the 2019 Aintree Grand Women's Summit guests will be welcomed to The O'Sullivan facility at the racecourse from 8:30am with refreshments and pastries on offer before the discussion of sport and mental health commences at 9:00am.
Once the discussion has concluded guests will have the chance to go on a course walk of the famous Grand National fences. Guests will split into small groups, each of which will be led by a well-known racing figure offering real insight into what it is like to ride around the Grand National. Retired jockey and Ambassador Katie Walsh, Aintree's historian Jane Clarke, trainer Lawney Hill and ex-jockey Carrie Ford will lead groups on the course walk.
Guests (ticket/package dependent) will then return to Paddock Lodge for an exclusive VIP champagne reception and a buffet lunch before enjoying the afternoon of sporting action.
John Baker, Aintree Racecourse's Managing Director, said: "We're delighted Denise will be joining Bryony and Tracey as part of the Aintree Grand Women's Summit. The insights and expertise they will be able to share promise to make this a very special event and a unique way to be part of the Randox Health Grand National Festival. We're also delighted to welcome on board the University of Liverpool as our new partners for the event and I would like to extend my thanks to the Thoroughbred Horseracing Industries MBA team. Tickets for the event are selling fast so we recommend people to book early."
Deputy Chair of Women in Racing Tallulah Lewis, said: "We are really excited to welcome both Denise and Tracey to the panel, alongside Bryony, for the Aintree Grand Women's Summit. They are both incredibly accomplished women and we know Women in Racing members will enjoy hearing their insights on sport and mental health. We encourage everyone to get their place booked!"
About Denise Lewis OBE
Denise Lewis OBE is a presenter, broadcaster and Gold medal winning heptathlete.
Denise won gold in the heptathlon at the 2000 Sydney Olympics and is one of the "golden girls" of British athletics. Denise holds the British record of 6831 points, set in 2000. She was inducted into the UK Athletics Hall of Fame. Since her retirement, Denise has undertaken various television and media work, appearing on BBC1's Strictly Come Dancing and in Let's Dance for Comic Relief, reaching the final of the competition. Denise also appeared on ITV1's The Cube, All Star Family Fortunes and BBC One's Pointless from 2009 to 2012.
In 2011/2012, Denise presented 2 series of Camp Orange for Nickelodeon, and also joined Dame Mary Peters for her BBC NI documentary, The Run of Her Life. In spring 2012, Denise undertook the challenge of rowing the channel with John Bishop, Davina McCall and Andrew Flintoff for Bishop's Week of Hell for Sport Relief. Later that year, she anchored the Woman of the Year awards for ITV1's Lorraine. 2012 was also hugely significant for Denise in that she joined the BBC's London 2012 Olympic broadcasting team, reporting daily from the Olympic Park throughout both the trials and the main competition.
In 2014, Denise covered many key athletic events for the BBC, including the Commonwealth Games, the European Diamond League and the London Marathon. Denise joined Davina McCall for another gruelling challenge for Sport Relief in the same year, alongside competing in the wheelchair basketball event at the 2014 Invictus Games, with the match broadcast live on BBC1's The One Show.
In the same year, Denise was included as a presenter on BBC1's Seven Wonders of the Commonwealth, in which she travelled to Zambia to report on the spectacular sight of Victoria Falls. She also took on the ambassadorial role for the Investec Epsom Derby and QIPCO Champions Day at Ascot, along with a similar ambassadorial role for 2014's Telegraph Be: Fit event, a female health and fitness convention, which Denise has carried through to 2015.
2015 saw Denise undertake a number of presenting roles, including fronting the BBC daytime programme Right on the Money which broadcast live from Salford, with co-host Dom Littlewood. Denise also completed a stint on the red sofas, co-presenting BBC's The One Show, following the huge success of her episode of BBC's Operation Meet the Street, and featured as a contributor on ITV's Give A Pet a Home, ending the series by adopting a dog of her own. Other guest slots have included Sky Sportswomen and Celebrity Squares.
2016 saw Denise reprise her role presenting series 2 of Right on the Money, and she also made her debut as a presenter on prime-time BBC1 series, Secret Britain. Denise also presented Winners for BBC2, BBC World and News, which saw her uncover the incredible stories of 6 female athletes from around the world and the challenges they face simply because they're female.
In November 2016, Denise joined other exceptional figures in politics, business, sport and science to share her insights into being black and British in the BBC Two Series, 'Black is the New Black'. Denise has also worked to promote 'women in work' – covering the International Women's Day in 2016.
2017 has seen Denise return as host for series 3 of BBC1 series Right on the Money. Denise also continues to be an integral member of the BBC commentary team, covering annual sporting highlights including the IAAF Championships, the most highly anticipated Athletics competition of the year.
As one of the BBC's most credible commentators, Denise has also covered the European Team Championships, the 2015 World Athletics Championships, the London Marathon and the 2016 Rio Olympics. Alongside this, Denise continues her work as the president of Commonwealth Games England.
Charitable work is close to Denise's heart and she works closely with the Jaguar Academy of Sport Sparks, Breast Cancer Care, UNICEF as both Patron and Ambassador. She lives with her husband and 3 children in Buckinghamshire.
About Tracey Neville MBE
Tracey is the current Head Coach of the England National Netball Team and was instrumental in the team winning their first Commonwealth gold medal on the Gold Coast in 2018.
Tracey won 81 caps for England in her own playing career from 1992-2008. Her best achievement in this time was undoubtedly winning England's first netball medal at the Commonwealth Games – in 1998 in Kuala Lumpur. She began coaching in netball with Team Northumbria in 2011 before taking the director of netball job at Superleague club Manchester Thunder.
After a successful interim period, Tracey was given the head coach job for the England National Team in September 2015. In 2016, Tracey was made an MBE in the New Year Honours list for services to netball. Away from netball Tracey enjoys watching crime thrillers.
About Aintree Racecourse / The Jockey Club
Aintree is home to The Randox Health Grand National, the most famous horse race in the world which is the climax to a three-day Festival meeting in April every year. The racecourse hosts five other fixtures and is a leading conference centre in the north west of England. More information is available at aintree.thejockeyclub.co.uk.
Aintree is part of About The Jockey Club which stages thrilling sporting occasions including The Randox Health Grand National, The Cheltenham Festival and The Investec Derby. Millions of people every year enjoy the special experiences we offer through racing, music, food and entertainment. Governed by Royal Charter, every penny we make goes back into British Racing to help the sport thrive. We were founded in 1750 and today we are the largest commercial group in Britain's second-biggest spectator sport, operating 15 racecourses nationwide, The National Stud, Jockey Club Estates, Jockey Club Catering, Jockey Club Live and our charity, Racing Welfare. For more information visit www.thejockeyclub.co.uk.
About Women in Racing
Women in Racing aims to develop the profile of women within horseracing and provide support to women wishing to secure appointments from grassroots through too senior and board level in the sport. Its objectives also include attracting more women into horseracing, strengthening connections, collaborating on approaches to help promote the health of the sport and to enhance its reputation as an attractive sector in which to build a career.
Since it was founded in 2009, it has achieved significant milestones including a successful mentoring scheme and a Bursary fund alongside a busy calendar of educational and social events www.womeninracing.co.uk
About the University of Liverpool's Thoroughbred Horseracing Industries MBA
The Thoroughbred Horseracing Industries MBA is the only masters-level qualification in the world to be delivered through an exclusive partnership with British Racing. The programme combines the Management School's expertise in sports business management, with the specialist equine knowledge of the University's School of Veterinary Science. As an MBA programme it has the real business focus that management positions in modern horseracing demand. This is based on links with key sectors of the industry — from racecourses, horseracing governance and administration, trainers, owners and breeders, to the gambling industry and the media. The programme supports both those working in the horse racing and associated industries and prospective career-changers, to develop their management and leadership skills. It is delivered through a combination of face-to-face and online teaching, that allows participants to remain in full-time employment
More information can be found at:
www.liverpool.ac.uk/horseracingMBA
For further information please contact:
Jessica Dalgliesh, Senior Communications Executive, The Jockey Club (North West) on 07464 491507 email: jessica.dalgliesh@thejockeyclub.co.uk
Susannah Gill, Women in Racing Committee member on 07751 870 929 email: susannah.gill@womeninracing.co.uk
The full timetable for the 2019 Aintree Grand Women's Summit:
Date: Friday 5th April 2019
Location: Aintree Racecourse, The O'Sullevan facility
8.30am: Arrival with refreshments and pastries
9.00am: Grand Women's Summit to begin with welcome from Rose Paterson, Chair of Aintree Racecourse and discussion hosted by Bryony Gordon and the panel
10.30am: Exclusive Course Walk of the famous Grand National course with leading figures from horseracing, including Katie Walsh, Jane Clarke, Lawney Hill and Carrie Ford.
From 12 noon: Paddock Lodge for an exclusive VIP champagne reception, buffet lunch and afternoon of racing (for those booking the full package – details below)
How to book your place
To book your ticket or find out more information about the event, head to the Randox Health Grand National website or click here.
Ticket packages
Package one: £125.00 – Purchase here
• Grand Women's Summit in O'Sullevans (Refreshments and Pastries on arrival)
• Hospitality in Paddock Lodge (including champagne arrival, buffet lunch)
• Exclusive Course Walk
• Lord Sefton Terrace badge
Package two: £80.00 – Purchase here
• Grand Women's Summit in O'Sullevans (Refreshments and Pastries on arrival)
• Exclusive Course Walk
• Lord Sefton Terrace badge
Women in Racing members will be offered a reduced ticket price, please get in touch with the Deputy Chairman for more information.
- Follow us @AintreeRaces #GrandNational #GWS2019
- Like us @facebook.com/Aintree
- Instagram @AintreeRacecourse
Photograph credit: © Clara Molden / Telegraph Media Group Ltd.