TRM announce official partnership with Aintree's Randox Health Grand National Festival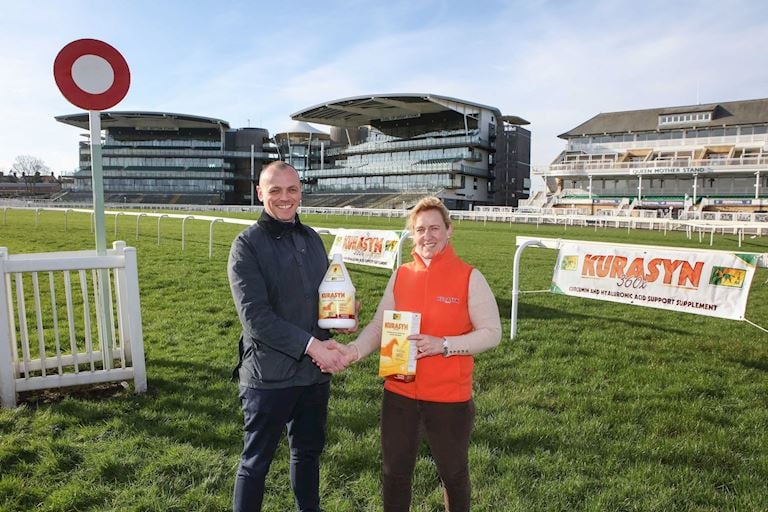 TRM (Thoroughbred Remedies Manufacturing Ltd) today have announced their partnership with the Randox Health Grand National Festival at Aintree Racecourse. This April the Leading Owner and the Leading Trainer prize for the three-day festival Thursday 4th – Saturday 6th April will be sponsored by TRM's Kurasyn 360x.
TRM's Kurasyn 360x is a unique product, unmatched by any other equine supplement on the market and its association with this unique race meeting is fitting. The Curcumin and Hyaluronic Acid feed supplement supports horses through the rigors of training and competition.
Speaking about the announcement TRM's UK Sales Manager - Tom Barrett commented:
"We are delighted to be associated with the Randox Health Grand National Festival and one of the most famous horseraces in the world. We feel the partnership of this great national hunt festival and our new product Kurasyn 360x will add great excitement as we track the leading Trainers and Owners throughout the 3-days of world class NH racing."
John Baker, Managing Director of Aintree Racecourse, said: "Delighted to welcome TRM as the new sponsor of the Leading Owner & Leading Trainer for the Randox Health Grand National Festival. We look forward to working with them in the lead up and over the three day spectacle at Aintree."
About TRM
TRM, is a leading manufacturer of nutritional feed supplements for horses, with a long-standing reputation for integrity and excellence in the field.
A commitment to quality and ongoing innovation has created a globally recognised company in the manufacture and distribution of Nutritional Feed Supplements and Healthcare products for horses.
When using TRM products customers are benefiting from a carefully formulated blends that has been developed in consultation with the TRM scientific committee and in conjunction with Veterinary Surgeons, Nutritionists, Pharmacists and Horse Trainers. This ensures products are designed to meet the horse's nutritional needs and are based on quality that can be trusted.
It is TRM's mission to "maximise horses' athletic performance by targeting their specific nutritional and hygienic needs".
About Kurasyn 360x
Kurasyn 360x is the latest product release in the TRM range. Kurasyn 360x is a feed supplement for horses containing highly bioavailable Curcumin combined with Hyaluronic acid.
It contains a fast-acting Curcumin extract complexed with a naturally occurring oligosaccharide, and has significantly better absorption compared with standard Turmeric.
About Aintree Randox Grand National Meeting
About Aintree Racecourse / The Jockey Club
Aintree is home to The Randox Health Grand National, the most famous horse race in the world which is the climax to a three-day Festival meeting in April every year. The racecourse hosts five other fixtures and is a leading conference centre in the north west of England. More information is available at aintree.thejockeyclub.co.uk.
Aintree is part of The Jockey Club which stages thrilling sporting occasions including The Randox Health Grand National, The Cheltenham Festival and The Investec Derby. Millions of people every year enjoy the special experiences we offer through racing, music, food and entertainment. Governed by Royal Charter, every penny we make goes back into British Racing to help the sport thrive. We were founded in 1750 and today we are the largest commercial group in Britain's second-biggest spectator sport, operating 15 racecourses nationwide, The National Stud, Jockey Club Estates, Jockey Club Catering, Jockey Club Live and our charity, Racing Welfare. For more information visit www.thejockeyclub.co.uk.
About Farm & Stable Supplies
Farm & Stable Supplies is by appointment to Her Majesty the Queen, Suppliers of veterinary products and stable equipment and for over 40years we have also been working closely with the thoroughbred racing and breeding industry to bring revolutionary solutions that fulfil a need. Supplying many winners of illustrious races such as the Grand National, Gold Cup, Tingle Creek etc with feed supplements, yard equipment, de-worming products and healthcare items such as bandages and dressings. Our whole range is available for free, same day dispatch to anywhere in the UK so contact us for free independent advice you can trust.