Liverpool school pupils are first to lay eyes on coveted 2019 Randox Health Grand National trophy
Wednesday, April 3, 2019 - School pupils across Liverpool are today enjoying an exclusive sneak-peek of the 2019 Randox Health Grand National trophy, as part of a tour hosted by Olympic Gold Medallist and Aintree ambassador Sam Quek, and acclaimed former jockey Carrie Ford, who finished fifth on Forest Gunner in the 2005 Grand National and won the 2004 Foxhunters' Chase over the Grand National fences at Aintree Racecourse.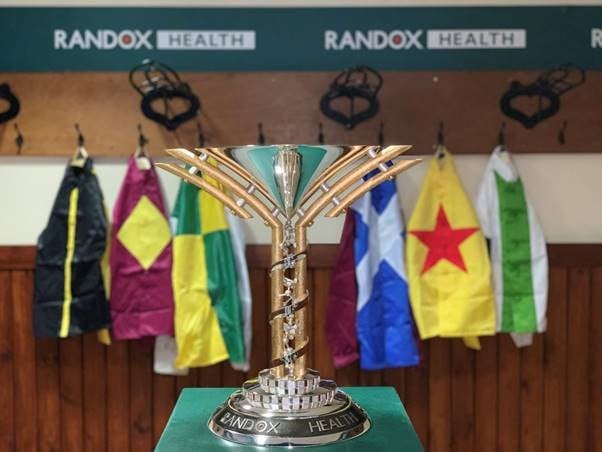 The trophy, which has travelled to King's Leadership Academy, Maricourt Catholic High School and Alder Hey Children's Hospital, will be officially unveiled to the public during the Opening Ceremony of the Randox Health Grand National Festival tomorrow, Grand National Thursday, April 4.
Etched in solid silver and gilded with gold, the 2019 trophy, which has been designed for the third year by Shannon O'Neill, is aptly shaped like a human antibody to carry again the sponsor's message of health and science which so successfully resonated with the racing fraternity in 2017 and 2018.
"We're incredibly excited to unveil the 2019 Randox Health Grand National trophy during this year's Opening Ceremony," said Dr Peter FitzGerald, Managing Director of Randox Health.
"Our sponsorship of the world's greatest race is incredibly special to us, as it is a powerful way to share our preventative health message across the globe.
"With its unique design, the trophy reflects the outstanding science on which Randox Health is based and the use of world class antibodies to identify disease.
"At the base of the trophy, a collection of Randox Biochips - our most innovative health testing technology – have also been brought to the fore. We're thrilled that with each new trophy we can reflect on the scientific advances of the year gone by and share a new chapter of the Randox story."
Those who have the opportunity to view the stunning Randox Health Grand National trophy up close, will notice small spherical structures within the stem of this most coveted prize. Alluding to proteins, one of the building blocks of the human body, this design element draws attention to an area of research in which Randox is investing significantly.
Dr FitzGerald continued: "We strongly believe that the future of healthcare lies in proteomics, the study of proteins. By utilising this innovative method of disease detection, we can identify illness within an individual before it becomes symptomatic. Proteins are released into the blood at the very earliest stage of disease development and, when they are detected, serve as the earliest warning to initiate preventive care.
"Whilst Randox leads the world in proteomic Biochips – the screening for multiple proteins at the same time – there is still much to be done. We can currently test for hundreds of different proteins at once, however, we know that there are up to 30,000 different proteins that we may wish to monitor.
"As we continue to develop diagnostic tests for these proteins, we can begin to imagine a world in which sickness is actively prevented at the earliest stage, rather than managed. In proteins lies the key to living healthier for longer."
Another popular element returning to the presentation of the winning Randox Health Grand National prizes are team trophies. In 2017, their first year as sponsor, Randox Health introduced the concept of presenting the entire winning team with a trophy, to celebrate the combined effort that goes in to achieving such a special victory. In 2018, they went to trainer Gordon Elliott, jockey Davy Russell, and head groom Louise Dunne.
The Randox Health Grand National trophy will be available to view in the Randox Health Hub at Aintree Racecourse at 11:30am and 15:30pm on each day of the Randox Health Grand National Festival.
View a video of yesterday's visit to King's Leadership Academy, Maricourt Catholic High School and Alder Hey Children's Hospital below:
View the unveiling of the Randox Health Grand National below:
Contact Details
For more information about Randox Health please contact Amy McIlwaine in the Randox PR team by emailing randoxpr@randox.com or phoning 028 9442 2413 / 079 8073 8120
About Randox Health
Randox Health brings the experience and expertise of Randox – the largest diagnostics company from the UK – directly to the public in its Randox Health clinics. Randox is dedicated to improving health worldwide, and as such provides medical diagnosis to more than 5% of the world's population – in excess of 370 million people across 145 countries.
Randox Health utilises the patented and pioneering Biochip Array Technology to measure hundreds of biomarkers within your blood simultaneously, in order to provide you with an accurate and comprehensive profile of your current health, and to show you what you can do now to prevent illness in your future. Armed with your results, your Personal Health Plan and private consultations you can spot any problems early and secure your future wellbeing. The Randox philosophy is that early diagnosis and preventive healthcare is the key to improving global health and saving lives.
Randox Health Clinics are currently located in London, Liverpool and Belfast, with ambitious plans to roll out a number of new clinics across the UK, and internationally in the coming months and years.
More information is available at www.randoxhealth.com
About Aintree Racecourse / The Jockey Club
Aintree is home to The Randox Health Grand National, the most famous horse race in the world which is the climax to a three-day Festival meeting in April every year. The racecourse hosts five other fixtures and is a leading conference centre in the north west of England.
More information is available at aintree.thejockeyclub.co.uk
Aintree is part of The Jockey Club which stages thrilling sporting occasions including The Randox Health Grand National, The Cheltenham Festival and The Investec Derby. Millions of people every year enjoy the special experiences we offer through racing, music, food and entertainment. Governed by Royal Charter, every penny we make goes back into British Racing to help the sport thrive. We were founded in 1750 and today we are the largest commercial group in Britain's second-biggest spectator sport, operating 15 racecourses nationwide, The National Stud, Jockey Club Estates, Jockey Club Catering, Jockey Club Live and our charity, Racing Welfare.
For more information visit www.thejockeyclub.co.uk
For further information please contact:
Grant Rowley, Regional Communications Manager, The Jockey Club (North West) on 07884 655990 or email: Grant.Rowley@thejockeyclub.co.uk
Jessica Dalgliesh, Senior Communications Executive, The Jockey Club (North West) on 07464 491507 or email: Jessica.Dalgliesh@thejockeyclub.co.uk