Retrained racehorses ready to show off new tricks at RoR Goffs UK National Championships at Aintree
Over 270 horses entered for four day extravaganza
Including nine-time Grade 1 winner Cue Card and Gold Cup winner Coneygree
The largest annual gathering of retrained racehorses takes place this week at the Aintree International Equestrian Centre. Over 270 retrained racehorses are entered for this year's RoR Goffs UK National Championships, comprising four days of high-class competition staged exclusively for retrained racehorses.
The RoR Goffs UK National Championships get underway on Thursday 22nd August and conclude on Sunday 25th August, featuring classes for dressage, jumping and showing at what is Britain's biggest event for showcasing the versatility of the thoroughbred.
The RoR Northern Dressage Championships start proceedings on Thursday, while Saturday's showing events culminate in an evening performance and the crowning of the Goffs UK Supreme Champion, with its prize of £2,500 to the winner.
Together, the 273 horses entered earned over £8m in prize money during their racing careers. The biggest contributor being one of National Hunt racing's most popular horses, Cue Card, with £1.4m won in prize money.
Cue Card, a nine-time Grade 1 winner, will be making his debut at the championships in what is only his first season showing following his retirement from racing in 2018. Now in the care of renowned showing producer, Katie Jerram-Hunnable, who previously enjoyed considerable success with The Queen's Barbers Shop, Cue Card will compete at Aintree in in-hand showing classes.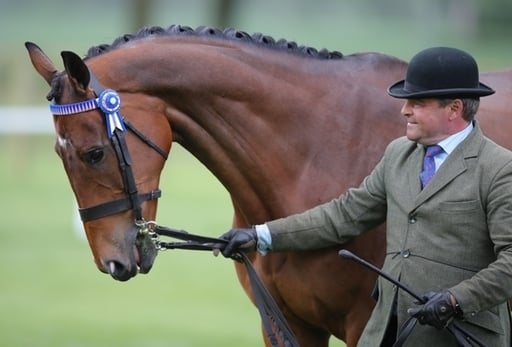 Cue Card, seen here being shown in-hand, is one of over 270 retrained racehorses due entered for the RoR Goffs UK National Championships at Aintree this week.
Also making his first appearance at the Goffs UK sponsored event is the 2015 Cheltenham Gold Cup winner, Coneygree. The 12-year-old was only retired from racing in February but he has adapted very quickly to his new career, securing qualification for Aintree with victory in a class at the HEROS Charity Horse Show in June, when ridden by trainer Mark Bradstock's wife, Sara.
Among a host of horses the racing public will also be familiar with due to be competing at Aintree are Sovereign Debt, Noland, Zarkandar, Annacotty, Thomas Crapper and Monkerty Tunkerty, who after success at the 2018 championships earned the accolade of RoR Horse of the Year.
Di Arbuthnot, Chief Executive of Retraining of Racehorses (RoR), said: "As well as Gold Cup and King George winners, the four days of competition provides opportunities for all former racehorses to excel in a different discipline, from dressage to jumping and showing.
"We would like to thank Goffs UK for their on-going and generous support, as well as the team at Aintree and all involved with making the National Championships happen. The whole event has a wonderful feel-good factor and it is so rewarding to see the pleasure working with former racehorses gives people. It does not matter whether they are competing in the elite finals or just a regular class, the smiles on their faces say it all."
Tony Williams, Goffs UK Managing Director, added: "We are proud to be associated with this event which continues to go from strength to strength. It's important to Goffs UK, as a leading thoroughbred auction house, to see racehorses find new homes and new careers and these championships play a major role in promoting the retraining of racehorses."
Carly Sage, Aintree Equestrian Centre Manager, said: "We are delighted to see such a strong entry and we are looking forward to a fabulous four days of competition.
"Everyone at Aintree is proud to stage the RoR Goffs UK National Championships and the event is evidence of the course's year round commitment to promoting horse welfare."
The event is open to the public on all four days and admission is free.
For further information please contact:
Carly Sage, Aintree International Equestrian Centre Manager, on 0151 522 2949 email: carly.sage@thejockeyclub.co.uk
About Retraining of Racehorses (RoR):
Retraining of Racehorses (RoR) is British Horseracing's official charity for the welfare of horses that have retired from racing. The charity:
raises funds from within the Racing Industry for the retraining and rehoming of former racehorses
provides a safety net for 'vulnerable' former racehorses
promotes the adaptability and versatility of racehorses to other equestrian activities
runs and funds a well established programme of competitions and educational events across the country
provides information for owners and trainers in both the Racing and Equine Industries to assist with the rehoming and retraining of their former racehorses
The ultimate goal is to maintain a balance between the number of horses leaving Racing and the number of enthusiastic, and suitable, new homes. For more information visit RoR's website: www.ror.org.uk