Tiger Roll heads 89 remaining entries for the £1-million Randox Health Grand National following yesterday's scratchings deadline, details of which are revealed today.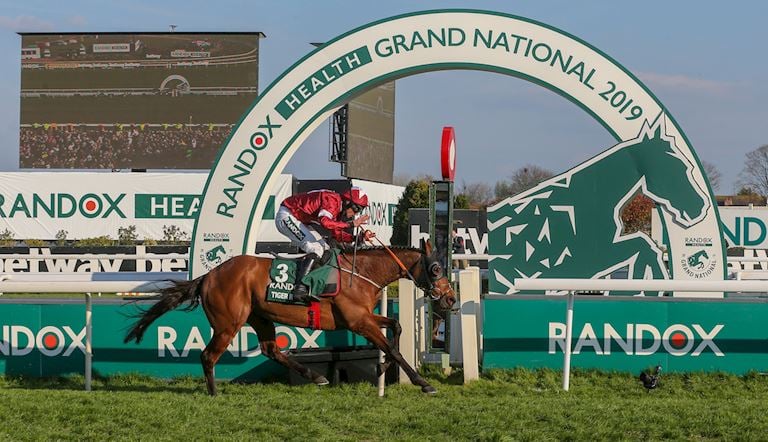 The 2020 edition of the world's greatest and most valuable chase takes place at Aintree on Saturday, 4 April, the third and final day of the Randox Health Grand National Festival.
Tiger Roll (11st 10lb) is the 11/2 favourite with Betway, official betting partner of the Randox Health Grand National Festival, as he continues his quest for an unprecedented third consecutive Randox Health Grand National victory.
The 10-year-old made a promising reappearance in the G2 Boyne Hurdle at Navan on 16 February, finishing fifth, and is due to line up next in the Glenfarclas Cross Country Chase at the Cheltenham Festival on 11 March. Tiger Roll won the Cheltenham contest in both 2018 and 2019 before going on to Randox Health Grand National success.
Tiger Roll's trainer Gordon Elliott accounts for 15 remaining entries in total, the most of any handler, with Alpha des Obeaux (10st 13lb) and Galway Plate victor Borice (10st) also among his team.
A formidable Irish challenge is also set to feature Irish Grand National hero Burrows Saint (10st 10lb), one of seven contenders for Willie Mullins, and recent Naas G3 scorer Any Second Now (Ted Walsh, 10st 6lb).
Last year's Randox Health Grand National second Magic Of Light (10st 12lb), trained by Jessica Harrington, posted a rare below part effort when last in the Boyne Hurdle. That came on the back of easy victories against her own sex in a Listed chase at Newbury in December and a G2 hurdle at Ascot in January.
Magic Of Light, who is bidding to become the first mare to win Aintree spectacular since Nickel Coin in 1951, could be joined stable companion Jett (10st 13lb). He has backed up his victory in a G3 chase at Punchestown in October with a series of good efforts, most recently when fourth in the G1 Irish Gold Cup on 2 February.
Harrington said: "Magic Of Light is in good form. She wasn't as slick at her hurdles in Navan, but I think the ground was just too heavy for her.
"The Mares' Hurdle at Cheltenham was an option, but the race looks very competitive – she would have been taking on two talented mares in Benie des Dieux and Honeysuckle if they run. With that in mind, she will go straight to Aintree.
"She has a nice weight for Aintree and we are looking forward to taking her back there.
"Jett is our other contender for the Grand National and the plan would be to run him, provided the ground is suitable.
"He prefers better ground to testing conditions, but he has run some fine races in defeat this season.
"I have been delighted with him and think there is plenty more to come from him.
"He stays very well and is a good jumper and has plenty of tactical speed."
The leading British-trained hopes, according to the betting, are last year's fourth Walk In The Mill (Robert Walford) and Kimberlite Candy (Tom Lacey), who are both set to carry 10st 4lb.
Walk In The Mill landed the G3 Randox Health Becher Handicap Chase over the Grand National course for the second successive year in December, while Kimberlite Candy, runner-up in the Becher, impressed when taking the G3 Classic Handicap Chase at Warwick in January.
Dual Grand National-winning trainer Nigel Twiston-Davies has seven remaining entries to choose from, with his team headed by multiple G1 victor Bristol de Mai (11st 8lb) and Ballyoptic (10st 11lb), who looked as good as ever when landing a Listed handicap chase at Ascot on 15 February.
There will be more Aintree pointers this weekend with the likes of Definitly Red (Brian Ellison, 10st 10lb), Beware The Bear (Nicky Henderson, 11st), Now McGinty (Stuart Edmunds, 10st 1lb) and Le Breuil (Ben Pauling, 9st 13lb) set to contest either Kelso's Listed Premier Chase or Doncaster's Grimthorpe Handicap Chase.
Other leading contenders going forward include Welsh Grand National victor Potters Corner (Christian Williams, 10st 6lb) and wide margin G3 Bobbyjo Chase scorer Acapella Bourgeois (Willie Mullins IRE, 10st 6lb).
Dalko Moriviere (Jerome Larrigade FR, 9st 13lb), one of two French-trained entries, remains engaged.
A maximum of 40 runners can line up for the 2020 Randox Health Grand National, with the next scratchings stage on Tuesday, 17 March.
Latest prices from Betway, official betting partner of the Randox Health Grand National Festival
11/2 Tiger Roll
10/1 Any Second Now
11/1 Burrows Saint
16/1 Kimberlite Candy, Magic of Light, Walk In The Mill
18/1 Le Breuil
20/1 Acapella Bourgeois, Definitly Red
22/1 Potters Corner
25/1 Anibale Fly, Ballyoptic, One For Arthur, Ramses de Teillee, Total Recall, Yala Enki
33/1 Alpha des Obeaux, Beware The Bear, Bristol de Mai, Dingo Dollar, Elegant Escape, Give Me A Copper, Hogan's Height, Ok Corral, Pleasant Company, Talkischeap, Traffic Fluide, Vintage Clouds
40/1 Atlanta Ablaze, Borice, Chef des Obeaux, Fitzhenry, Kildisart, Lake View Lad, Lord du Mesnil, Mall Dini, Takingrisks, The Storyteller, Top Ville Ben, Valtor
50/1 A Toi Phil, Class Conti, Cogry, Dragon d'Estruval, Fingerontheswitch, Jury Duty, Poker Party, Ravenhill, Regal Encore, Roaring Bull, Snugsborough Benny, Sub Lieutenant, The Hollow Ginge, Vieux Lion Rouge
66/1 Activial, Aso, Cabaret Queen, Dalko Moriviere, Dallas des Pictons, Death Duty, Dounikos, General Principle, Joe Farrell, Moonshine Bay, Now McGinty, Peregrine Run, Prince of Scars, Saint Xavier, Shattered Love, Spider Web, The Young Master, Tout Est Permis, Townshend, Warriors Tale
80/1 Crievehill, Jett, Monbeg Notorious, Out Sam, Romain de Senam
100/1 Ami Desbois, Disco d'Authie, Double Shuffle, Flying Angel, Kilfilum Cross, Scoir Mear, Singlefarmpayment, Soupy Soups
150/1 Outlander, Rathlin Rose
The Randox Health Grand National
Grade 3 handicap chase, £1 million total prize fund. Aintree, 5.15pm Saturday, April 4, 2020. 4m 2f 74yds over the Grand National fences. For seven-year-olds and upwards who, prior to March 17, have started in a chase during the current season and been placed first, second, third or fourth in a chase with an official distance description of' two miles seven and a half furlongs' or more at any time during the horse's career. Horses must also be allotted a rating of 125 or more by the BHA Head of Handicapping following a review of the horses entered and after taking account of races run up to and including February 9. Horses which are not qualified for a rating in Great Britain or Ireland at closing may also be entered. Such horses may be eligible for a weight providing the Handicapper is satisfied that the horse's racecourse performances up to and including February 9 would merit a minimum rating of 125. To qualify, horses must have run at least three times in chases run under the Rules of Racing of the same Recognised Racing Authority up to and including February 10. At the Handicapper's discretion, such horses may be allocated a rating. The decision of the BHA Head of Handicapping shall be final. Entries closes January 29 (105 entries, 2 subsequently scratched), weights revealed February 11, first scratchings deadline February 25 (89 remain), second scratchings deadline March 17, five-day confirmations March 30, final declarations 10am April 2. Maximum field of 40 plus four reserves.
| | | | | | | |
| --- | --- | --- | --- | --- | --- | --- |
| | Horse | Age | Wgt | | Owner | Trainer |
| 1 | Tiger Roll (IRE) | 10 | 11-10 | 170 | Gigginstown House Stud | Gordon Elliott IRE |
| 2 | Bristol de Mai (FR) | 9 | 11-08 | 168 | Simon Munir & Isaac Souede | Nigel Twiston-Davies |
| 3 | Anibale Fly (FR) | 10 | 11-02 | 162 | J P McManus | Tony Martin IRE |
| 4 | Aso (FR) | 10 | 11-02 | 162 | The Bellamy Partnership | Venetia Williams |
| 5 | Elegant Escape (IRE) | 8 | 11-02 | 162 | J P Romans | Colin Tizzard |
| 6 | Top Ville Ben (IRE) | 8 | 11-02 | 162 | Harbour Rose Partnership | Philip Kirby |
| 7 | Beware The Bear (IRE) | 10 | 11-00 | 160 | G B Barlow | Nicky Henderson |
| 8 | Alpha des Obeaux (FR) | 10 | 10-13 | 159 | Gigginstown House Stud | Gordon Elliott IRE |
| 9 | Jett (IRE) | 9 | 10-13 | 159 | G M McGrath | Jessica Harrington IRE |
| 10 | Peregrine Run (IRE) | 10 | 10-13 | 159 | V Byrne | Peter Fahey IRE |
| | | | | | | |
| 11 | Total Recall (IRE) | 11 | 10-13 | 159 | Slaneyville Syndicate | Willie Mullins IRE |
| 12 | Magic of Light (IRE) | 9 | 10-12 | 158 | Ann & Alan Potts Limited | Jessica Harrington IRE |
| 13 | The Storyteller (IRE) | 9 | 10-12 | 158 | Mrs Pat Sloan | Gordon Elliott IRE |
| 14 | Ballyoptic (IRE) | 10 | 10-11 | 157 | Mills & Mason Partnership | Nigel Twiston-Davies |
| 15 | Talkischeap (IRE) | 8 | 10-11 | 157 | Charles Dingwall | Alan King |
| 16 | Yala Enki (FR) | 10 | 10-11 | 157 | Hills of Ledbury Ltd | Paul Nicholls |
| 17 | Burrows Saint (FR) | 7 | 10-10 | 156 | Susannah Ricci | Willie Mullins IRE |
| 18 | Definitly Red (IRE) | 11 | 10-10 | 156 | Phil & Julie Martin | Brian Ellison |
| 19 | Ok Corral (IRE) | 10 | 10-09 | 155 | J P McManus | Nicky Henderson |
| 20 | Sub Lieutenant (IRE) | 11 | 10-09 | 155 | Gigginstown House Stud | Henry de Bromhead IRE |
| | | | | | | |
| 21 | Tout Est Permis (FR) | 7 | 10-09 | 155 | Gigginstown House Stud | Noel Meade IRE |
| 22 | Crievehill (IRE) | 8 | 10-08 | 154 | Highclere T'Bred Racing- Crievehill | Nigel Twiston-Davies |
| 23 | Jury Duty (IRE) | 9 | 10-08 | 154 | Sideways Syndicate | Gordon Elliott IRE |
| 24 | Lake View Lad (IRE) | 10 | 10-08 | 154 | Trevor Hemmings | Nick Alexander |
| 25 | Vintage Clouds (IRE) | 10 | 10-08 | 154 | Trevor Hemmings | Sue Smith |
| 26 | Pleasant Company (IRE) | 12 | 10-07 | 153 | Malcolm Denmark | Willie Mullins IRE |
| 27 | Acapella Bourgeois (FR) | 10 | 10-06 | 152 | Slaneyville Syndicate | Willie Mullins IRE |
| 28 | Any Second Now (IRE) | 8 | 10-06 | 152 | J P McManus | Ted Walsh IRE |
| 29 | Potters Corner (IRE) | 10 | 10-06 | 152 | All Stars Sports Racing & J Davies | Christian Williams |
| 30 | Shattered Love (IRE) | 9 | 10-06 | 152 | Gigginstown House Stud | Gordon Elliott IRE |
| | | | | | | |
| 31 | Death Duty (IRE) | 9 | 10-05 | 151 | Gigginstown House Stud | Gordon Elliott IRE |
| 32 | Dounikos (FR) | 9 | 10-05 | 151 | Gigginstown House Stud | Gordon Elliott IRE |
| 33 | Kildisart (IRE) | 8 | 10-05 | 151 | Simon Munir & Isaac Souede | Ben Pauling |
| 34 | Ramses de Teillee (FR) | 8 | 10-05 | 151 | John White & Anne Underhill | David Pipe |
| 35 | Double Shuffle (IRE) | 9 | 10-04 | 150 | Crossed Fingers Partnership | Tom George |
| 36 | Kimberlite Candy (IRE) | 8 | 10-04 | 150 | J P McManus | Tom Lacey |
| 37 | Saint Xavier (FR) | 8 | 10-04 | 150 | David Maxwell Racing Limited | Paul Nicholls |
| 38 | Valtor (FR) | 11 | 10-04 | 150 | Simon Munir & Isaac Souede | Nicky Henderson |
| 39 | Walk In The Mill (FR) | 10 | 10-04 | 150 | Baroness Harding | Robert Walford |
| 40 | Warriors Tale | 11 | 10-04 | 150 | Trevor Hemmings | Paul Nicholls |
| | | | | | | |
| 41 | Chef des Obeaux (FR) | 8 | 10-03 | 149 | Sullivan Bloodstock Limited | Willie Mullins IRE |
| 42 | Class Conti (FR) | 8 | 10-03 | 149 | P Joubert | Willie Mullins IRE |
| 43 | Traffic Fluide (FR) | 10 | 10-03 | 149 | Galloping On The South Downs | Gary Moore |
| 44 | One For Arthur (IRE) | 11 | 10-02 | 148 | Two Golf Widows | Lucinda Russell |
| 45 | Romain de Senam (FR) | 8 | 10-02 | 148 | Chris Giles & Dan Macdonald | Paul Nicholls |
| 46 | Snugsborough Benny (IRE) | 10 | 10-02 | 148 | R Loughnane | Liam Cusack IRE |
| 47 | Dallas des Pictons (FR) | 7 | 10-01 | 147 | Gigginstown House Stud | Gordon Elliott IRE |
| 48 | Give Me A Copper (IRE) | 10 | 10-01 | 147 | Done, Ferguson, Mason, Nicholls & Wood | Paul Nicholls |
| 49 | Lord du Mesnil (FR) | 7 | 10-01 | 147 | Paul Porter | Richard Hobson |
| 50 | Now McGinty (IRE) | 9 | 10-01 | 147 | The Garratt Family | Stuart Edmunds |
| | | | | | | |
| 51 | Poker Party (FR) | 8 | 10-01 | 147 | Robcour | Henry de Bromhead IRE |
| 52 | Takingrisks (IRE) | 11 | 10-01 | 147 | Frank Bird | Nicky Richards |
| 53 | Borice (FR) | 9 | 10-00 | 146 | Simon Munir/Isaac Souede | Gordon Elliott IRE |
| 54 | Hogan's Height (IRE) | 9 | 10-00 | 146 | Foxtrot Racing: Hogan's Height | Jamie Snowden |
| 55 | Regal Encore (IRE) | 12 | 10-00 | 146 | J P McManus | Anthony Honeyball |
| 56 | Activial (FR) | 10 | 9-13 | 145 | Roger Brookhouse | Tom George |
| 57 | Atlanta Ablaze | 9 | 9-13 | 145 | The Last Man Standing | Henry Daly |
| 58 | Cabaret Queen | 8 | 9-13 | 145 | SyndicatesRacing | Willie Mullins IRE |
| 59 | Dalko Moriviere (FR) | 7 | 9-13 | 145 | Ecurie Sagara | Jerome Larrigade FR |
| 60 | Dragon d'Estruval (FR) | 7 | 9-13 | 145 | Simon Munir & Isaac Souede | Nicky Henderson |
| | | | | | | |
| 61 | Le Breuil (FR) | 8 | 9-13 | 145 | Mrs Emma Palmer | Ben Pauling |
| 62 | Outlander (IRE) | 12 | 9-13 | 145 | GOWING'S ELEVEN | Richard Spencer |
| 63 | A Toi Phil (FR) | 10 | 9-12 | 144 | Teme Valley 2 | Gary Moore |
| 64 | Cogry | 11 | 9-12 | 144 | Graham and Alison Jelley | Nigel Twiston-Davies |
| 65 | Dingo Dollar (IRE) | 8 | 9-12 | 144 | M Warren J Holmes R Kidner & J Wright | Alan King |
| 66 | Flying Angel (IRE) | 9 | 9-12 | 144 | R J Rexton | Nigel Twiston-Davies |
| 67 | The Hollow Ginge (IRE) | 7 | 9-12 | 144 | The Ginge Army | Nigel Twiston-Davies |
| 68 | The Young Master | 11 | 9-12 | 144 | Mike Burbidge & The Old Masters | Neil Mulholland |
| 69 | Mall Dini (IRE) | 10 | 9-11 | 143 | Philip J Reynolds | Patrick Kelly IRE |
| 70 | Monbeg Notorious (IRE) | 9 | 9-11 | 143 | Gigginstown House Stud | Gordon Elliott IRE |
| | | | | | | |
| 71 | Fitzhenry (IRE) | 8 | 9-10 | 142 | J P McManus | Paul Nolan IRE |
| 72 | Joe Farrell (IRE) | 11 | 9-10 | 142 | M Sherwood, N Morris & J Turner | Rebecca Curtis |
| 73 | Ravenhill (IRE) | 10 | 9-10 | 142 | Try Ravenhill Syndicate | Gordon Elliott IRE |
| 74 | Roaring Bull (IRE) | 7 | 9-10 | 142 | Gigginstown House Stud | Gordon Elliott IRE |
| 75 | Townshend (GER) | 9 | 9-10 | 142 | J D Neild | Nigel Twiston-Davies |
| 76 | Vieux Lion Rouge (FR) | 11 | 9-10 | 142 | Prof Caroline Tisdall & John Gent | David Pipe |
| 77 | Ami Desbois (FR) | 10 | 9-09 | 141 | The Reserved Judgment Partnership | Graeme McPherson |
| 78 | Moonshine Bay (IRE) | 7 | 9-08 | 140 | Ann & Alan Potts Limited | Jessica Harrington IRE |
| 79 | Out Sam | 11 | 9-08 | 140 | D Charlesworth | Gordon Elliott IRE |
| 80 | Fingerontheswitch (IRE) | 10 | 9-07 | 139 | Cahill, Atwell & Crofts | Neil Mulholland |
| | | | | | | |
| 81 | Singlefarmpayment | 10 | 9-07 | 139 | N T Griffith & H M Haddock | Tom George |
| 82 | Kilfilum Cross (IRE) | 9 | 9-06 | 138 | Andy Bell & Fergus Lyons | Henry Oliver |
| 83 | Soupy Soups (IRE) | 9 | 9-06 | 138 | Equi ex Incertis Partners | Neil Mulholland |
| 84 | General Principle (IRE) | 11 | 9-05 | 137 | Gigginstown House Stud | Gordon Elliott IRE |
| 85 | Spider Web (IRE) | 9 | 9-05 | 137 | J P McManus | Tom Mullins IRE |
| 86 | Scoir Mear (IRE) | 10 | 8-12 | 130 | J P McManus | Tom Mullins IRE |
| 87 | Rathlin Rose (IRE) | 12 | 8-10 | 128 | Fergus Wilson | David Pipe |
| 88 | Disco d'Authie (FR) | 11 | 8-07 | 125 | Mme Magalen Bryant | David Cottin FR |
| 89 | Prince of Scars (IRE) | 10 | 8-07 | 125 | Simon Munir/Isaac Souede | Gordon Elliott IRE |
89 entries remain
33 Irish-trained
2 French-trained
The following 16 horses have been scratched: Acting Lass (IRE), As de Mee (FR), Cadmium (FR), Champagne Classic (IRE), Chris's Dream (IRE), Delta Work (FR), Heron Heights (IRE), Missed Approach (IRE), Mister Whitaker (IRE), Native River (IRE), Noble Endeavor (IRE), Princeton Royale (IRE), Sizing John, Steely Addition (IRE), Voix du Reve (FR), Yorkhill (IRE)
Breakdown of entries by trainer with past successes in the Randox Health Grand National
15 entries
Gordon Elliott IRE (2007 Silver Birch, 2018 & 2019 Tiger Roll)
Tiger Roll 11-10
Alpha des Obeaux 10-13
The Storyteller 10-12
Jury Duty 10-08
Shattered Love 10-06
Death Duty 10-05
Dounikos 10-05
Dallas des Pictons 10-01
Borice 10-00
Monbeg Notorious 9-11
Ravenhill 9-10
Roaring Bull 9-10
Out Sam 9-08
General Principle 9-05
Prince of Scars 8-07
7 entries
Willie Mullins IRE (2005 Hedgehunter)
Total Recall 10-13
Burrows Saint 10-10
Pleasant Company 10-07
Acapella Bourgeois 10-06
Chef des Obeaux 10-03
Class Conti 10-03
Cabaret Queen 9-13
Nigel Twiston-Davies (1998 Earth Summit, 2002 Bindaree)
Bristol de Mai 11-08
Ballyoptic 10-11
Crievehill 10-08
Cogry 9-12
Flying Angel 9-12
The Hollow Ginge 9-12
Townshend 9-10
5 Entries
Paul Nicholls (2012 Neptune Collonges)
Yala Enki 10-11
Saint Xavier 10-04
Warriors Tale 10-04
Romain de Senam 10-02
Give Me A Copper 10-01
4 Entries
Nicky Henderson
Beware The Bear 11-00
Ok Corral 10-09
Valtor 10-04
Dragon d'Estruval 9-13
3 Entries
Tom George
Double Shuffle 10-04
Activial 9-13
Singlefarmpayment 9-07
Jessica Harrington IRE
Jett 10-13
Magic of Light 10-12
Moonshine Bay 9-08
Neil Mulholland
The Young Master 9-12
Fingerontheswitch 9-07
Soupy Soups 9-06
David Pipe (2008 Comply Or Die)
Ramses de Teillee 10-05
Vieux Lion Rouge 9-10
Rathlin Rose 8-10
2 Entries
Henry de Bromhead IRE
Sub Lieutenant 10-09
Poker Party 10-01
Alan King
Talkischeap 10-11
Dingo Dollar 9-12
Gary Moore
Traffic Fluide 10-03
A Toi Phil 9-12
Tom Mullins IRE
Spider Web 9-05
Scoir Mear 8-12
Ben Pauling
Kildisart 10-05
Le Breuil 9-13
1 Entry
Nick Alexander
Lake View Lad 10-08
David Cottin FR
Disco d'Authie 8-07
Rebecca Curtis
Joe Farrell 9-10
Liam Cusack IRE
Snugsborough Benny 10-02
Henry Daly
Atlanta Ablaze 9-13
Stuart Edmunds
Now McGinty 10-01
Brian Ellison
Definitly Red 10-10
Peter Fahey
Peregrine Run 10-13
Richard Hobson
Lord du Mesnil 10-01
Anthony Honeyball
Regal Encore 10-00
Patrick Kelly IRE
Mall Dini 9-11
Philip Kirby
Top Ville Ben 11-02
Tom Lacey
Kimberlite Candy 10-04
Jerome Larrigade FR
Dalko Moriviere 9-13
Tony Martin IRE
Anibale Fly 11-02
Graeme McPherson
Ami Desbois 9-09
Noel Meade IRE
Tout Est Permis 10-09
Paul Nolan
Fitzhenry 9-10
Henry Oliver
Kilfilum Cross 9-06
Nicky Richards
Takingrisks 10-01
Lucinda Russell (2017 One For Arthur)
One For Arthur 10-02
Sue Smith (2013 Auroras Encore)
Vintage Clouds 10-08
Jamie Snowden
Hogan's Height 10-00
Richard Spencer
Outlander 9-13
Colin Tizzard
Elegant Escape 11-02
Robert Walford
Walk In The Mill 10-04
Ted Walsh IRE (2000 Papillon)
Any Second Now 10-06
Venetia Williams (2009 Mon Mome)
Aso 11-02