Today, The Jockey Club's Aintree Racecourse and The Guide Liverpool announce the winners of the 'A Grand Day In' Style Award as a phenomenal number of 'virtual racegoers' enter the UK's biggest ever style competition.
Over 1,200 entries were judged by Jay Hynd and Gemma Cutting from The Guide Liverpool with Lizzy Foulkes, a junior doctor from Liverpool winning the Best Dressed Female. Carl Hodgers, also from Liverpool wins the Best Dressed Male category.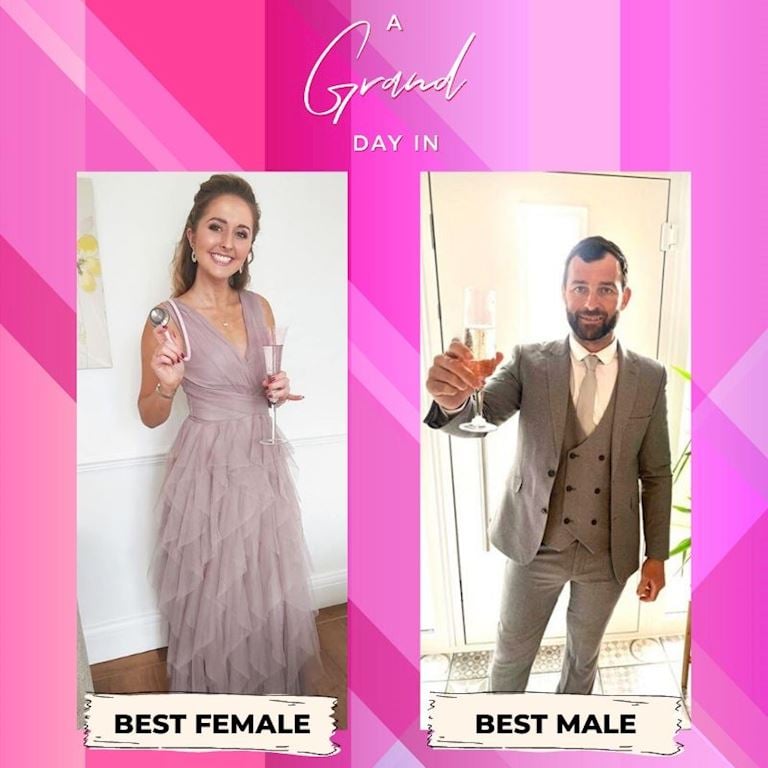 Best Dressed Female Style Award winner, Lizzy Foulkes, said:
"I'm thrilled to win the iconic Aintree style award. It might be a little different this year but I'm so pleased to be picked from a huge amount of amazing entries and I look forward to going there in person with my friends next year!"
Each will win free hospitality packages for the 2021 Randox Health Grand National Ladies Day which will take place on Friday 9th April 2021.
The Guide Liverpool judges also shortlisted five 'virtual racegoers' in each category who will win a pair of tickets to the day itself next year. Shortlisted Best Dressed Females include Emily Rankin, Paula Gannon, Rosie Alice Mason, Chantelle Day and Amy Tanner. Shortlisted Best Dress Males include Wilf Riley, Paul Howarth, Paul Carroll, Chris Connor and Andre Bonadies.
With a number of exceptional entries from NHS staff who are doing an amazing job through the current crisis, The Guide Liverpool has shortlisted some of the entries and Aintree will provide a special thank you by offering two tickets to the new Garden Club on Ladies Day next year.
Director of The Guide Liverpool and a Style Award judge, Jay Hynd said:
"We have been overwhelmed with the response to this years "at home" Style Award. To see so many people making such an effort and raising a smile during such uncertain times has been heartwarming. Choosing the overall winners was tough, but both winners did instantly stand out for us, and both embodied everything that this years (very different) competition stood for. We can't wait to see the Ladies Day Style Award back in action, in person during next year's Randox Health Grand National at Aintree Racecourse. A huge thanks to everyone who took part at home"
Despite having to cancel this year's Ladies Day due to the ongoing public health situation, organisers were determined not to let the UK-wide 'lockdown' stop one of Liverpool's biggest social events of the calendar. Aintree invited the whole of Britain to join together to celebrate its Randox Health Grand National Festival Ladies' Day - from their own homes.
Dickon White, Regional Director of Jockey Club Racecourses North West, said:
"We just want to say a huge thank you to everyone who entered our first ever virtual style award. We've been amazed by the amount of entries and are delighted that it's put a smile on people's faces at a difficult time for everyone. I'm delighted for the winners, Lizzy and Carl, as well as the shortlisted entries and we look forward to seeing them all next year. I'd also like to say thank you to all the NHS staff who have sent in their images at such a busy and challenging time. Again, we hope this has lifted their spirits, even in some small way. Our Ladies Day is one of the highlights of the social calendar for the people of Liverpool and the North West and we look forward to being back next year!"
The Ladies Day Style Award is one of the highlights of the three-day Randox Health Grand National Festival and will take place on Friday 9th April 2021.