PATRICK MULLINS WINS FOR THE FIRST TIME OVER ICONIC GRAND NATIONAL FENCES


Trainer Willie Mullins watched his son Patrick win his first race over the iconic Randox Grand National fences on TV back home in Ireland, then described it as "nerve racking".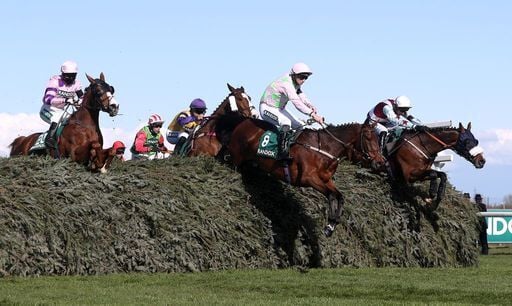 Patrick, 31, partnered Livelovelaugh to victory in the Grade Three Randox Topham Handicap Chase after an injury to Paul Townend last weekend ruled him out of riding this week.
His father, trainer Willie Mullins, was not at Aintree to see it but said: "It was amazing. I'm just absolutely over the moon. I'm delighted Rich Ricci let Patrick have the ride and I'm delighted for Patrick. I'm delighted for everyone in the stable. A really big thank you has to go to Rich though.
"It was nerve racking, but wonderful at the same time. Once he got over the last you could see he had a little bit in hand. It was just something else. That was Plan A to be very prominent.
"With all the false starts I thought it might just mess things around but Plan A went to plan. The plan was to let him get out there jumping the fences and see where he found himself.
"Turning out into the country he was very good at his fences. Patrick didn't need to interfere with him and when Patrick needed assistance from the horse he gave it back at the end. It is tough on Paul Townend too but unfortunately these things happen."
Willie Mullins said it had been former stable jockey Ruby Walsh's preference to try him in the race over 2m 5f. He said: "We knew he liked the fences and this spring ground was a big help too.
"Ruby was adamant this was his trip and this was his race. We thought we were going to be here last year but it didn't happen as, alas, there was no Aintree but it was great to come back this year. It was some jumping performance and he has given Patrick a great spin.
"We thought he would have a good chance if he put in a clear round as we knew the ground and fences would suit. The Topham is an iconic race to win. Any race over the National fences is special to win for a trainer, jockey and owner. It is huge for an amateur rider to win the Topham as not many have managed to do that."
Successful jockey Patrick Mullins said: "He was just enjoying himself - it was a lot more fun than riding around yesterday on Billaway - and I just said, if he was enjoying himself I wasn't going to be taking him back; I didn't want to interfere too much.
"Ever since I was a kid, I watched horses do that and thought what a thrill it must be. I just wanted to go round again on him - I just sat there, he did most of it, to be honest.
"I had it in my head I wanted to go quick over the first four, give him a bit of a breather round the bend up to the line down to Bechers, and then let him jump around there, cross the Melling Road and slow it down a little but not too much.
"I was trying to let him pop the second-last and he came up out of my hands, which was my fault, so down to the last I kept the revs up. He got quite tired in the last 100 yards - or maybe I did! One of us did, but he was definitely idling.
"He was faultless - you could just tell he enjoys it. From 100 yards away he was pricking his ears and measuring his stride. Any time I gave him a squeeze he came for me - one or two of them were quite long. He has quite a low head carriage when he lands, but when I got used to him we gelled pretty well.
"To be honest, my thoughts were that an 11 year old with 11 stone wasn't going to have much up his sleeve today - I couldn't really figure out why he was so prominent in the betting, but that's probably why I'm not a punter. That was a fantastic performance - he hasn't won in three years, but you could just see the real Aintree factor.
"This makes up for having to miss Cheltenham. To ride a winner over the National fences - when I was a kid I had a book about the history of the National fences, and I never thought I'd get a chance to win on one. Willie won the Foxhunters, so this kind of puts us level - or this might be slightly above that, is it?!"
Referring to his chances in the Randox Grand National, Patrick added: "The ground is coming right for Burrows Saint. I rode him out the last two mornings at Haydock and he is in great form.
"You don't know how they will take to the track until they get here, but if he takes to it, he's got the right kind of weight, he's the right kind of age, he's relatively unexposed and I wouldn't swap him."
Jack Tudor, second on Pink Eyed Pedro (his first ride over the fences) and who will be aboard Potters Corner in tomorrow's Randox Grand National, said: "That was brilliant. I thought I'd nearly win going to the last but my stamina may have just run out and the horse in front (winner Livelovelaugh) was probably idling.
"I think the best horse won but I had a brilliant spin and it was fantastic to finish second in a race as good as this on my first ride over the fences. It's great too for a small trainer like Mr Brace (David, trainer), who is not here but I have a close relationship with, and it was great experience for me ahead of the National."
Adrian Heskin, rider of third placed Senior Citizen, said: "He jumped fantastic and travelled very well. He gave me a dream ride around and he'll be a great horse for those types of races for the next few seasons. He's a fabulous jumper."
Derek O'Connor, the jockey on fourth home Snugsborough Hall, said: "He boiled over a little at the start but for his first spin over the fences it was an exemplary round of jumping and he ran a cracking race. We are very happy with him. It was a great run."
Randox Topham Handicap Chase (Grade 3) 2m 5f
1 Livelovelaugh – Willie Mullins IRE 11-11-00 Mr Patrick Mullins 15/2
2 Pink Eyed Pedro – David Brace 0-10-06 Jack Tudor 33/1
3 Senior Citizen – Alan King 8-10-06 Adrian Heskin 10/1
4 Snugsborough Hall – Liam Cusack IRE 10-10-12 Mr Derek O'Connor 20/1
26 ran
NRs: Outlander (self certificate), Tiquer (unsuitable ground)
Unplaced Fav: Caribean Boy 7/1F
Distances: 4½l, 8l, 5l
Time: 5m 30.66s