The trophies awarded to the owner of Red Rum, who landed the Grand National a record three times in the 1970s, have been returned to Aintree Racecourse and will be on display during the Randox Grand National Festival (Thursday 13th April – Saturday 15th April inclusive).
Today is the 50th anniversary of Red Rum's first Grand National success, when he overhauled the gallant Crisp in the closing stages to win by three-quarters of a length in a then record time. He was successful again in 1974 and 1977 as well as runner-up in 1975 and 1976.
The trophies on display are the three awarded to Red Rum's owner Noel Le Mare for each of his three Grand National wins as well as the plates awarded for his two second-place finishes. In addition, the trophy awarded for Red Rum's victory in the 1974 Scottish Grand National at Ayr will also be available for viewing. Red Rum is the only horse to win the Aintree and Scottish Grand Nationals in the same season.
Previously housed at the Liverpool Museum, Aintree Racecourse has been working closely with the Le Mare family to bring the trophies "home" as part of the wider 'Red Rum 50' project taking place from 2023-2027, which commemorates all things Red Rum. During the Randox Grand National Festival, the trophies will be available for viewing for all customers (regardless of ticket type/enclosure) in a trophy tent adjacent to the Red Rum Garden and then hosted permanently in the Princess Royal Stand Reception following the three day event.
The 'Red Rum 50' campaign also includes renovation of the previous 'Irish Bar' on the ground floor of the Princess Royal Stand, which will now be known as the 'Rum & Ginger' bar and will include a visual timeline of Red Rum's achievements. The Red Rum statue, crafted by Philip Blacker and situated on the Red Rum Garden, has returned to Aintree after a period of refurbishment and renovation.
Noel Le Mare's four grandchildren (Geoffrey Burns, Michael Burns, Sally Hampson and David Le Mare), said: "We're delighted that the trophies Red Rum won for our grandfather Noel Le Mare in the 1970's are returning to what we feel is their rightful home – Aintree Racecourse.
"Some of our best memories as a family are at Aintree and it was the place where Red Rum really came alive. We're incredibly proud of his achievements and it's only fitting that the trophies are available for people to view at the home of the Randox Grand National."
Dickon White, Regional Director - North West, The Jockey Club, commented: "It is a tremendous honour to be able to make the Grand National trophies won by Red Rum available for public viewing at the Randox Grand National Festival next month. Aintree truly was his 'home' racecourse and our massive thanks go to the Le Mare family for helping to make this happen.
"Red Rum's record-breaking achievements played a huge role in securing the future of Aintree Racecourse in the uncertain times of the 1970s and we are proud to be celebrating all things Red Rum over the next five years as we commemorate the half-century of his three Grand National successes."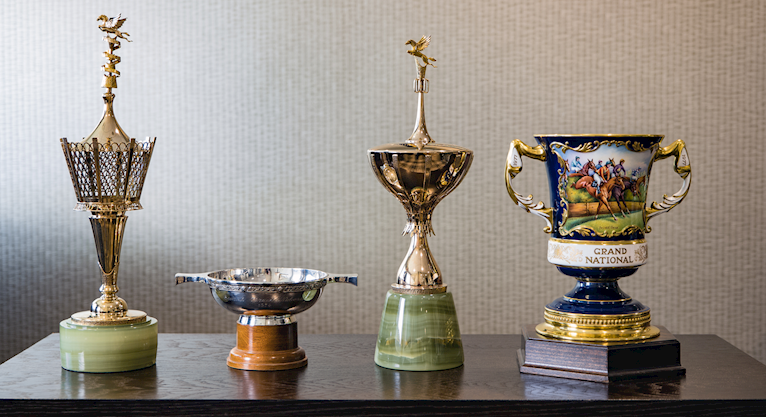 The trophies awarded to Red Rum for winning the Grand National (1973, 1974. 1977) plus the Scottish Grand National (1974)