Trainer Paul Nicholls has won an impressive ten King George VI Chases. Ahead of this year's renewal of the Ladbrokes King George VI, Nicholls and those associated with his ten successes reflect on those victories.
"I'm very lucky to have won ten King Georges, especially with the horses I have. It's a fantastic race and I look forward to the next ten," said Champion Trainer Nicholls.
His first win in the race came in 1997 with See More Business ridden by Andrew Thornton.
"He (See More Business) was the first good horse I ever had and he's probably put me on the map. He was a fantastic horse who won a Gold Cup and two King Georges."
Mick Fitzgerald, who rode See More Business to record a second win in the race for horse and trainer in 1999, spoke of See More Business:
"I'd won a Gold Cup on him so whenever you're riding a reigning Gold Cup champion, you're confident. He'd had a hard race in the Charlie Hall when he broke the track record and I wondered if he could possibly improve from that and he improved beyond all recognition, it was a bit of a demolition job."
On Paul Nicholls, Fitzgerald simply added:
"Paul Nicholls is a winner and that's what motivates him."
Ruby Walsh, who rode Kauto Star to record all five of his wins in the King George VI, said:
"For a trainer to win ten King Georges, is like a manager in football winning the FA Cup ten times with three or four different sets of players. He still has the same desire, hunger, commitment and no matter what he wins, he's always thinking of what's next."
About Kauto Star, Ruby Walsh added:
"Kauto Star was an incredible racehorse, a once in a lifetime horse. He evolved over his five King Georges from being a bit keen and a very fast horse in the beginning to being an out and out stayer in the end.
"Three miles over fences you need pace to be able to go with the gallop and he was able to travel comfortably and close to the pace. He attacked his fences and he had no trouble with the trip so he was just a brilliant horse, that was Kauto Star's biggest attribute. For him to do it as an eleven year old, to win a fifth, to win it back, that was a magic day."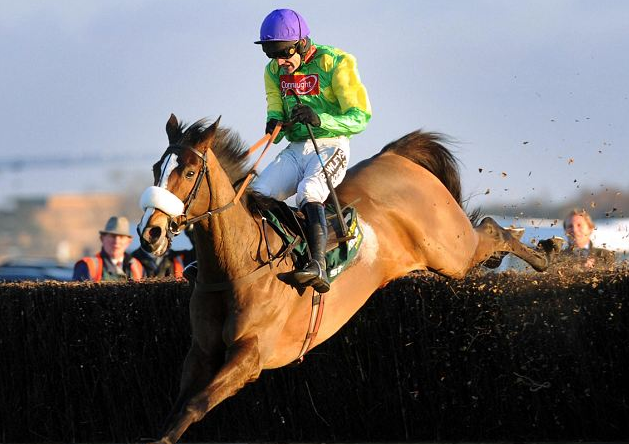 Ruby Walsh on Kauto Star at Kempton Park 2008.
Paul Nicholls on Kauto Star said:
"He loved the track. Kempton was made for him really. He had the rare things of lots and lots of speed and also could stay. Not many have got both. It was bad enough when he won four but when he won five, it was just one of those days you'll never, ever forget. A fantastic day."
Silviniaco Conti was a dual winner of the King George VI Chase, winning the race in 2013 and 2014. Paul Nicholls commented on Silviniaco Conti's successes and said:
"I sort of have to pinch myself sometimes that we'd had Kauto and then all of a sudden Conti replaced him and he came along at the right time, it was very, very good."
Noel Fehily who rode Silviniaco Conti to record both King George VI wins said:
"He was a fantastic horse to ride and a very good jumper. He was a very straightforward horse, you could put him wherever you wanted in a race. The first year he won the King George he followed Cue Card around and then the following year he made the running. He often made all which made him a very straightforward horse and a class horse to ride."
On Paul Nicholls, Fehily added:
"That's what makes him such a brilliant trainer, he just wants winners all the time."
Clan Des Obeaux gave Paul Nicholls his tenth win in 2018. Jockey Harry Cobden who rode him to success said:
"He was always very handy, winging away and I was just behind halfway so it was nice to have one to aim at turning in."
The Ladbrokes Christmas Festival takes place on 26th & 27th December.