Colin and Joe Tizzard have given an update on their stable stars ahead of the Ladbrokes King George VI Chase at Kempton Park Racecourse on Thursday 26th December 2019.
Trainer Colin Tizzard said:
"Lostintranslation has come out of Haydock beautifully, he is a big strong horse in the peak of his powers at the moment and I couldn't be happier with him.
"He has got the pace for Kempton, you have only got to look at Defi Du Seuil. We actually beat Defi Du Seuil over two and a half miles last year. Last year we campaigned him over two and a half miles till the last race when we stepped up into the three-mile division. He has got the pace and he showed at Haydock that he has got more stamina then Bristol De Mai around Haydock which is another feather in his cap. He has got everything going for him, he is a beautiful young horse but it is going to be a really tough race, it is no gimme at all, he could be as good as he has ever been and still get beat but he has got everything going for him.
"Everyone thought last year, especially Robbie, that good ground is what he should have, I would be siding on soft or heavy ground because he is a big heavy horse and I need to look after the horse. We will run on whatever Kempton throws up. We are in the middle of a normal English winter, I hope it rains everyday between now and Kempton, then I might run Native River as well.
"His work at home is nice, we don't really push him to find out how good he is, he does what we want and he doesn't turn a hair, his work is lovely. He has just matured into what you dream a young horse would mature into and I think he is nearly there.
"He is straightforward at home, he has now moved into Cue Card's box which tells a story of where we think he is. He has still got to do it, he still hasn't won a king George and he still has not won a Gold Cup, it is still all in front of him.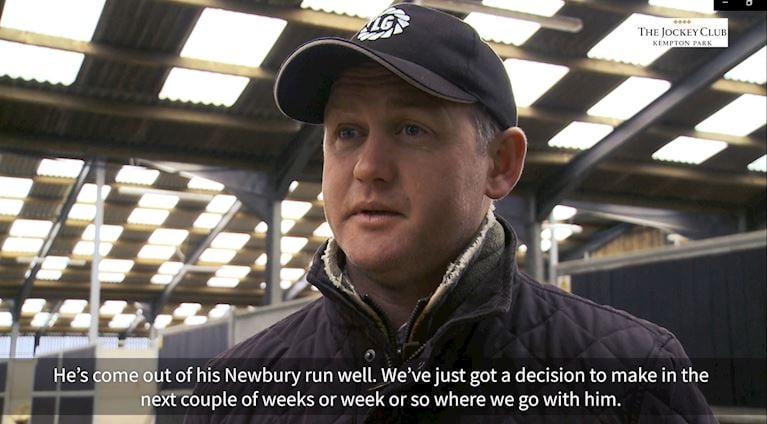 Watch the full video on YouTube.
"Going into the King George with Cue Card I think he had run there twice and got beat before he won. Cue Card won the Champion bumper, Lostintranslation never ran in a bumper, he ran in a point to point and came fourth and he was a horse for sale so they were not just giving him the run around. Cue Card did it all, he won the Ryanair, Lostintranslation hasn't done that yet but he has got all the attributes to be a staying chaser and that is hopefully what he will be.
"Thistlecrack has come out of the race at Newbury fine. The question for ourselves is, is the staying hurdle division easier than the King George/Gold Cup division? yes it is. So there is a very good chance he will stay over hurdles. If one or two in the King George dropped out that might change but at the moment I would say we are leaning towards the Hurdles route.
"I think the race could turn out to be a real stamina race. Cyrname will go at his pace which is fast, Lostintranslation can sit just in behind him and it might be that they go flat out and that is why we are keeping the door half-open for Native River. If the ground came up soft or even heavy then he could be supplemented. We have seen it before, the real stayers can win around Kempton. People say it is a fast track and it is but in the King George they go so fast, stamina is a big issue at the end and we do not want to shut any doors at the moment."
Assistant Trainer Joe Tizzard said:
"Lostintranslation is really good, it was a lovely run at Haydock, he hasn't missed a beat since. Sometimes horses get a silly little nick or something but he's come out of it absolutely fine and he's absolutely bouncing at the moment.
"Kempton shouldn't hurt him, he ran over two and a half miles for most of last season, managing to compete with Defi Du Seuil who's one of the fastest two milers around now so I'm not worried about the speed. His jumping is very accurate as well so I think what Haydock showed us was that he can stay on strongly more so than anything else, we were always comfortable with his speed.
"For a big horse he doesn't want it to be too heavy and his best form's probably on good to soft, soft, so if I had to choose that's what I'd go for but he's pretty versatile.
"I think Cyrname is the main danger on his performance at Ascot and his performances last year. He's got to step up in trip. If Altior does come there then he's obviously a very good horse who I think was just in need of a run last time. And you've got last year's winner Clan Des Obeaux so it's a very competitive field. We're sort of the next horse going on but I think it'll be a small field but very competitive"
The Ladbrokes Christmas Festival takes place on 26th & 27th December.