WHY THE QUEEN LOVES THE INVESTEC DERBY, BY THOSE IN RACING WHO KNOW HER BEST
by Mark Souster
What do you get the woman who seemingly has everything? In the case of Her Majesty The Queen, those in racing circles who know her best all say the same – winning The Investec Derby.
Having come close - a second, third and fifth have been her best results to date – winning the world's greatest Flat race is a prize she would cherish more than any other in the sport, but has so far eluded her.
Her Majesty does not have a runner in this year's Investec Derby at Epsom Downs on 1st June but will be in attendance, as she is every year. If she were ever to win the race, even at this stage of her life and reign, Willie Carson is in no doubt about how much it would mean to her.
"It would be a celebration of all celebrations," says Carson, a four time Derby winner and the jockey who has ridden most winners for Her Majesty.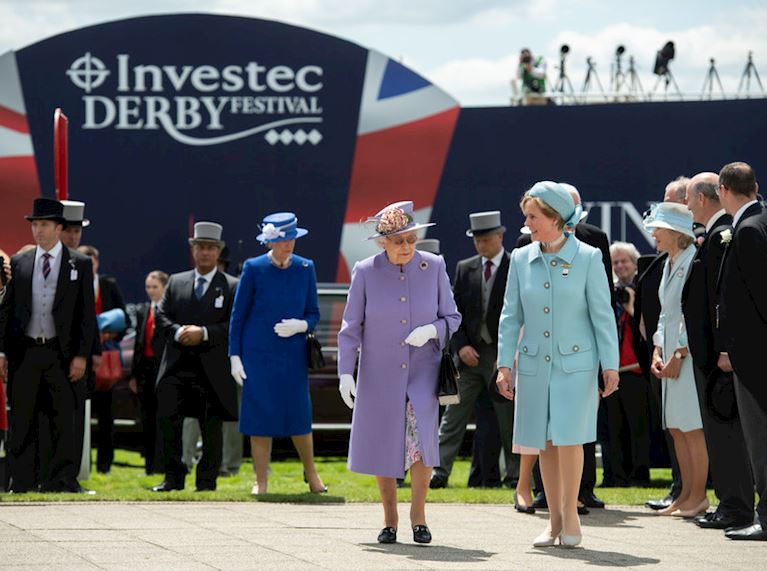 "But it wouldn't just be here, it would be worldwide. She is the biggest supporter racing has ever had. That would be great not just for her, but for the country and everybody in racing. I would love more than anything to see the Queen win the Derby."
In racing terms there is one man who knows her better than most – her racing manager John Warren. It is said that when The Queen is out in the gardens of Buckingham Palace, the only person whose phone calls are automatically put through to her are his.
Jockeys wearing the purple and scarlet colours of Her Majesty have won more than 1,600 races on her horses. Indeed, she was the British Flat racing Champion Owner in 1954 and 1957.
And Warren told thejockeyclub.co.uk that The Queen's love of racing and the breeding side of the sport is as strong as ever.
He said: "Her Majesty derives enormous pleasure from attending the Epsom Derby. The race itself provides such an insight into the successful pedigrees and bloodlines, which are fundamentally The Queen's core interest given her significant expertise on the subject."
Trainer Roger Charlton, who won the race with Quest for Fame in 1990, has saddled runners for Her Majesty for many years.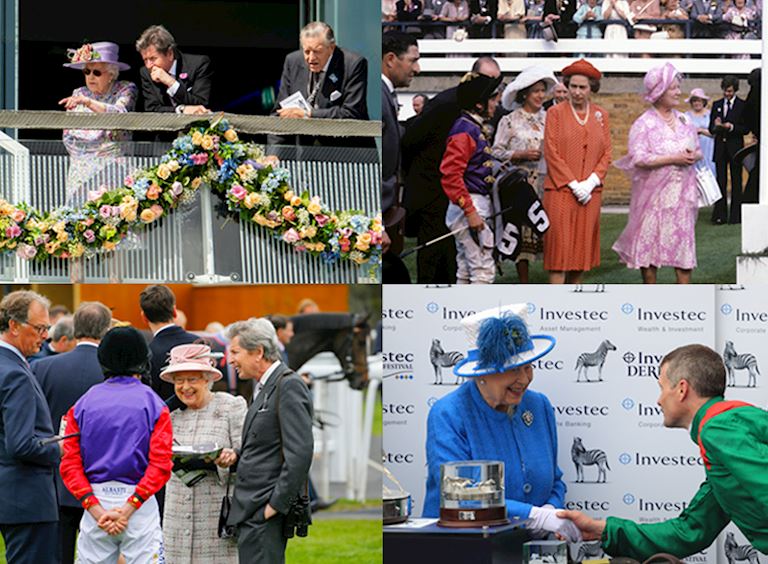 Image: PA Images
"If she was ever to win it would be absolutely fantastic," he says. "Every time she has a runner the nation is longing for her to win."
Such sentiment is understandable. Since 1946 and over seven remarkable decades, she has only twice missed attending the Derby. In that period she has had 10 runners. Ironically the closest she has come to success was in 1953 her coronation year when Aureole finished runner up to Pinza ridden by Sir Gordon Richards.
Throughout her reign - the longest of any British monarch - her passion and enthusiasm as an owner and breeder and the unmitigated delight she derives from days at the races, notably Epsom Downs and Royal Ascot, has remained undiminished.
"If she had the opportunity I think she would probably like to go racing more often," Charlton adds.
Former jockey Carson is another who can testify that Her Majesty's interest in racing goes way beyond that of an armchair fan.
"She is always happy with racing people talking about horses, she knows everything," he says. "She is an expert herself. She has been at this game a long time. She is a good judge.
"She wants to know about the personality of the animal, what they are saying. They talk in their language. She just doesn't want to own a horse but know all about it. You can see that when she is on the stud."
When presented with his OBE at Buckingham Palace Carson says he told the Queen, 'I will win the Derby for you Ma'am'.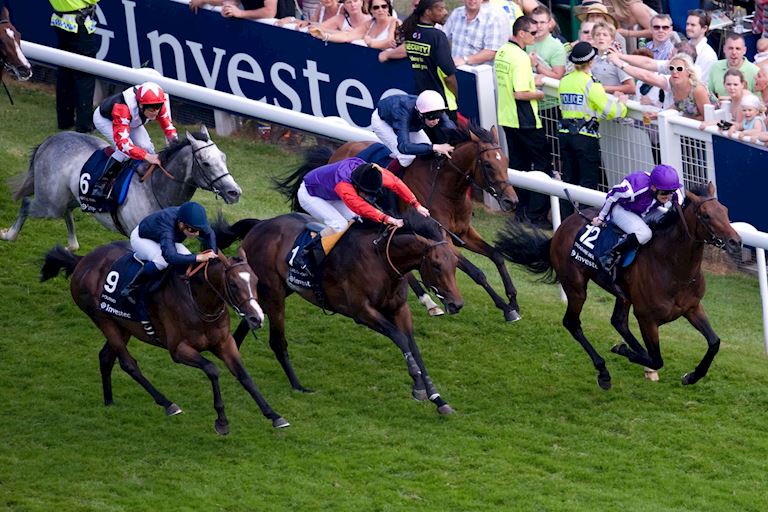 Image: PA Images
"Unfortunately I didn't," he continues. "We thought we had a good chance with Church Parade in 1981 (the Derby won by Shergar). I thought he would be the superstar. He was giving all the right vibes, but we only finished fifth. He was a good horse but not a Derby winner.
"Riding for Queen was a privilege. When you put on those colours (the famous silks of purple, gold braid, scarlet sleeves and black velvet cap with gold fringe) you sort of grow.
"You feel proud to be riding for the most famous woman in the world. I have always been a royalist. I have felt even more privileged to be involved."
Carlton House in 2011 was the nearest she has come to breaking her 'Derby Duck' since her Coronation year. The colt trained by Sir Michael Stoute and ridden by Ryan Moore, went off the 5-2 favourite but frustratingly again, could only come third. He was beaten a length.
If she ever was to be successful, Carson says it would be her crowning glory.
"Hopefully over the next few years one will turn up for her. The sport owes her so much."
There is no doubt The Jockey Club – and British Racing - is fortunate to have such an engaged Patron and advocate for the sport.
THE FULL DERBY RECORD OF THE QUEEN'S HORSES
1953 Aureole (2ND)
1954 Landau (8TH)
1956 Atlas (5TH)
1957 Doutelle (10TH)
1958 Miner's Lamp (6TH [DHT])
1959 Above Suspicion (5TH)
1978 English Harbour (18TH)
1979 Milford (10TH)
1981 Church Parade (5TH)
2011 Carlton House (3RD)