Aintree Racecourse and Women in Racing (WiR) are thrilled to announce the Grand Women's Summit will return on Ladies Day of the 2018 Randox Health Grand National Festival with BBC Breakfast Presenter, Sally Nugent as host and local Olympic Gold Medalist, Sam Quek MBE, named as the first panellist.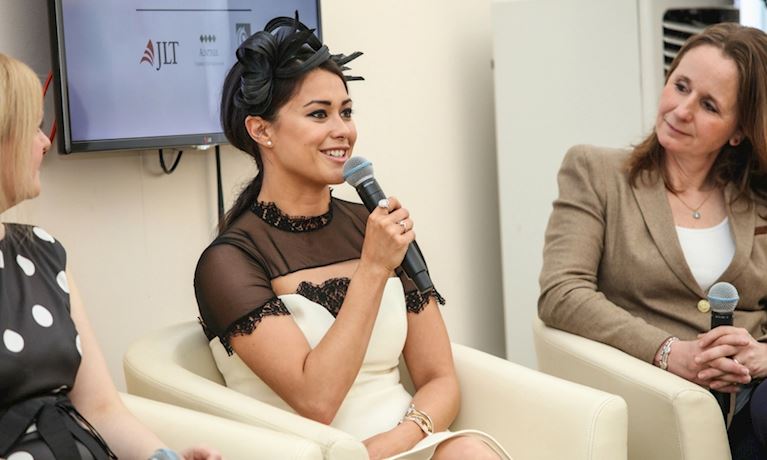 Sam, from Wirral in Merseyside, was part of the successful Great Britain Hockey Team who won Gold at the Rio Olympics and also has a passion for promoting women in sport and encouraging young girls into playing hockey and sport in general. For the second year, Sam will be the Randox Health Grand National Ladies Day Ambassador, bringing her fashion expertise, sporting knowledge and love for the city to the forefront of her role with Aintree Racecourse.
Sam Quek said: "It's an honour to be part of the Grand Women's Summit and the Randox Health Grand National Festival for a second year. The Summit is a fantastic initiative to bring women's sport to the forefront and even better on the world class stage of Ladies Day. Aintree always delivers as a spectacle for all and I can't wait to see what the ladies of Liverpool deliver this year as the fashion spotlight shines on them once more."
The Grand Women's Summit celebrates women in horseracing, sport and business and provides guests with an informative, educational networking opportunity, whilst experiencing one of the largest horseracing festivals in the world. Sam will join a panel of leading figures from the sporting industry to discuss prominent topics related to women's sport
Sally Nugent hosted the Grand Women's Summit for the first time in 2017 and will be bringing her media expertise to delve deep into the hot topics of discussion again next year.
Following the panel discussion in Aintree's O'Sullevan facility, which overlooks Aintree's world famous Parade Ring, delegates will also be treated to an exclusive course-walk around the iconic Grand National course with Irish Grand National winning jockey Katie Walsh and further figures renowned for their success in the world's most famous steeplechase - the Randox Health Grand National.
Additionally, Aintree and WiR will also be adding a champagne lunch and networking event in Paddock Lodge before the day's racing starts. Further details will follow.
John Baker, Regional Director for Aintree Racecourse, said: "We are delighted that the Grand Women's Summit has become a sell-out event and over the years has attracted sporting superstars such as Dame Sarah Storey, Beth Tweddle, Maggie Alphonsi and Judy Murray. I'm delighted that Sam Quek has agreed to be a panellist and ambassador for Ladies Day for a second year. Sam is an inspiring and successful local sportswoman - we're thrilled to have her as part of the team.
"We're looking forward to making the Grand Women's Summit, in partnership with Women in Racing, even more special this year and we will be announcing further high profile panellists from the world of sport and business in due course."
WiR is a network supporting the careers of women within horseracing in the UK from participation to executive and board level and co-hosted with Aintree Racecourse the first Grand Women's Summit held last April. Since is it was founded in 2009, WiR has achieved significant milestones including a successful mentoring scheme and a bursary fund alongside a busy calendar of educational and social events.
Julie Deadman, Chair of Women in Racing, said: "I am delighted that the Grand Women's Summit will be returning to the Randox Health Grand National Festival in April 2018. The Summit goes from strength to strength and it is very rewarding to be able to continue our involvement with Aintree Racecourse and Jockey Club North West. It is very exciting that Sam Quek will be returning as a confirmed panellist to the 2018 event! I am sure that attendees will be very keen to hear how things have progressed for her since the 2017 Grand Women's Summit".
Tickets for the 2018 Grand Women Summit on Friday 13th April will be priced at £99 and can be bought through www.randoxhealthgrandnational.co.uk or by calling 0344 579 3001. A ticket includes a Lord Sefton Terrace ticket for Ladies Day, a private facility in the Paddock Lodge after the panel discussion in O'Sullevans, a Grand National course walk by Katie Walsh, a champagne buffet lunch and the Grand Women Summit.
@AintreeRaces @WomeninRacing1 #GrandWomenSummit #GWS #FabulousFriday