Last weekend RoR held the first RoR Showcase at the Aintree Equestrian Centre on Saturday 3rd November 2018. The event supported by The Racing Foundation was attended by three hundred owners and prospective owners of former racehorses and received overwhelming positive feedback.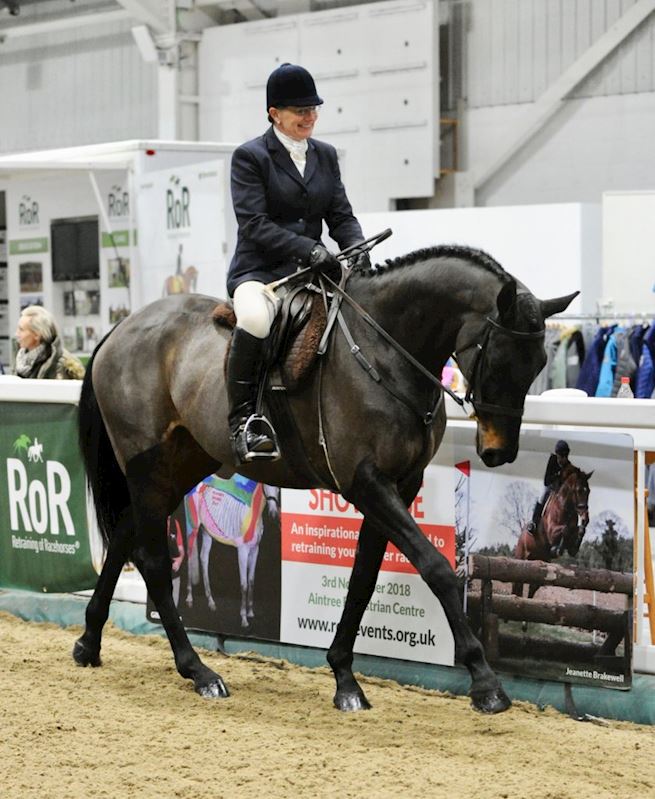 The Main Arena at Aintree Equestrian Centre provided a fantastic venue to host a total of eleven demonstrations and clinics from top trainers and experts from the equine world. The day started with an informative demonstration from racehorse trainer Bryan Smart and vet Jenny Hall talking through and showing the racehorse as an athlete and then it's transition to a new career, using racehorses in training.
Olympic Silver medallist Jeanette Brakewell provided a day with brilliant instruction in both her demos, covering schooling former racehorses over poles and then later in the day the progression to eventing. Horses and riders taking part included Pineau de Re with Lizzie Doolittle, Master Wickham with rider Claire Lewis and Moment To Dream with rider Emma Lebutt.
Top show producer Katie Jerram-Hunnable gave insight into the world of showing in her demos, sharing her experience and expertise using both a novice horse and covered some finer points with an established open horse. RoR Elite Champion Wild West and rider Lizzie Harris took part along with former Paddy Power Gold Cup Chase Winner Annacotty with his rider Hannah Bishop.
British Dressage Training Director Paul Hayler was also much enjoyed by visitors with his dressage demonstration covering the issues faced when going back to basic flatwork leading to establishing a correct way of going. Paul conducted his demo alongside BD trainer, Charlotte Wilson, and her horse Orwellian and GB para-rider Julie Frizell and former Ascot winner Namibian.
The afternoon Showcase offered something completely different with natural horseman, Guy Robertson and his former racehorse The Names Bond, demonstrating how to build up trust through Natural Horsemanship. There was a stunning display of Western Riding from Emma Chapman, who dazzled the crowd with her style and control of former racehorse Midnight Robbery, a horse previously in training with Bryan Smart. This was followed by an introduction to Endurance with RoR Elite Endurance Champion, Anna Collins riding Karactacus Potts and Alison Fearn on Pedantic.
Through the day Equine anatomist and sports therapist Gillian Higgins painted the musculoskeletal system on former racehorse, Word of Warning and gave two highly informed demos which highlighted the physical changes in the transition from racehorse to riding horse.
The RoR Showcase also gave many visitors the chance to get one-to-one advice from trainers during the day in the Ask The Expert Lounge. Plus, there was the opportunity to see some close up demos in the second Arena covering many aspects of retraining in various disciplines.
The RoR Showcase concluded in a Grand Finale featuring all of the participating horses and riders, as well as former racehorse Carhue who is now with the Mounted Special Police ridden by Giles George and the RoR Team Dressage 2018 winners.
Di Arbuthnot said; "The RoR Showcase was a fantastic day with a variety of expertise on offer and a non-stop schedule. It gave us all a forum to share ideas with one another, trainers, experts and owners. I hope everyone came away with something to inspire them."
RoR would like to thank everyone who took part in the day, trainers, horses and riders, as well as all those who attended. We hope you enjoyed the day.