PARADE OF GRAND NATIONAL FENCE HEROES
Meet and greet Saint Are and Scots Grey in the Pre-Parade Ring at 10:45am
Parade of Grand National fence heroes in the Parade Ring at 11:15am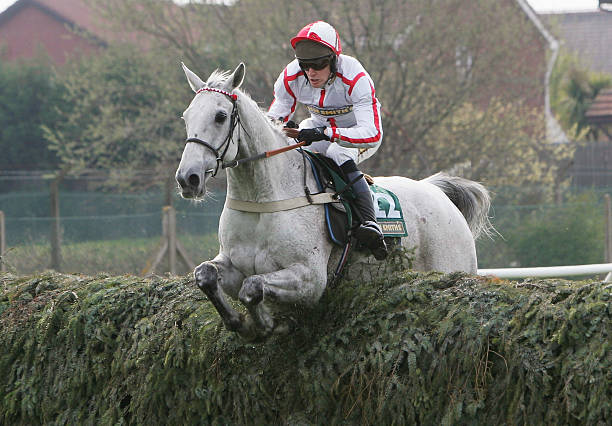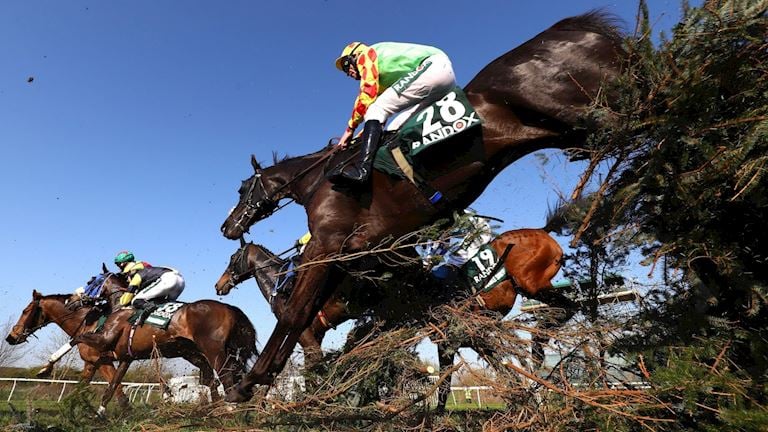 ALWAYS WAINING, Niamh Mason
Topham Handicap Chase winner 2010, 2011, 2012. Ran 8 times over Grand National fences and jumped 148 of the big fences
At the moment Always Waining spends his winter hunting and hacking. Through the summer he does local shows successfully and he wins lots of racehorse to riding horse classes and small hunter classes. He still enjoys going up the gallops and jumping the fences on a regular basis. He competed at the Retraining of Racehorses National Championships in August this year and loved being back at Aintree!
CASSIA HEIGHTS, Sarah Taylor
Topham Handicap Chase winner 2004. Ran 8 times over Grand National fences and jumped 130 of the big fences
Since he retired in 2009, he has been living at Mickley Stud in Shropshire. At the Eccleshall Show he did the Retraining of Racehorses classes and Cassia Heights won his class, the in hand championship and was also reserve champion of the day. After that he retired to chief 'babysitting' duties minding all the weaned foals and youngstock, which he has been brilliant at keeping them all in check. Now he's being pampered at Allan and Stella Stennets as a companion to one of his retired racehorses.
CHANCE DU ROY, Laura Parker
Becher Handicap Chase winner 2013. Ran 7 times over Grand National fences and jumped 150 of the big fences
Laura Parker, who is travelling head girl for Phillip Hobbs has had Chance Du Roy since he retired from racing in 2016. He has been showing in the summer in RoR classes and won 4 of his 5 classes. He has also been doing some cross country schooling and enjoys going hunting.
DUNBRODY MILLAR, Hayley Ward
Topham Handicap Chase winner 2007. Ran 5 times over Grand National fences and jumped 84 of the big fences
Dunbrody Millar has progressed in Eventing to competing at BE100 and show jumped to 1.10m with several places along the way. He has been fully retired for a few years now and loves being pampered. He keeps himself fit by galloping around the field regularly and definitely teaches the younger ex racehorses bad habits!! He is a dream to own and adored by all.
SAINT ARE, Rebecca Court
Third in the 2014 Becher Handicap Chase & runner-up in the 2015 Grand National & third in the 2017 Grand National. Ran 8 times over Grand National fences and jumped 174 of the big fences
Saint Are, an Aintree Grade 1 winner who finished 2nd in the 2015 and 3rd in the 2017 Randox Health Grand National was retired from racing in April after being brought down at the chair in this year's renewal of the world's biggest horse race. Following the announcement of his retirement Saint Are had a nice summer holiday at Down Farm with Tom George before arriving in Essex at the end of August to begin his Retraining with Justine Armstrong-Small, Rebecca Court and the Saint Are owners Syndicate. Saint Are is being retrained to be a show horse with the aim of competing at the Retraining of Racehorse championships here at Aintree.
SCOTS GREY, Emma Burton
Foxhunters' Chase winner 2007. Ran 4 times over Grand National fences and jumped 60 of the big fences
Scots Grey has been teamchasing again in 2018 and he is still very game. Since retiring from racing, he has doing Retraining of Racehorses showing in-hand and ridden, eventing, show jumping, dressage, and of course teamchasing which is his absolute passion. He is a real character on the yard, and seems to take delight in running circles around me if I try to catch him from the field. Anyone else can do it, but for me he pricks his ears and dances around. Luckily he is fond of his belly so wave a carrot and he's soon close by. Being Grey, he isn't easy to keep clean either and loves coming in muddy from the field!