With Tiger Roll poised to create Grand National history this April if he completes a hat-trick of victories, it is worth considering just how great an achievement this would be. Michael O'Leary's diminutive champion is already a member of an exclusive group of just five horses who have won back-to-back runnings of the great race. If he wins again, he will have done something not even managed by the legendary Red Rum, whose three triumphs were punctuated by two second placings.
Red Rum's consecutive wins came in 1973 and 1974, and the other horses besides Tiger Roll to have equalled that feat are Abd-El-Kader (in 1850 and 1851), The Colonel (1869 and 1870) and Reynoldstown (1935 and 1936). Each of these had a fascinating tale behind him, none more so than The Colonel, the race's second dual winner. 2020 marks the 150th anniversary of his second Aintree triumph.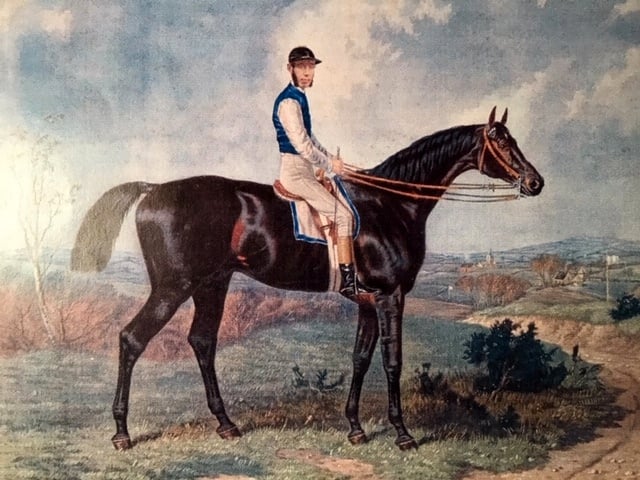 The Colonel was an almost black horse by Knight of Kars out of Boadicea, bred in 1863 by John Weyman in Little Brampton near Craven Arms, Shropshire. Technically, he was a half-breed but was closely related on his sire's side to Stockwell, winner of the 2,000 Guineas and St Leger in 1852. His dam bred only two foals - The Colonel and the "useless" Lady Port - and reputedly went blind at 12, fell into a pond and drowned.
Described as being "typically in the Aintree mould", The Colonel was trained at nearby Bishop's Castle by Richard Roberts, and legendary five-time Grand National-winning jockey George Stevens helped to break and school the horse. As a juvenile - similarly to Red Rum - he ran on the Flat, winning five races before being hunted for two years. It was widely reported that he would jump anything put in his way and that "a safer, steadier jumper in the hunting field was never seen". At home, he was exercised by plough boys and paddock gates did not require opening for him as he simply jumped in and out of his field.
The 1869 Grand National was only his second-ever attempt in a steeplechase for The Colonel who, under Stevens, won easily by three lengths. Next year, carrying a full stone more weight than before, the pair won by a head after a fierce tussle up the finishing straight with a horse called The Doctor.
After this victory, The Colonel was sold at Tattersalls for 2,600 guineas to Baron Oppenheim. He later ran in the 1871 Grand National, carrying a massive 12st 8lb and finishing sixth to The Lamb, before moving to Germany. There, reputedly, he became the ceremonial charger of Emperor Wilheim I of Prussia, ridden on parade when troops were received after victory in the Franco-Prussian war.
Still an "entire", The Colonel then made a name for himself at the government's Beberbeck Stud in East Prussia where he sired among others Optima, a mare later responsible for the stallion Optimus who in turn featured strongly in the Trakehner warm blood breed and in some Hanovarian lines.
Comparing The Colonel with the lightly-raced Tiger Roll, it is interesting to note that he did not appear on a racecourse between his two Grand National victories. Obviously very fit, he was ridden cross-country to and from Liverpool, staying at inns overnight, and was given the same adulation in his homecomings as winners today are afforded. In 1869, crowds and mounted huntsmen came out in their hundreds to greet him, filling nearby roads for nearly two miles. The following year he was taken into the local church of St Mary at Llanfair Waterdine for a thanksgiving service, and a plaque commemorating that occasion still exists today.
The Colonel was remembered in other ways too. One of the arches of the Knucklas Viaduct under which he passed everyday to the training grounds was later named 'The Colonel's Arch' and was decorated with laurel wreaths following his victories. An old English ballad was written in praise of his victories, including the words "Now, the name of The Colonel will shine like a star." The original painting of him by Harry Hall - a print of which can be seen in Aintree's Paddock Lodge Community Hub - is still in existence, fittingly framed in oak taken from the horse's stall.