Carlisle's second annual Red Rum Day will celebrate the legendary feats of the world's best loved steeplechaser – and support racing's many unsung heroes.
Red Rum famously prepared for each of his three Grand National wins in the 1970s by first winning Carlisle's Windermere Handicap Chase.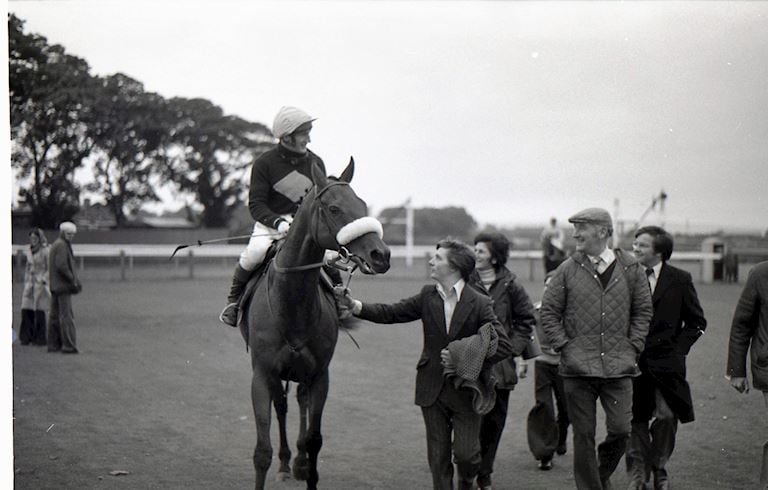 The landmark three-mile chase, held on Carlisle's first jumps meeting of the season, was resurrected last year to mark 40 years since Rummy's last winner in Cumbria in 1976.
And the Windermere Handicap Chase returns this year on Thursday October 19th with Carlisle Racecourse today launching a search for a race sponsor. All proceeds will go to Racing Welfare, the registered charity which supports British horseracing's workforce.
The sponsorship is open to individuals or companies who will have the race named after them and every penny raised will go to help racing's dedicated stable and support staff.
To submit a bid to sponsor the Windermere Handicap Chase please email Geraldine.McKay@thejockeyclub.co.uk or call the racecourse on 01228 554700. Bids must be submitted by 5pm Thursday October 12th
Geraldine McKay, Carlisle Racecourse's General Manager, said: "We are very proud of our connection to Red Rum and last year's Red Rum Day was such a huge success we wanted to make it an annual event.
"This year we wanted to create something more than a tribute to the world's most famous steeplechaser – we wanted to celebrate and support the many unsung heroes in our sport.
"Racing Welfare offers crucial guidance and practical help to the many hundreds of stable and support staff whose dedication is vital, for not only the success but also the well-being of our wonderful sport.
"Racing in this country would simply not happen without these fantastic people, many of who live away from home throughout their careers and give so much to the sport.
"Red Rum was a true star of racing who made headlines the world over. We think it is a fitting tribute that his name and fame should live on and help support the behind the scenes staff who help create such legends."
Dawn Goodfellow, Chief Executive of Racing Welfare, said: "We are absolutely delighted that Carlisle have chosen to support Racing Welfare through this exciting sponsorship opportunity by celebrating the legendary steeplechaser Red Rum.
"We greatly appreciate Carlisle's support in recognising all the dedicated staff working behind the scenes of British horseracing."
Red Rum prepared for each of his National wins (1973, 1974 and 1977) by riding a winner at Carlisle's first autumn meeting. A win in Cumbria – in 1972, 1973 and 1976 – was certainly a good omen as when Rummy failed to triumph over the jumps at Carlisle in the autumn he then failed to win at Aintree.
Last year's Windermere Handicap Chase was won by Carrigdhoun. The dashing grey is trained by Carlisle-based Maurice Barnes who himself rode Rubstic to victory in the 1979 Grand National.
As well as the stars on the track this year, it is the racegoers who make Red Rum Day so special.
And this year Carlisle Racecourse is offering 25% off the normal price of admission to all racegoers who get in the spirit and "Wear Red For Rummy", be that a red frock, scarf, tie or hat!
Tickets for Red Rum Day at Carlisle Racecourse – Thursday October 19th – are £14.00 (in advance) or £17.00 (on the day). Gates open at 12.10pm. First race is 2.10pm. Last race is 5.25pm.
To submit a bid to sponsor the Windermere Handicap Chase please email Geraldine.McKay@thejockeyclub.co.uk or call the racecourse on 01228 554700. Bids must be submitted by 5pm Thursday October 12th