Racegoers at Carlisle Racecourse could do worse than look out the name of Ben Curtis this coming Flat season - which begins here on Monday May 21.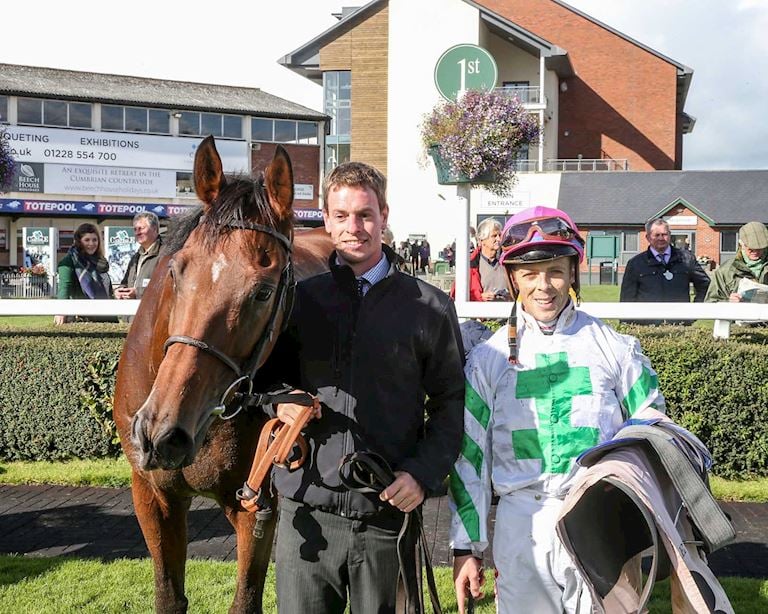 The jockey is in a rich vein of form and his strike record at the Durdar track has seen him named leading jockey in two of the last three years.
Curtis, a former champion apprentice, has a competitive career strike rate of 11% but this more than doubles to 25% - a winner every four races - at Carlisle. To put that in context, 2017's leading flat jockey, Silvestre de Sousa enjoyed an 18% strike rate.
Ask Curtis what's the secret behind his 27 wins in just 106 starts and the 28-year-old laughs and admits: "I haven't got a clue! I've certainly had plenty of luck there. I really like the track.
"What I like is you don't have to rush the horses. They have time over those five or six furlongs to climb to the line."
Curtis puts a lot of his success down to the trainers he rides for sending challenging horses to Cumbria.
Many of his mounts are for his North Yorkshire based neighbours David Barron and Karl Burke, both of who are Carlisle regulars.
Ben said: "David's record speaks for itself and this season his horses are all running well. I've ridden for Karl since I came over from Ireland and always had a lot of luck."
For a man with more than 300 career winners and with such a record of success in Cumbria, Curtis has a clear recollection of his favourite moment at the course.
He explained: "I had the pleasure of riding Kinema for Alan Swinburn in the Cumberland Plate. It was a race Alan really wanted to win and he told me not to get stuck at the back.
"As it happens he was second last and a long way back, but he came home to win it.
"I think that after three furlongs Alan was cursing me but at the finish he was cheering. I was really pleased because Alan was always great with me and he really wanted to win that race."
Curtis was a 16-1 winner that day in 2015 and he's sure to be a contender throughout Carlisle's new Flat season which kicks-off on Monday.
With the 2018 he's having he'll be looking to add to the 35 winners already under his belt. His strike rate is 16% and he's bagged six May winners already.
Curtis has improved his number of winners each year since moving to the UK from his native Ireland in 2014. While Curtis is a little coy about revealing his target for the year ahead, he admits that improving on the previous season's tally is an obvious goal.
"I've no fear of getting the work done. I don't mind driving to try to get a winner. If the horses are good enough I want to win."
"The season's been going really well early on. All the rain we've had means it's been very tough. The horses weren't getting the work in, they were probably three or four weeks behind where they would normally be.
"We have taken it steady and now the horses seem to have come good at the right time."
Like many jockeys, Curtis can find himself booked to ride at more than one course a day and he reckons last year he clocked in excess of 75,000 miles travelling from course to course.
And on his visits to Carlisle this year, Curtis may have an additional spur. He became a father earlier this year and his son has already been taken to see dad race at Thirsk.
Ben added: "No doubt he'll be making an appearance at Carlisle soon!"
Molly Dingwall, Carlisle Racecourse General Manager, said: "There's no doubt that Ben has been a superb performer at Carlisle in recent years and we expect he'll be challenging again as a new Flat season gets under way.
"It's a very exciting time of year for everyone who loves the sport. We've been working hard to get everything ready after the close of the Jumps season we're really looking forward to welcoming people back for some exciting racing on May 21."
Gates open on Monday at 12.45pm. First race is 2.45pm and the last race is 5.45pm. Adult tickets are £15 (in advance) or £18 (on the day). All under 18s free entry when accompanied by an adult.