Carlisle's top jumps trainer is eyeing up more winners and a crack at the course's big prizes.
Stuart Crawford claimed the honours as the course's leading National Hunt trainer when Lily's Gem romped home in the final race at the season finale in April. That put Larne-based Crawford one ahead of Brian Ellison and Micky Hammond with six wins from 15 entries.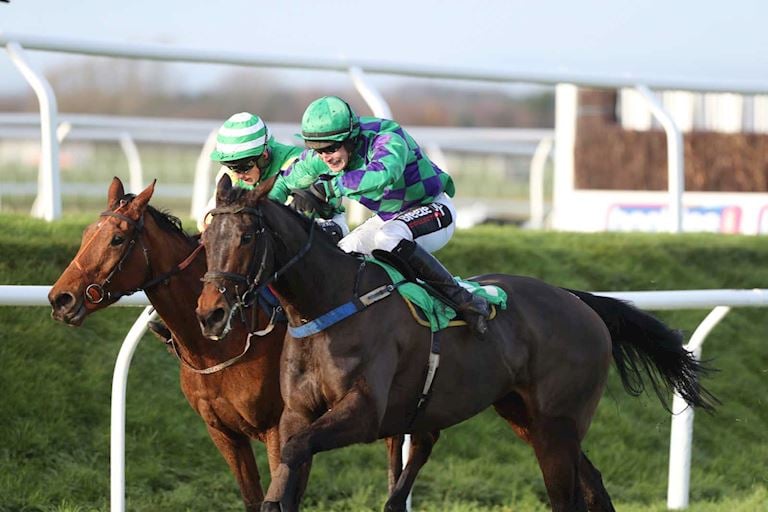 Included in Crawford's haul was victory for Our Valentina (pictured above) in the Mares Handicap Hurdle at the inaugural Northern Lights Series Finals at Carlisle in December.
Now, with National Hunt racing set to return to Carlisle on Thursday October 18, Crawford is planning more trips across the Irish Sea.
He said: "We've enjoyed some good success at Carlisle and we've certainly got a couple that will likely be there for the first meeting.
"Last year we had a tentative plan to aim some horses at the Northern Lights Series and it was great it came off. Our Valentina wasn't necessarily expected to win, and she definitely did her best work at the finish, but it was great and the owners really enjoyed it.
"This time we've got some plans for the series and it would be nice to have something with a chance again."
Carlisle will host the five £35,000 finals on Sunday December 2 after 100 qualifying races at 14 northern racecourses. The series is designed to provide greater opportunities for mid-tier rated horses.
Our Valentina has already secured the right to defend her crown and Crawford is looking at the remaining qualifying races for more opportunities.
He said: "There's some really good prize money on offer, not just for first but the places as well. It's a great initiative that means you can plan a series of races for horses at that level.
"I like Carlisle, it's a good jumpers track, they have to stay. And it's even better when you get a bit of success."
Another Northern Lights winner also has both the opening meeting and finals day firmly on her calendar.
After success with Ebony Rose in the 3m Handicap Hurdle last year, Northumberland-based trainer Susan Corbett has been targeting the series again.
She said: "We've gone for it with greater gusto this year and I think that's true for a lot of northern trainers.
"The take up seems bigger this time. The series allows you to plan ahead and to compete for some good prize money."
Ebony Rose is recovering from injury so won't be a contender in December, but Reivers Lodge is already qualified for the 3m Handicap Hurdle and may also make the grade at a shorter distance.
Corbett also has hopes for Morning with Ivan to get through from one of the remaining 2m Hurdle qualifiers. The eight-year-old filly has won five of eight races since switching trainers.
Corbett will make the journey from her Otterburn stables for the season opener.
She said: "It's a stiff course, from the bottom of the hill you can't see the finish line such is the climb. But you can learn a lot about a horse when it runs there.
"We've now got 35 horses and a lot of them are young and works in progress. Carlisle is very much in our plan for their progression."
The opener at Carlisle includes a Northern Lights Series qualifier for the 2m Handicap Hurdle. There are also two Class 3 races for the Challenger Chase Staying Series Finals and the Novices Limited Handicap.
Tickets are now on sale for the Smarkets Grand Jumps Season opener at Carlisle on Thursday October 18. Adult tickets are £15 (in advance) or £18 (on the day). Under-18s free entry when accompanied by an adult.