And now Haydock Park have named a race in honour of the former Sprint Cup winner who will return to the track on Thursday (THURSDAY, SEPTEMBER 5) attempting to win his own race, the Gordon Lord Byron EBF Conditions Stakes.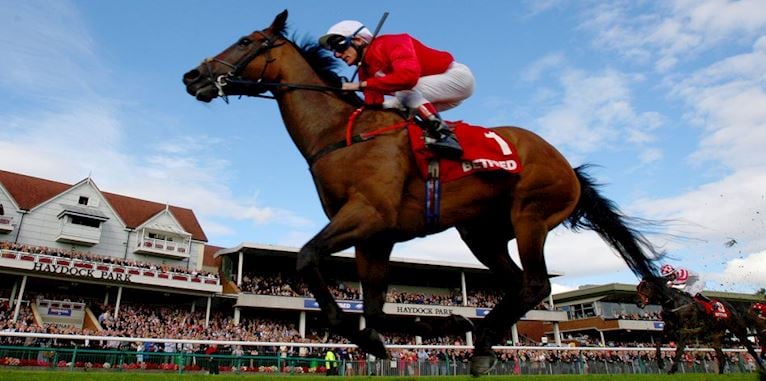 Gordon Lord Byron's life reads like a Dick Francis novel.
Bought for £2,000, he fractured his pelvis on his racing debut and would have been put down if it wasn't for the determination of his trainer, Tom Hogan.
When he returned from a painstaking rehabilitation, he came last in his comeback race – but incredibly this plucky horse went on to win £1.8 million in prize money.
His success wasn't just about winning money however, the Irish sprinter changed the lives of his owners, bringing them hope and joy when both were diagnosed with cancer.
"Thursday's race at Haydock Park will be Gordon Lord Byron's 103rd start, it is a fairytale," said the Tipperary handler
"Gordon Lord Byron has raced all over the world: Australia, Hong Kong, France and The United Arab Emirates, but winning the Sprint Cup at Haydock Park in 2013 was his finest performance.
"He loves it there."
He added: "It is a really lovely gesture by Haydock to put on this race, they are great people there."
Hogan's grand old servant ran five times in the Sprint Cup, taking the title a year after finishing runner-up to Society Rock in the six furlongs Group race.
"I knew that he had improved at this time of year every year, so I had a feeling that he'd win the Sprint Cup that day," said Hogan.
Super-star jockey Frankie Dettori will be in the saddle for the first time on Gordon Lord Byron as Hogan's veteran horse attempts to post another Haydock Park win in the seven furlongs Conditions race.
The admirable 11-year-old showed he retains plenty of ability and enthusiasm by competing well in his last outing in the Skybet City of York Stakes at York last month.
"I take him to the beach most weeks, it is a 100 miles journey from where I train, but it is well worth it because he loves the sand and sea under his hooves," said Hogan.
"He gets five-star treatment and it is all about keeping him happy and content.
"He really enjoys his life.
"And I don't see any reason why he will not stay in training next year."
Haydock Park's clerk of the course Kirkland Tellwright said: "Gordon Lord Byron's career is heartwarming and we're proud to have been part of it at Haydock Park.
"Having also been second in the race in 2012 and 2014, he came close to equalling the record of Be Friendly, who is the only horse to have won the Sprint Cup twice.
"His record is testament to his class and durability and also to Tom Hogan's skilful handling of the horse."
Haydock Park's three-day Sprint Cup Festival begins on Thursday with the Sprint Cup on Saturday, September 7.