HAYDOCK Park's 2019 Betway Achilles Listed Stakes champion Maid In India handed Lancashire trainer Eric Alston's biggest win of the season.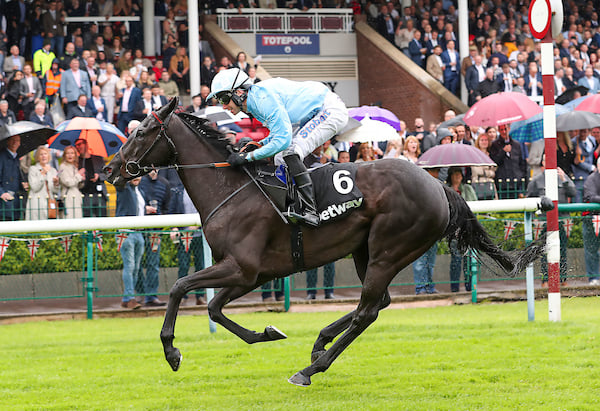 ERIC ALSTON is celebrating a special victory after his stable star Maid in India, who only has one eye, gave the veteran Lancashire trainer his biggest win for three years.
The jet-heeled filly was the toast of his home village Longton near Preston after Maid In India carried off last weekend's Dubai International Airport World Trophy at Newbury.
"She has trouble with her eyes - and she is blind in her left one," said Alston.
"It's a disease that is unusual in racehorses and she may have to have it out at the end of the season.
"She's had the condition for two years, so to see her perform like she did at Newbury, a career best in a very good race, was remarkable."
It was Alston's first Group 3 victory since Ridge Ranger won York's Summer Stakes in 2016.
"The Newbury race had been the plan for a while and I was praying for rain, which didn't come," added Alston.
"They'd watered the track and when Jamie Spencer (jockey) took her down he said he thought it would be ideal for her and it was.
"I'd have been happy if she'd been in the first three."
He added: "We might give her one more outing this season, and then make a decision on her future.
"It is possible she could retire to stud. We'll see what the owner thinks first."
Owned by millionaire Con Harrington, Maid In India claimed victory on her first outing of the season, winning the £21,000 Listed Achilles Stakes in impressive style at Haydock Park in June.
But after she flopped at Ayr, trailing in last in the Land O'Burns Fillies Stakes,' Alston gave her a holiday.
Alston added: "She came back with a bruised foot and was a bit sore, so we had to give her plenty of time to get better.
"Now she's won seven times in 15 outings and that's a superb record."
Alston says he hopes to have a runner at Haydock Park on Saturday.
"I've entered Acclaim the Nation in the five furlongs Virgin Bet handicap, but I'll make a decision once I know what the going is."
Haydock Park is racing on Friday and Saturday and will also be holding a Craft Beer and Gin Festival on both days.
Tickets and info, 0344 579 3006, thejockeyclub.co.uk/haydock