THE Batman and Robin of racing - Tom Dascombe and Richard Kingscote - are the undisputed kings of Haydock Park again.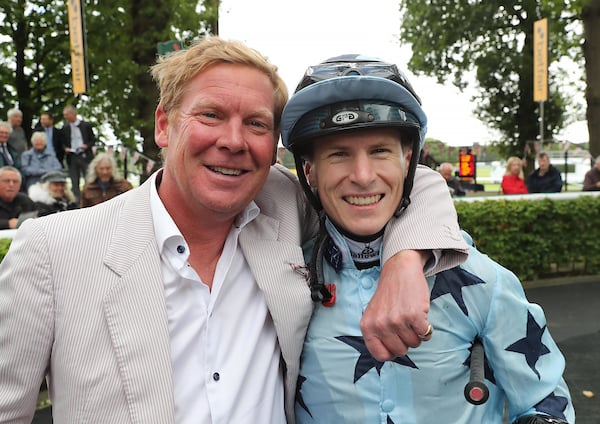 The dynamic duo carved out another impressive chapter when they reached 500 nationwide winners as a team at Haydock Park with their newcomer Brookside Banner.
Nobody rides Haydock Park better than Kingscote and the trainer he calls 'The Boss,' provides the equine talent.
"My career has gone well over the last few years but there is something about Haydock Park, it seems to bring out the best in both of us," said Kingscote.
"It is a very fair track to ride – but to post 500 winners as a team is incredible and all credit to him for giving me his support.
"He's very easy to work and he's a good boss.
"This is a very competitive game, there's some very talented jockeys and trainers, but there's rarely a meeting goes by at Haydock Park when we don't have a winner."
Kingscote, who passed 1,000 career winners this year, added: "Apart from my Royal Ascot success, (The Grand Visir) the two Group 3 wins at Haydock, Addeybb in the Rose of Lancaster Stakes and Great Scot in the Superior Mile, have provided the main highlights."
Last season the golden partnership clocked up 39 winners between them at Haydock Park.
And Dascombe was equally complimentary about his enduring partnership with Kingscote.
"Richard performs supremely well at Haydock Park – he is a fantastic rider."
Kingscote lives in Oxfordshire, a three-hour drive from Haydock Park, but is fast becoming an adopted Northerner.
"I love it up there and we did look into it, moving back to the north again," added Kingscote.
"I do miss it, but my family is settled in the south, with the kids at school, so we are staying put."
Dascombe and Kingscote will likely be in action when Haydock Park stages their Craft Beer and Gin Festival Racing weekend on Friday, September 27 and Saturday, September 28.
For tickets and info call thejockeyclub.co.uk, 0344 579 3006.