For the first time ever, Jockey Club Racecourses North West has today announced an exclusive and bespoke £20,000 development award for female jockeys.
The unique award will be presented to a lady jockey who rides a winner at Carlisle's #AmazingMonday fixture on Monday 1st August and then goes on to win the brand new Betfred Haydock Park Ladies' Trophy Handicap Stakes at Haydock Park on Saturday 6th August.
The £20,000 prize is designed to provide an opportunity for personal development to support individual requirements for female jockeys, which could take the form of extra tuition or course fees, and will be dictated by the winning jockey.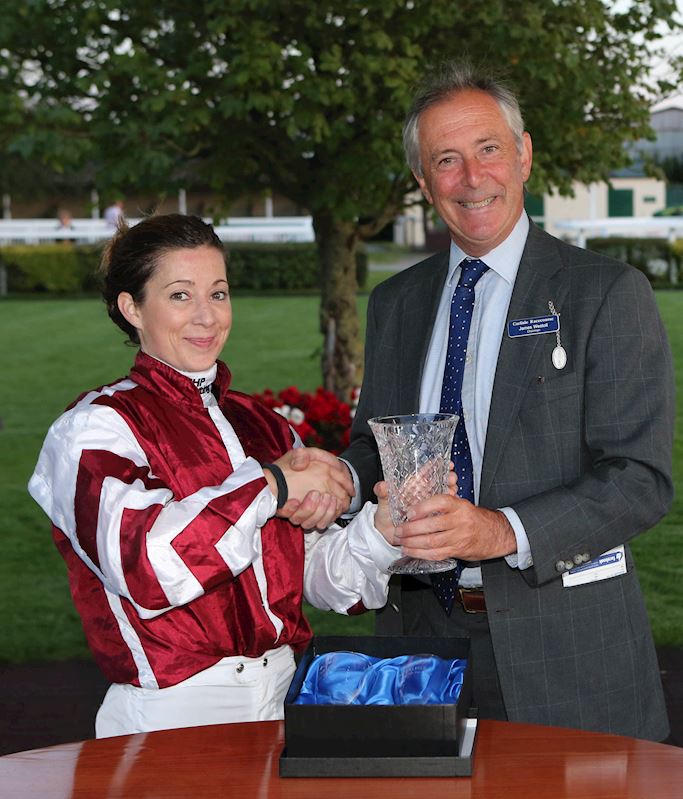 Hayley Turner OBE, one of the most successful and well-known female jockeys and who became the first women to ride 100 UK Flat race winners during a calendar year, is an ambassador of the Jockey Club North West's project.
"This is a fantastic opportunity for any female jockey to compete at the highest level for a development award which could be life changing for a young lady rider. I certainly wish I had this opportunity when I was competing and am very pleased that Jockey Club Racecourses NW has provided this unique and valuable opportunity and are dedicated to supporting women in our sport," said Hayley.
The development award and the new female-only Ladies Trophy at Haydock are two new exciting initiatives by Jockey Club Racecourses NW to raise the profile of women in racing and which will complement the esteemed female-only raceday at Carlisle Racecourse in August.
Carlisle Racecourse hosts one of the most unique racing fixtures, the world's only raceday exclusive for female jockeys competing for the Durdar Trophy. Now in its sixth year, this fixture has been at the forefront of promoting women in racing and the new initiatives from Jockey Club Racecourses North West will suitably compliment #AmazingMonday at the well-loved Cumbrian racecourse.
John Baker, Regional Director of Jockey Club Racecourses North West, said: "We're delighted to be launching this unique prize for female jockeys in our sport. Jockey Club Racecourses North West is dedicated to supporting, promoting and enhancing women in racing and we're very happy to provide this opportunity to a highly talented jockey.
"Carlisle has been at the forefront of supporting female jockeys with its superb #AmazingMonday fixture, the only raceday in the World that has a female-only card, and we're delighted to add the richest ever female race at Haydock Park for the first time this summer with £20,000 up for grabs in Betfred sponsored Ladies' Trophy Handicap Stakes.
"We look forward to seeing female jockeys compete for the unique £20,000 development prize and hope the award is a great step forward to supporting someone's career in racing."
Mark Pearson, Head of Media and Communications at Betfred said: "We are absolutely delighted that Haydock Park has decided to designate Betfred Rose of Lancaster Day as the racecourses' official ladies day. What was already a fantastic afternoon of top quality racing will be even better with these new initiatives."
Carlisle and Haydock's sister course in the North West has also hosted the successful Grand Women Summit on Grand National Ladies Day at Aintree for the past two years working with Ladies Day Ambassador Katie Walsh, and have worked closely with Women in Racing during a two year partnership to support females in our sport.