Calling Cumbria's strongest men and women – and those who just love to wang a welly in the garden – this is your chance to enjoy racing FREE FOR LIFE!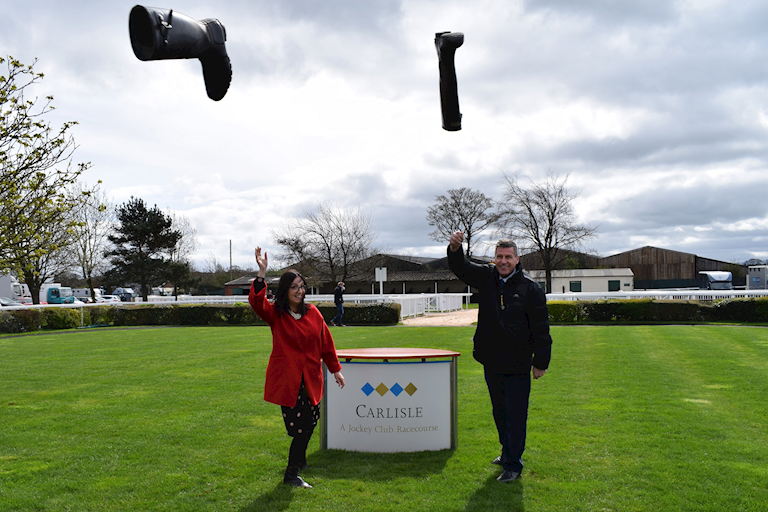 Carlisle Racecourse hosts its annual Easter Saturday meeting on April 15th which not only includes first rate National Hunt racing, but a family fun day with a very special challenge.
Many of the attractions – including a bucking bronco, 'quick draw' simulator and fancy dress competitions – have a Wild West and horse theme, but the highlight of the day will be a Welly Wanging competition with a very special prize.
The racecourse is offering FREE ENTRANCE FOR LIFE to anyone who can beat the current Guinness World Record marks for the longest throw.
The Welly Wang records of 63.98m (men) and 40.87 (women) were set in 1996 by Finnish pair Teppo Luoma and Sari Tirkkon.
And although the records have stood for more than 20 years, officials at Cumbria's favourite racecourse reckon the county has the wanging prowess to challenge the historic marks.
Geraldine McKay, Carlisle Racecourse's General Manager, said: "We love our family fun days and this Easter we wanted to try something different – and what could be more different than trying to break the world record for Welly Wanging at a racecourse?
"We reckon Cumbria has a few strong lads and lasses who could give our Finnish record-holding friends a run for their money when it comes to wanging a welly.
"So get in training, see if you can smash the record and come racing at Carlisle free for the rest of your life!"
A staple of many a country fair and gala, Welly Wanging hit the headlines after This Morning's Holly Willoughby and the Duke and Duchess of Cambridge all gave it a right Royal go live on TV.
The sport of originated in the village of Upperthong, Holmfirth, Yorkshire – the setting every year for the World Welly Wanging Championships.
Competitors are required to hurl a Wellington boot as far as possible within boundary lines, from a standing or running start. A variation requires participants to launch the welly from the end of their foot as if they were kicking off a pair of shoes.
There are four main techniques for ensuring good welly propulsion (source World Welly Wanging Association)
One handed – This is a commonly used technique, where the competitor uses a single hand to propel his or her welly. This can be attempted either right or left-handed, but you cannot use both simultaneously on separate boots.
Double handed – This is often used where there is a particularly large welly, so that both hands can fit securely around the boot. Propulsion in this position usually involves a shot-put-style swing technique.
Between the legs – This is where the competitor throws the welly from between their legs, facing towards the target and bending the legs slightly to accommodate the swing. This is a commonly applied technique for smaller competitors and beginners.
Backward throw – This is when the competitor throws the welly over their head, while facing away from their target. While this enables a large back swing, it also means that the target is out of sight for the duration of the throw. The competitor must also be wary of having the boot land on their head when throwing in this position.
While the Welly Wanging at Carlisle Racecourse comes with a seriously good prize –worth thousands of pounds over a lifetime – this is a FUN event for everyone.
Wangers of all ages, who don't get near the record on the day, can still win special spot prizes as part of a fun day which also includes:
Fancy Dress competition with a horses, jockeys and wild west theme
A 'Quick Draw' simulator
Horseshoe Tossing
Bucking Bronco
Easter Egg Hunt
Colouring competition
Tickets for the day on Saturday April 15th are £14 (in advance) or £17 (on the day) for adults. Under-17s get in free when accompanied by a paying adult. Gates open 11.45am; First race 1.45pm; Last race 5pm