Award-winning licensees Jo and Richard Fenn have an extra special reason to look forward to Red Rum Day at Carlisle Racecourse… their very own race!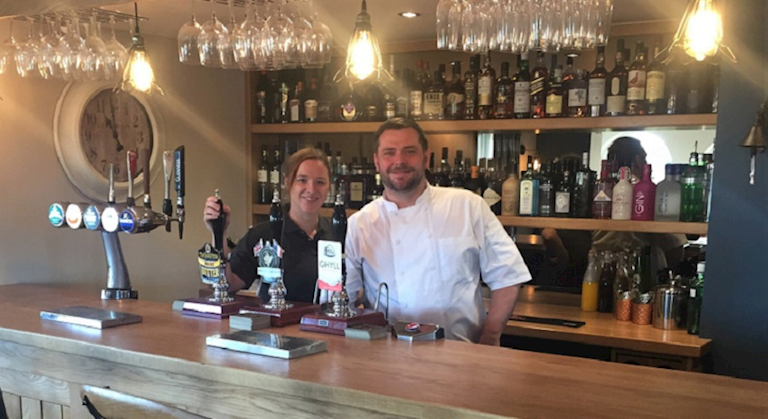 Racing fans Jo and Richard are currently putting the finishing touches to their exciting and extensive refurbishment of the Black Lion in Durdar which is situated just a stone's throw from Cumbria's premier racecourse.
This Saturday (October 21) sees the gastro pub's grand re-opening after a revamp which has taken eight months and investment of around £500,000.
But before the Black Lion's doors swing open Jo and Richard, together with business partners Ben Hodgson and Derek McKenzie, are looking forward to Red Rum Day on Thursday (October 16) – Carlisle's first jumps meeting of the season.
And the team will be paying special attention to the 5.25 The Black Lion (EBF Mare's Standard) Open National Hunt Flat Race which, as the name suggests, celebrates the local pub's re-opening.
Jo, who with husband Richard previously ran The Queens at Warwick on Eden and the Black Swan Inn at Culgaith, said: "We love a day at Carlisle Races and we are thrilled to be involved in Red Rum Day.
"It has been many months of hard work by our dedicated team to get the pub, which has such strong connections to the racecourse, ready for its official re-opening on Saturday.
"Before then we can't wait to see who wins the Black Lion Open National Hunt Flat Race! It's a proud moment."
Red Rum Day marks the start of Carlisle's National Hunt season. The meeting celebrates legendary steeplechaser Red Rum who famously won at the very same autumn fixture in Carlisle before all three of his famous Grand National triumphs.
Geraldine McKay, Carlisle Racecourse's General Manager, said: "We always love to welcome local businesses here and we really couldn't get any more local than the Black Lion which is literally a few hundred yards from the racecourse!
"Racegoers have for many years gone into the Black Lion both before and after racing and many were sad to see the pub close earlier this year.
"But Jo and Richard have done a fantastic job and there is a lot of excitement ahead of the grand re-opening. We will be delighted to welcome members of the Black Lion team here on the day for what promises to be another wonderful day's racing as our jumps season begins."
Around 75 local businesses have been involved in the Black Lion's refurbishment.
And supporting and celebrating the best of Cumbria will certainly be Jo and Richard's ethos when the free house opens its doors on Saturday, complete with state-of-the-art kitchen and 60ft bar.
Jo added: "All the produce will be locally sourced and we will be heavily featuring local brewers and distilleries in our real ales and spirits.
"We have built a reputation for producing excellent food, generating a warm, friendly atmosphere for diners and drinkers alike and that is very much our aim for the all-new Black Lion."
Among the racing highlights on Red Rum Day will undoubtedly be the 3.15 Rhodes Media Windermere Handicap Chase – the very same three-miler won by Red Rum ahead of his Grand National triumphs in 1972, 1973 and 1977.
Sponsorship money from this race will be donated to Racing Welfare, the registered charity which supports British horseracing's workforce – the sport's unsung heroes.
Tickets for Red Rum Day at Carlisle Racecourse – Thursday October 19th – are £14.00 (in advance) or £17.00 (on the day). Gates open at 12.10pm. First race is 2.10pm. Last race is 5.25pm.