Tony Dewhurst talks to Regional Director of Jockey Club Racecourses NW Dickon White about the significant challenge of bringing horse racing back to our local track during the coronavirus pandemic.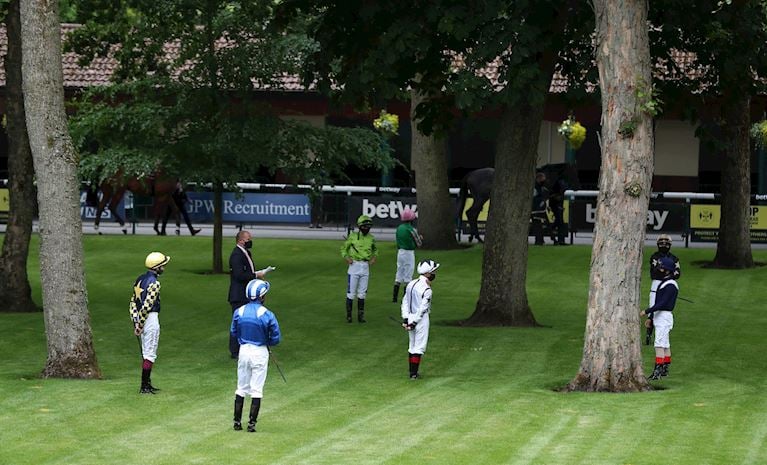 It is rumoured they spent a week repairing the roof when Kauto Star, one of the greatest steeplechasers ever, won his fourth Betfair Chase title at Haydock Park.
Going down to the last fence still a couple of lengths to the good over red-hot favourite Long Run, he produced a spring-heeled leap and powered up the run-in to the finish.
Written off by many, you could have heard the cheers on Southport Pier such was the outpouring of joy for Kauto Star that bone-chilling November day.
A striking statue was unveiled in Kauto Star's honour at our local track to remember the derring-do of one Haydock Park's equine heroes.
Haydock Park groans with history and warm-hearted racing memories, like their proud association with the unrivalled career of Lester Piggott.
The legendary horseman rode his first winner – The Chase - at Haydock Park three years after the end of the Second World War, aged 12.
Piggott went on to record 95 winners at Haydock Park, and his near half century in the saddle came full circle when he rode his final winner, Palacegate Jack in 1994 for retired Cockerham trainer Jack Berry.
However, like the rest of life, racing looks very different now to when the public last clicked through the Haydock Park turnstiles for the Grand National trial in February.
The last few months have been devastating for so many.
Global lockdown brought society, business and sport to a standstill as we all did our bit to help fight coronavirus.
Yet when racing became the first major professional sport in Britain to log a result in its record book since the middle of March, Haydock Park played a key role in racing's comeback.
Kirkland Tellwright, Haydock Park's Clerk of the Course for the last 20 years, said: "I've seen a lot, like the dreadful Foot and Mouth animal epidemic when racing was suspended, but what has happened extends well beyond the racing world and we've had to adjust.
"The Covid-19 virus has taken the world hostage.
'It is an incredible effort that we have resumed racing at Haydock Park and nationally, because at the start of May it was a very distant dream."
Racing resumed in Britain on June 1 and five days later it was Haydock Park's turn to help fire up the industry's engines.
Eleven runners contested the Betway Handicap and Babbo's Boy, making his first start for Hampshire trainer Ralph Beckett, proved an impressive winner in the opening race.
Babbo's Boy went to Haydock Park that day having run a dozen times and won three of them – but it must have felt like having a Derby and 2,000 Guineas champion rolled into one for relieved Haydock Park officials.
After weeks and months working on social distancing protocols and health checking procedures, the new biosecurity measures at Haydock Park received an almost universal thumbs up from attendees.
Of course, many adjustments had to be made to minimise the risk from Covid-19, but with the steady hand of Haydock Park's manager Dickon White on the tiller it enabled the return of racing and something that looked a little bit more like normal life.
The extra measures required saw key personnel attending Haydock Park having to complete an online coronavirus education module, a health questionnaire every week and undergo temperature screening on arrival.
Jockeys, trainers and stable staff wear masks and many officials' personal protective equipment or suitable face coverings.
To keep people apart safely, a one-way pedestrian route is marked out, while the jockeys change in separate cubicles, two metres apart, inside the Tommy Whittle stand.
"It was a daunting task and we had to move very quickly once we got the green light, working very closely with the local authority, Public Health England and the British Horseracing Association who all did a brilliant job," said White.
"We had to re-think every aspect of the racing day that we would normally take for granted.
He added: "We also had a drive-in NHS coronavirus testing centre operating here so we had to make sure that racing had no impact on their work."
While sports such as football required a period of fitness work before being able to resume, most racehorses were kept in training throughout lockdown.
"We also had to cater for many more horses at our meetings because we put on races from other courses who are not operating this summer, like Carlisle," he added.
And it was quality racing too.
The Brigadier Gerard Stakes, first run in 1953 to commemorate Her Majesty the Queen's Coronation, is normally staged at Sandown but the valuable Group race was transferred to Haydock Park.
Ten days later the winner Lord North stormed to victory in the Prince of Wales's Stakes at Royal Ascot.
Space Blues, a contender for horse of the year and a son of Dubawi, won the 2020 Spring Trophy title at Haydock Park on the same card.
And the four-year old colt has made fresh headlines since, with racing's rising star claiming the Lennox Stakes at Goodwood and his first career Group One success in France.
"That was wonderful to see, two class horses who had come to Haydock Park to begin their British Flat Turf campaign and then going on to win a further three major titles elsewhere," added White.
"It took an incredible team effort to get this over the line, but "I couldn't be prouder of my staff since Haydock Park was chosen as one of the racecourses to begin racing again behind closed doors."
He added: "It was a big pressure, but also a huge privilege to be the first sport back and I believe it brought a bit of cheer back to the country and increased racing's profile."
But the six-million-dollar question is when will crowds be allowed to attend race meetings again?
Earlier last month, The Stewards' Cup at Goodwood was scheduled to stage a pilot event for racegoers.
5,000 Goodwood members were due to attend the final day of the Glorious Goodwood meeting.
It was a key test for the racing industry who have pencilled in October 1 as a comeback date for the paying public.
However, a recent rise in coronavirus cases meant the Government postponed easing some restrictions and the event was put on ice.
"Racing has taken a lot of confidence from the measures put in place and we just have to keep inching forward towards the day when racing supporters can come back again," added White.
"Racing is such a beautiful spectacle: the horses, the fashion, the special sight and sound of the race-day experience, and that is what makes our sport special.
"It is a different experience now, and it is sad when a winning horse comes back to the enclosure and there's no cheers of celebration from a crowd.
"Hopefully we will see some racing fans back at Haydock Park this year, but we continue to take a phased and careful approach with behind closed doors racing."
Clerk of the course Kirkland Tellwright observed: "The most eerie aspect of race day is the virtual silence without the spectators.
"A racecourse is usually a noisy place, with bookmakers shouting the odds, the messages blaring over the tannoy system and the hullabaloo of race day.
"Now you can hear the jockeys shouting during a race and the guttural roar of anguish from a rider when he is beaten in a close finish.
"It is a different world but it is just so special that racing is back at Haydock Park again."
Image: PA Images