After more than 60 years of cheering on horses at Carlisle's biggest race day – former mayor Mary Styth notched a notable first of her own this year.
The long-serving former Carlisle City Councillor and her husband Jim are big racing fans and have attended every Carlisle Bell and Cumberland Plate meeting since the early 1950s.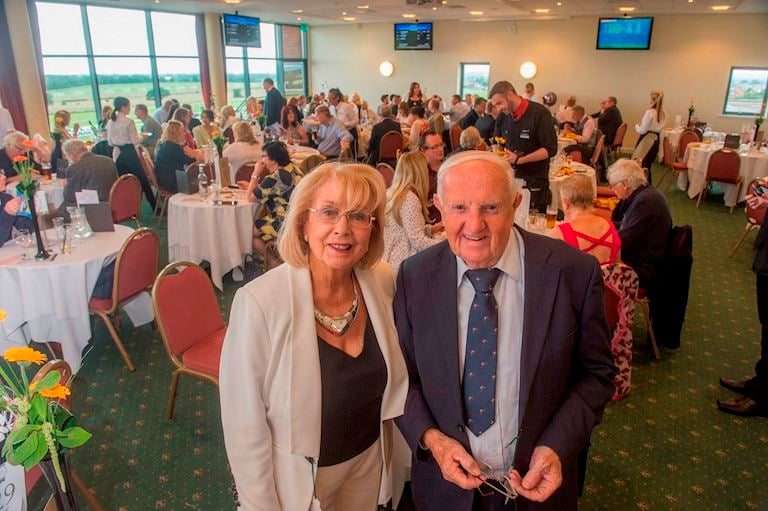 The racecourse – currently preparing for its next big day of racing and a live concert from pop sensation Jess Glynne on Saturday July 8 – is home to the oldest still contested horse race, the Carlisle Bell.
Mary says she and Jim have been at the big meet every year since marrying in 1953 – making a total of 63 runnings of the famous Bell race.
And it was only after all this time that Mary went away from last Wednesday's Bell and Plate day counting her winnings as she scooped four of the day's seven winners, including a Bell and Plate double backing Carnageo and Dance King.
Mary said: "I've won on horses in the past and sometimes come out even at the end of the day but I never remember winning before. Not that I'm a big gambler, I have my limit and I stick to it."
Mary, 83, and 87-year-old Jim took their seats in the course's Swifts Restaurant for this year's event.
She added: "We've always come, right back to the time when we were courting.
"I'd never been to the races but Jim lived at Currock and always went and I distinctly remember having my picture taken before that first time.
"In those days, the races were held over three days and it coincided with Carlisle holiday week so all the big factories were closed. We never went away for that week as the schools weren't off but we went to the Bell and Plate."
Despite enjoying her modest success with the bookies, Mary says it's the social occasion that gets them back to the Blackwell course each year.
She said: "I like the day out. It is such a social event, all the races they have and the other events like the concerts, but particularly the Bell.
"It's such a lovely occasion and we always look forward to it. In recent years we've booked in and had the meal and we've been treated so well."
Mary, who has lived in Morton with her retired phone engineer husband since 1957, has another connection to the racecourse beyond her love of the big flat racing day.
During her year as the city's first citizen spanning 2010/11 she was given a race day at the Blackwell course raising more than £20,000 towards her mayor's charity, the bulk of which went to helping set up Carlisle Youth Zone.
Mary, a Labour city councillor for Belle Vue for two spells, the second from 1994 to the end of her mayoral year, added: "People were so generous and over the year I raised £160,000 which went to a lot of different causes."
The next big event at Carlisle Racecourse is Saturday July 8 when a day of quality flat racing is followed by a performance from pop sensation Jess Glynne.
The racecourse's Amazing Monday on August 7 is Carlisle's most glamorous night out. There is a unique all female day of racing, followed by a 90-minute set from Radio 2 DJ and Glastonbury presenter Jo Whiley.