The home of the UK's only all-women jockeys race day has added to its own top female line-up.
On August 7, Carlisle Racecourse will host #AmazingMonday – the city's most glamourous sporting event when quality racing and the all-female card mix with Champagne bars and a special post-race DJ set from top radio personality Jo Whiley.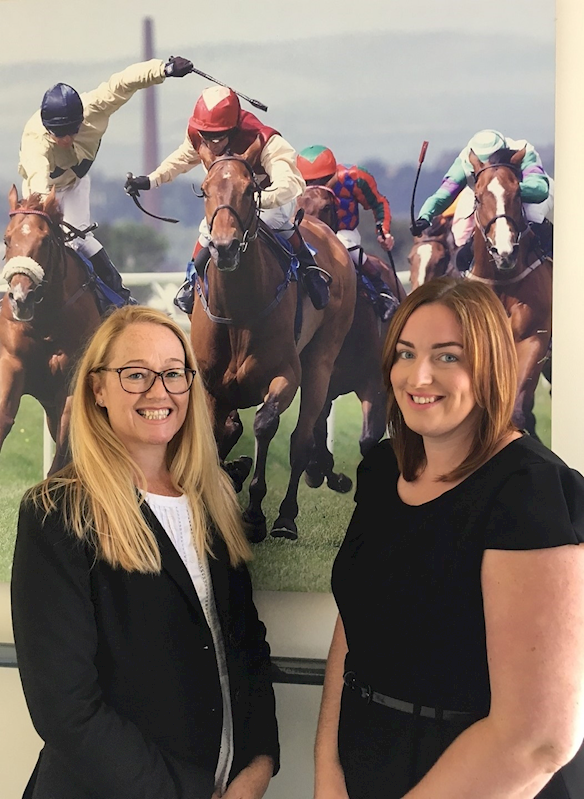 Away from the track, general manager Geraldine McKay has brought in two new Business Development Executives to drive the marketing of its extensive facilities to a wider audience.
Helen Mackie and Lianne Morrow have joined the team with a brief to expand further into the conferencing market, make the venue a first choice for weddings and Christmas party nights and build on its unique hospitality offers.
Both women have considerable experience in sales and marketing – and are loving being a part of the racecourse team.
Helen, 48, was previously an events manager with hotel chain Marriott, experience she is putting to good use in showing off the racecourse's varied conference facilities.
Helen said: "I come to work and on a daily basis it takes my breath away, the racecourse is immaculate and the staff take such pride in it.
"If you don't have a passion for what you do you won't be able to sell it. I'm really proud to be a part of it and to work for a company that really cares about putting its money back into racing is quite something."
Lianne, 28, has horse racing in her blood and is delighted her career which has taken in Hoopers department store, Smiths at Gretna Green Hotel and Stobart Biomass, has now led her to the racecourse.
Lianne said: "My mum and dad used to train horses – they had a couple of winners at Carlisle – and I've always loved horses, I still do and that was a big attraction to working here.
"I always tell people this is more than just a racecourse."
Lianne believes the key to winning new business for the racecourse is to get potential wedding parties, business owners and party organisers to see the facilities for themselves.
She added: "When you get them to come on a site visit, they fall in love with the place. It's great for photos and with the hospitality what we see is that people are very happy to mingle at a racing event and they're more relaxed."
The Jockey Club owned course can accommodate conferences both big and small hosting up to 600 delegates for formal and informal events. Last year it was the venue for a major nuclear industry conference organised by MP John Stevenson.
Geraldine McKay said: "Helen and Lianne are great assets for the racecourse as we continue to build our offer and push deeper into conferencing as well as making sure we have top quality wedding and hospitality packages.
"They've got great experience in sales and customer service and we are already seeing the benefits in the business."
Carlisle's top female line-up doesn't end there. It is currently also hosting Jockey Club trainee general manager Molly Dingwall for six months as part of her training.
Gates open on #AmazingMonday at Carlisle Racecourse at Opens 2.30pm on August 7. First race is 5.30pm, last race 8.30pm. To buy tickets call 0344 579 3002 or go online at carlisle.thejockeyclub.co.uk