Ladies Night at Carlisle Racecourse is one of Cumbria's most stylishly chic events of the year – but it's not just racegoers who will be looking their best on the big day. The course itself will look rather dashing and be in tip-top shape for Monday 6 August.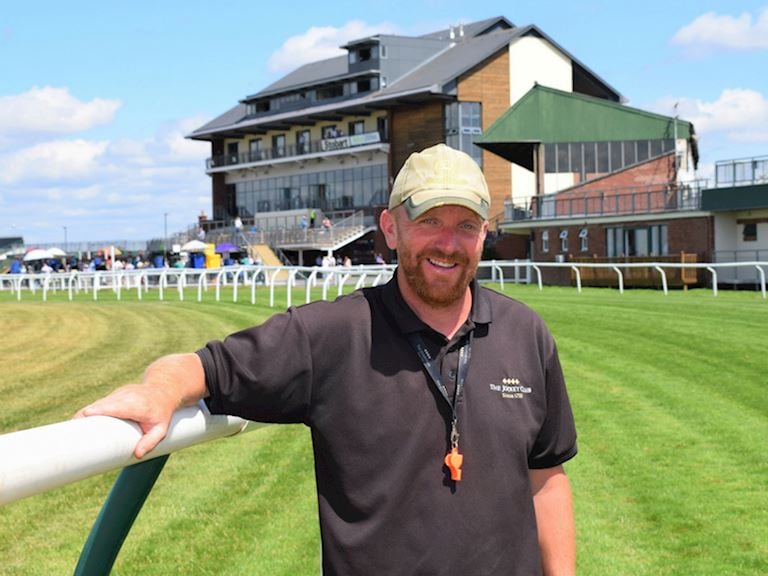 Carlisle's ground staff have worked tirelessly throughout this summer's heatwave to not only ensure racing goes ahead but that the famous course looks stunning.The man responsible for this is head groundsman, Thomas Wootten, who leads a dedicated team at the Durdar track.
For the past 31 years, Wootten has made sure Cumbria's premier racecourse is among the best tracks in the north. Proudly following in the footsteps of his father Tony, who was head groundsman at the Carlisle from 1987 to 2012, Thomas is now putting the final preparations in place for Ladies Night.
Thomas said: "It has been really challenging this summer due to the temperatures and the dry conditions, but the team have been brilliant, and our hard work is paying off.
"I would like to think we have the best looking course in the north of England, and we get some really nice comments from racegoers about how good the track looks.
"We are very proud of the work the team has put in. People have been telling me how amazed at how green the flat course is looking and that is down to the work we've put in."
Normally Thomas and his five-strong team would spend a large part of the summer cutting grass ready for racing. But, given the prolonged heatwave, watering has been the priority.
He explained: "Normally we spend a long time cutting grass but because it has been that hot nothing has grown that does not get watered.
"We've been watering the Flat course consistently every day – we've never watered it as much as we have had to this year.
"We only water the sections that are raced on. Obviously, we'd like to water the chase and jumps tracks to keep them looking green, but we just have not been able to do that as we've been trying to conserve as much water as possible.
"After each meeting, we've been moving the running rail to give horses fresh ground to run on. We move about seven furlongs of rail after each meeting. That means lads knocking the metal pins on the rails in with sledgehammers and that is really tough work in these conditions.
"Everyone has come together, our full-timers and casuals, to make sure racing goes ahead and the course looks it's best which I think it really does.
"It should look brilliant comes Ladies Night!"
Together with an all-female jockey race card Ladies Night will feature a not-to-be-missed post-racing 'Party In The Paddock' led by superstar Melanie C.