Jockey Club Racecourses is delighted to announce the appointment of Molly Dingwall as General Manager of Carlisle Racecourse.
Since joining the UK's leading racecourse group as a Regional Conference and Events Business Development Executive in November 2015, Molly has most recently been the Jockey Club's Group Trainee General Manager.
Molly, 27, succeeds Geraldine McKay as General Manager at Carlisle.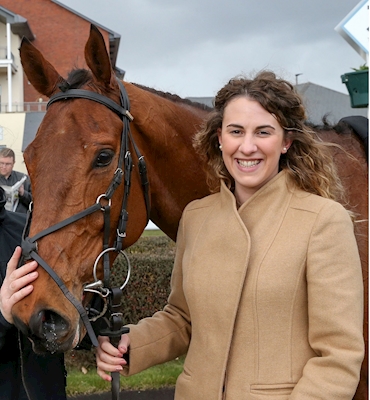 Molly said: "I absolutely adore Carlisle Racecourse, and this is a brilliant opportunity to join a fantastic team responsible for top-class racing and events that are the pride of Cumbria.
"I am exceptionally passionate about horse racing and its continued growth and success as the second largest spectator sport in the world.
"Through my roles at the Jockey Club I have been lucky enough to work at some of the most prestigious racecourses and festivals in the UK, gaining invaluable knowledge and experience.
"I fell in love with Carlisle when I spent four months here last year. I cannot wait to become part of the local community and to continue to develop this fantastic venue and promote the growth of horse racing in the North."
Set in the beautiful Cumbrian countryside – amid stunning backdrops of the Lake District and Scottish borders – Carlisle is one of 15 racecourses run by The Jockey Club, which stages events including The Cheltenham Festival, Randox Health Grand National and The Investec Derby.
Carlisle will host 24 race meetings in 2018 including the famed Carlisle Bell and Cumberland Plate meeting, on June 27, and Cumbria's premier jumps race – The Colin Parker Memorial Intermediate Chase (Listed) – on November 4.
As well as being an historic course for both flat and jumps racing, Carlisle Racecourse is also a popular venue for conferences, exhibitions, meetings, dinners, weddings and other private events.
In her new role Molly will report to John Baker, who as North West Regional Director of Jockey Club Racecourses, is responsible for Aintree, Haydock and Carlisle.
John said: "We are delighted Molly will lead our dedicated and talented team at Carlisle into an exciting new era for the course.
"Molly has a natural enthusiasm, exuberance and vast knowledge of our wonderful sport. Her commercial skills and engaging personality will be a great asset to both Carlisle Racecourse and The Jockey Club.
"Having had the pleasure myself to have held the position of General Manager at Carlisle Racecourse in the past I am sure Molly will enjoy and thrive in a role that offers great opportunities."
Racing returns to Carlisle Racecourse this Saturday (March 31) when the course hosts its annual Easter Weekend family fun meeting. As well as seven races there are a host of family-themed activities alongside the track. Gates open 11.40am, first race 1.40pm.