DAVID Pipe won the world's greatest steeplechase with Comply or Die, emulating his father Martin's success with Minnehoma fourteen years earlier.
Now Ramses De Teillee, a courageous runner-up in the William Hill Grand National Trial at Haydock Park, has got Pipe junior dreaming of fresh Aintree glory.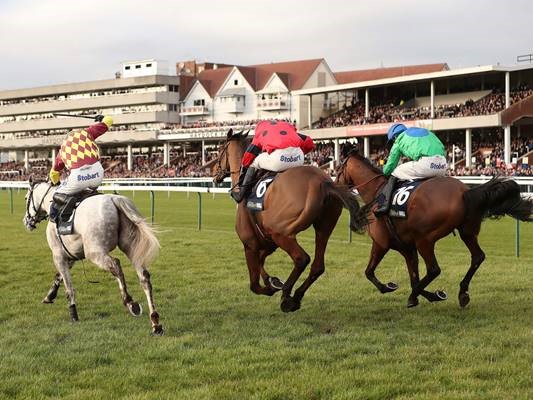 "Ramses De Teillee ran the race of his life at Haydock Park," said Pipe.
"We went to Haydock Park to see if he'd measure up to the extreme distance again over different ground after his second place in the Welsh National, but he jumped and travelled superbly well.
"The owner has always thought of Aintree next year, but we'll see.
"We've got a big decision to make."
Comply or Die, the 2008 champion, was owned by the late David Johnson, who would go on to run in a further three Nationals.
But it will always be his first taste of glory in the Grand National that will be remembered by Pipe.
"It feels like a long time ago – but it was such an incredible moment to see him cross the line first in the Grand National," said Pipe.
"If ever he was going to win a National it was that year.
"He just popped round and travelled well – you could have called him the winner from a long way out, but you don't want to be doing that.
"It was only when he got to the elbow I started to believe he was going to do it."
He added: "There are plenty of better trainers that have never won a Grand National.
"It was great to do it in my second season."
Pipe, a big supporter of Haydock Park, could also have 2017 Grand National Trial winner Vieux Lion Rouge on a return ticket to Merseyside on April 6 for a fourth crack at the Aintree showpiece.
Haydock Park's Dickon White, the regional director for Jockey Club Racecourses' North West, said: "For the racing industry to thrive we need to have young trainers like David Pipe, Ben Pauling and Dan Skelton to be successful so that they can bring their horses to Haydock Park.
"It was difficult for David to follow in his father's footsteps as he had enjoyed such incredible success.
"Martin (Pipe senior) re-invented jumps racing, the way he trained and ran his horses using sports science and a lot of trainers copied his style.
"David had a brilliant start to his career, winning the Grand National, but by his own admission he has had a couple of lean years.
"However, this season he has enjoyed a better time, got more horses in and has some nice ammunition for the Grand National meeting."
Haydock Park will stage their popular Cheltenham Festival preview on Monday (MARCH 4)
The panel includes Carl Llewellyn, assistant trainer to Nigel Twiston-Davies, and bookmaker Gary Wiltshire.
Tickets £10 from info@northernracingclub.com, 07858 034694.
Haydock Park's next fixture is on Wednesday, March 20. 0344 579 3006, haydock.thejockeyclub.co.uk