RED Rum is still Aintree's greatest hero, but who would bet against horse in a million Tiger Roll matching Rummies three Grand National wins.
Tiger Roll's brilliant Grand National victory saw him become the first horse since Red Rum to win back to back National crowns.
Race legend Red Rum claimed a record third win in 1977 but no runner in the race's 180-year history has won three in a row.
"Nobody thought that Red Rum's incredible Grand National win sequence would ever be challenged, but Tiger Roll is a remarkable horse and he might be able do it," said John Burnes, Haydock Park's special guest at their last meeting.
Mr Burnes, who lives at Lowton, is the cousin of seven times Irish champion jockey Mick Kinane, one of Ireland's most accomplished riders.
Kinane rode Sea the Stars to Derby success at Epsom in 2009 - and after a spectacular l'Arc de Triomphe victory in Paris on the champion thoroughbred, he quit the saddle.
But it proved to be a dream come true for his 71-year-old cousin, who is registered partially blind, when he was invited to Haydock Park.
Mr Burnes was also asked to judge the best turned out horse and present the prizes.
"It was my first visit to Haydock Park since the 1970s, and the track has changed so much since then – it is just incredible now," he said.
"The last time I came here was to see Red Rum run at Haydock Park after he'd won three Grand Nationals and had become a national hero.
"It was a packed crowd and suddenly the race commentator said: 'Red Rum has fallen at the third fence.
"There was a big gasp because Red Rum was the superstar horse, like Tiger Roll is today."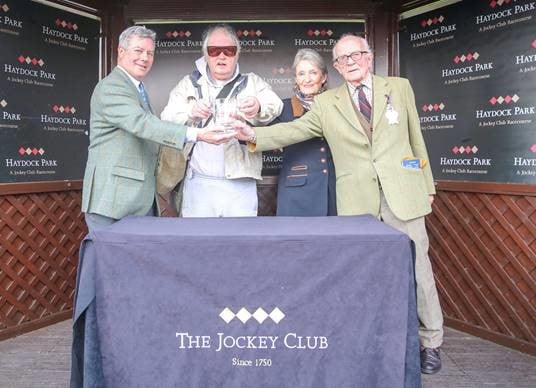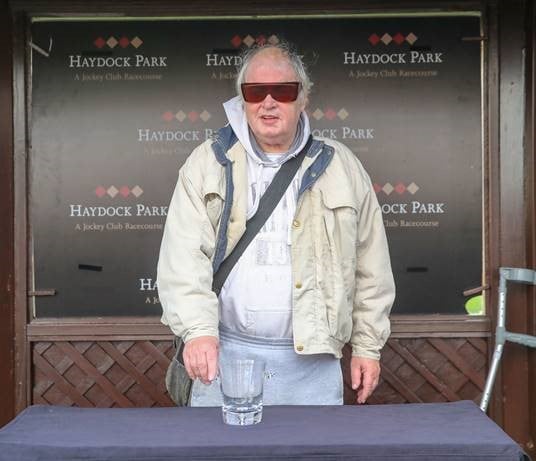 Mr Burnes was recently housebound for several months after breaking his leg, and he added: "Wigan Council's Adult Social Services provide me with a Carer, and through a scheme called The Deal they asked me what I'd like most to do for a day out and I chose Haydock Park.
"It was an incredible gesture by Wigan Social Services and my local track and Haydock Park rolled out the red carpet for me.
"I'm not able to get out so much these days, so I can't thank them enough for a brilliant day."
Haydock Park returns to action next Saturday (April 20) when they stage their Easter Family Day.
Tickets from £13 and children go free.
0344 579 3006.