A Haydock Park racing fan was singing in the rain after winning £50,000 for a £2 stake.
The supermarket worker from Cumbria landed a bumper £53,299.20 on the Tote placepot.
She successfully chose the first and second horses in six races at Saturday's Flat season opener at Haydock Park.
The proud winner said: "I always look at names that mean something to me in my life at the time.
"The winner of the second race was Safe Voyage.
"I chose that because my daughter's in-laws are going on a cruise tomorrow.
"I go to Haydock Park with my husband and father and we always said that we would split it three ways if we ever won the placepot so that's what we are going to do."
She added: "The funny thing is we nearly didn't go racing because the weather forecast was for very heavy rain and it poured down all day.
"Although I knew that my horse picks had come in, I thought it would be no more than £30 or £40.
"Anyway, we were about to leave Haydock Park when my husband said we should check my ticket.
"We went to the Tote cashier, who was lovely, but they were still waiting for the official result of the sixth race.
"She called us over and at first glance it looked like £5,000 – but then we saw it was £53,000.
"We were absolutely thrilled, and I think the cashiers were as pleased as us.
"They got me a stool to sit on, they were so kind and thoughtful."
A placepot bet offers race-goers the chance to win large pay-outs from tiny stakes if they correctly select placed horses in the first six races from a race-card.
"I love the placepot, and I put £2 on every time I go to Haydock Park," she added.
"My only other bet is £1 each way on every race.
"We came to Haydock Park on Easter Saturday when it was lovely and warm, and my husband had more winners than me.
"But I've told him that I'm the racing expert now."
Other horses in her selections included Make My Day, Pour Me A Drink, Ouzo, Thanks Be, I Am Magical and Search for Light.
"We travel a long way to Haydock Park, and it is a wonderful, friendly track," she added.
"It is always clean and tidy, with lovely places to wander about, and I will never forget my special day."
Nigel Roddis, Managing Director of Britbet, said: "We've had some fantastic stories with the Placepot this year.
"A racegoer at the Cheltenham festival won £182,000 from a £2 bet and now this lady at Haydock Park follows up, winning £50,000.
"Both of them were enjoying a regular day out at the races but went home with their lives transformed."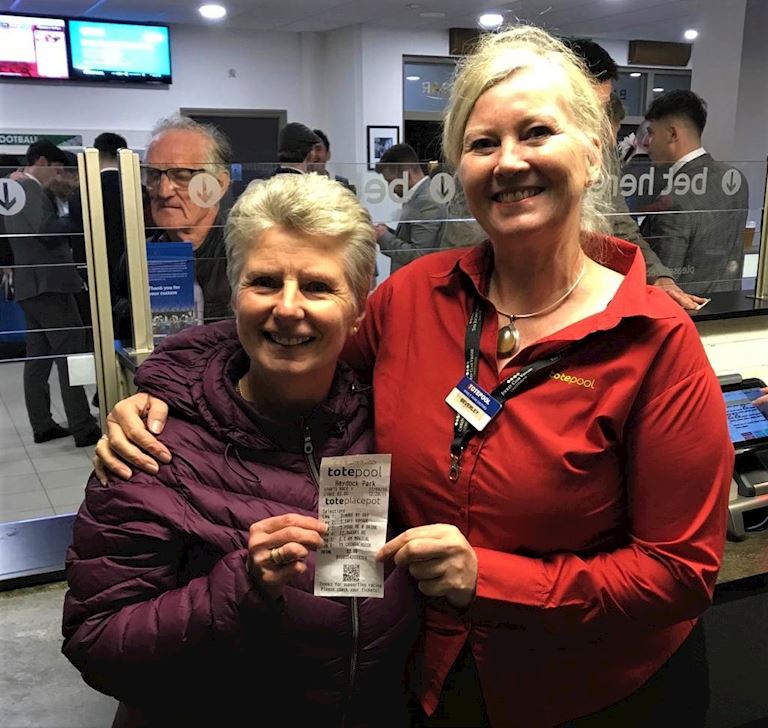 Haydock Park returns to action next Saturday May 11 with the Pertemps Swinton Hurdle Handicap, featuring jumps and flat horse action.
Tickets, 0344 579 3006, thejockeyclub.co.uk/haydock