Haydock Park will be rolling out the big guns on and off the track this Saturday when we support the British Armed Forces on Armstrong Group Temple Stakes Day.
And the Royal Logistics Corps Silver Stars Parachute team will be dropping in between the first and second races to add extra glitz and glamour to one of the most popular days of the Flat Turf season at Haydock Park.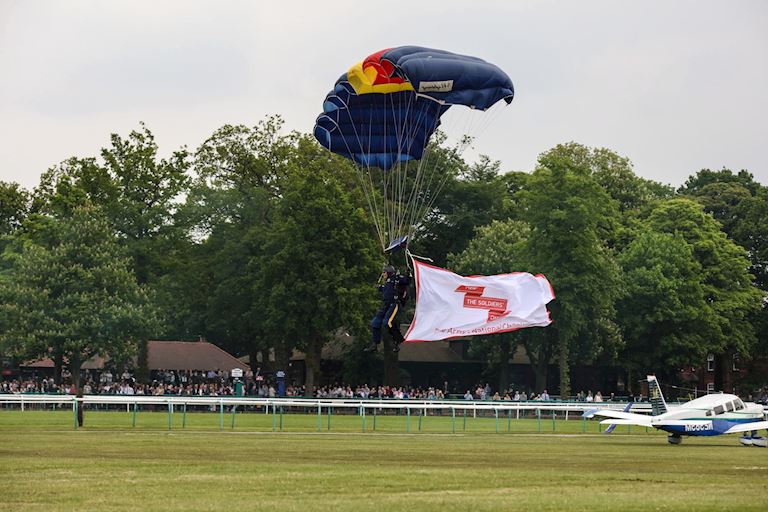 "It is the fourth year Haydock Park have supported the National Charity of the British Army and we are very grateful to them - it is always a superb day," said Colonel Philip Naylor, OBE, North-West regional director for The ABF Charity.
"We always receive a warm welcome, and this one will be our biggest display yet."
One of the major attractions will be the Army's military village, with heavy artillery and military transport on display. And three military bands: The Lancashire Artillery Band, RAF Cadet Band and the Pipes and Drums of the Lancashire Artillery will be playing a set of stirring tunes throughout the day.
And for the kids, there will be an inflatable Hercules Aircraft to bounce about on, a treasure hunt, and plenty of other exciting attractions.
The parachute team will be flying in from Barton Aerodrome, and Colonel Naylor added: "It is always a spectacular sight, seeing one of the best parachute display teams in the country, descending on to the track.
"And watch out for the parachute team unfurling the flags of Temple Stakes Day sponsor Armstrong Group, The Jockey Club and the ABF Soldiers Charity."
He added: "I would like to say a big thank-you to the Armstrong Group, who are sponsoring the day, Sky Dive North West who have loaned a plane free to the parachute team and our superb hosts Haydock Park."
And if you would like to stay for a little longer after racing, The Haydock Park Brass Band will be here to play an upbeat set of pop and proms hits for you to enjoy into the early evening.
Since 1944, the national charity of the British Army has given support to soldiers and veterans from the British Army and their families, when they are in need.
Last year they supported the British Army family in 62 countries.