UP and coming Northern trainer Oliver Greenall will be in charge of Haydock Park's Racing Club National Hunt horse next winter.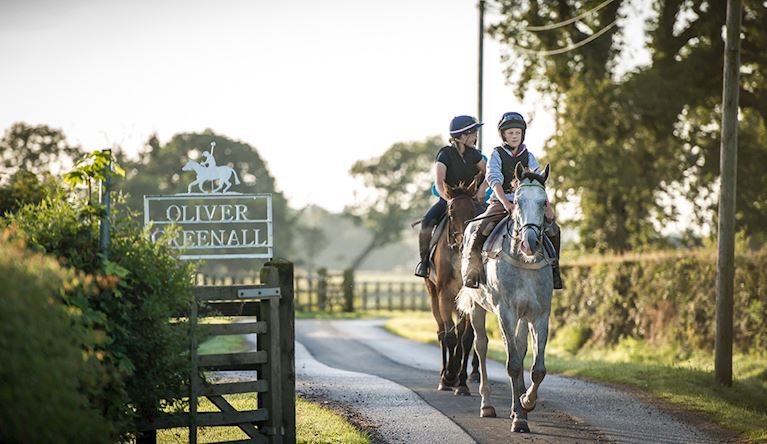 The four-year-old gelding is still without a name but Greenall, the son of Haydock Park chairman Lord Daresbury, is hopeful that his new charge can make significant strides when the jumps season begins in earnest.
"I got him from a trainer I really trust, and he has come here with a good report," said Greenall.
"He has a fine attitude, jumps very well, works hard and is a kind and honest horse.
"We hope to get him out on the track in either October or November."
He added: "It is lovely to be training for the Haydock Park Racing Club because that was my local track when I lived near Warrington."
Greenall is certainly impressing after only three years in the training ranks and his stable numbers at Stockton Hall are building steadily.
The former National Point to Point champion jockey hauled in 20 winners during the 2018-19 campaign, Greenall's best ever tally.
Greenall, who also trains on the flat at his Malpas HQ, added: "I couldn't be happier with how last season went.
"We improved the quality of the horses, enjoyed more winners, and the horses were consistent throughout the season."
Haydock Park's Racing Club manager Victoria Bell said: "Oliver is a superb young trainer and we can't wait to see our new horse in action later in the year.
"The Haydock Park Racing Club has a vibrant atmosphere and the members say it is such a thrill to go behind the scenes at Haydock Park and other tracks that we have visited."
One member said: "It gives a great insight into racing and is brilliant value for money.
"I've visited a lot of new places and made many new friends."
The Racing Club's members lounge is ideally situated close to the winners' enclosure at Haydock Park.
And all members are allowed free entry into Haydock Park, Aintree and Carlisle for many races.
Other Haydock Park racing privileges will include stable tours - and next season there will be a special behind the scenes tour of Aintree ahead of the 2020 Grand National meeting.
The membership runs from September 30, 2019-October 1, 2020.
The membership fee is £1,400.
Further info from Victoria.Bell@thejockeyclub.co.uk, 07971 556 348 or www.haydock.thejockeyclub.co.uk/racing club.
It is a busy week at Haydock Park ahead of next Saturday's Bet 365 Old Newton Cup (SATURDAY, JULY 6).
There is also racing on Thursday, Glass Times Raceday, and an evening meeting on Friday, July 5, The Tropicana Race Evening.