The Old Newton Cup is Haydock Park's mid-summer jewel in the crown - but it was sprinkled with gold dust for trainer John Holt.
Holt's stable star Number Theory ran countrywide on twenty-four occasions, from 2010 to 2013, but only tasted success at Haydock Park.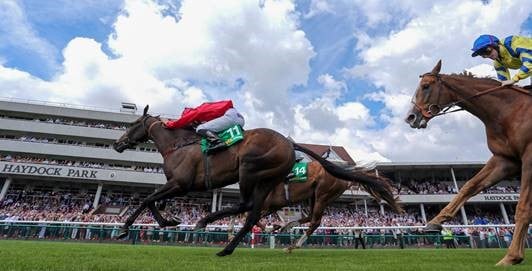 His final victory was the 2012 Old Newton Cup and that handed Holt the finest moment of his training career.
Holt said: "It was quite remarkable, he was successful on four occasions at Haydock Park, the first in 2011.
"And that sequence included a hat-trick of wins in 6 weeks (May 24, 2012 to July 7, 2012), including, of course, the Old Newton Cup.
"To win one of the oldest races in England is something I'll always cherish."
Holt added: "The main reason we went to Haydock Park was that the owner lived nearby, and his grandchildren wanted to see the horse run there.
"Number Theory loved it at Haydock, that big galloping track and a long straight to the finish, he just clicked with the track.
"Number Theory lives a bit of a quieter life in retirement now at home with us in Leicestershire.
"It's funny, we've got a nice unraced two-year-old called Halling Bay, who is closely related to Number Theory, so hopefully we'll take him to Haydock one day."
The Old Newton Cup, run over a distance of one mile three furlongs, has been won by legendary jockeys Willie Carson, Frankie Dettori, Steve Cauthen and the late Pat Eddery.
Gainsborough, ridden by Australian jockey Brownie Carslake, became the first dual winner of the race in 1932, having previously won it two years earlier.
In recent years the race has begun to acquire an international flavour.
The 2003 winner Collier Hill ran in Sweden, Germany and Dubai, before claiming major races in Canada and Hong Kong.
Alkaseed (2004) went on to win the Japan Cup in a record time – and the 2017 champion Dylan Mouth, won several good quality races in Italy before his Haydock victory.
"The Old Newton Cup is a race packed with tradition and history and there's always a great story line surrounding the race," said Haydock Park's Regional Director, North West, Dickon White.
"One of my favourites winners was John Holt with Number Theory."
He added: "Another was Dangerous Midge for Brian Meehan in 2010.
"The trainer didn't bring loads of horses to Haydock Park and although Dangerous Midge was unfancied for the race he won so impressively."
The Bet365 Newton Cup, Saturday, July 6.
Don't forget we are racing today (FRIDAY, JULY 5) with the Tropicana Race fixture this evening.