Kingscote clocked up his 105th success at Haydock Park on the Sir Michael Stoute trained favourite, surpassing Kevin Darley's long-standing record of wins at Haydock Park.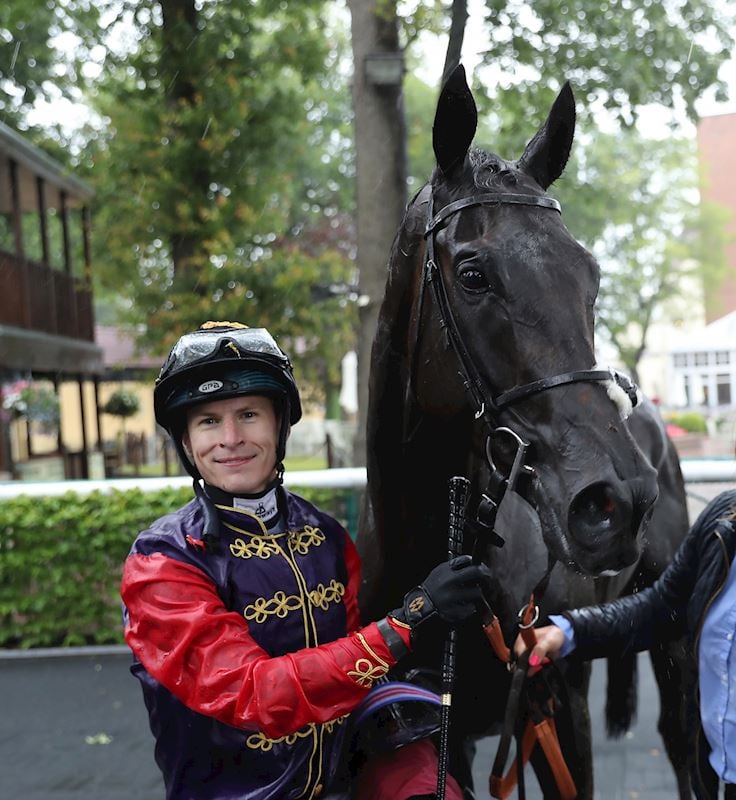 "It was my 33rd birthday, so it was a nice way to celebrate," said Kingscote, who also enjoyed a first success in Her Majesty's famous colours.
"I'd been counting down to Kevin Darley's record and to be the winning-most jockey at a particular track is something I'm proud of.
"It is always a pleasure to ride at Haydock Park, it is a very fair track - one of the best.
"A couple of seasons ago I rode a four timer at Haydock Park (four winners on the same card) and I've not done that at any other course."
Kingscote, who enjoyed a memorable classic success when he rode Michael Owen's Brown Panther to victory in the 2014 Irish St Leger, was presented with a silver candlestick by Haydock Park's clerk of the course Kirkland Tellwright to mark his riding feat.
"I thought it was a lovely gesture by the management at Haydock – you remember things like that in your career.
"They always treat you well at Haydock Park and I'm very lucky that Mr Dascombe (trainer) provides me with some good horses to ride."
The unstoppable Haydock Park double act of Kingscote and Tom Dascombe clocked up 39 winners between them at the track in 2017.
And last year Kingscote rode 16 winners from 104 rides.
Dascombe said: "It is a fantastic achievement.
"We've been coming to Haydock Park to run horses for 12 years or so and every year Richard has been leading jockey at Haydock Park.
"He knows the track better than anyone else and rides with supreme confidence."
Meantime, veteran Gordon Lord Byron, the winner of the 2013 Sprint Cup at Haydock Park, made his 100th career start last weekend.
Tom Hogan's grand old servant, now 11, showed he retains plenty of ability and enthusiasm by staying on resolutely for fourth place in the Minstrel Stakes at the Curragh.
Hogan said: "He's 100 per cent.
"He'll probably go to the Curragh for the Phoenix Sprint – and he might go to Haydock Park for a seven-furlong conditions race.
"He loves it there."
Tickets are on sale for Haydock Park's three-day meeting, August 8,9 and 10th, Rose of Lancaster Stakes Ladies Day.