Famously St Patrick's Thursday
DAY THREE OF THE CHELTENHAM FESTIVAL
Day Three at The Festival™ is when we celebrate all things Irish, with the Ryanair Chase and the Paddy Power Stayers' Hurdle headlining the action.
Off the track, we will have plenty of entertainment and live music:
- Murphy's Marbles will be playing in the Best Mate Enclosure in between races and then they will be playing in The Centaur after the last race.
- Lucky 15's will be playing throughout the day in The Village
- The Hipcats will be roaming the club enclosure throughout the day playing Jazz music
- On entrances, we will have Taylor & The Masons on the Centaur Balcony and The Brimstones on the North entrance.
Please note: We are a cashless venue. On-course betting facilities will take cash and there are cash machines on site.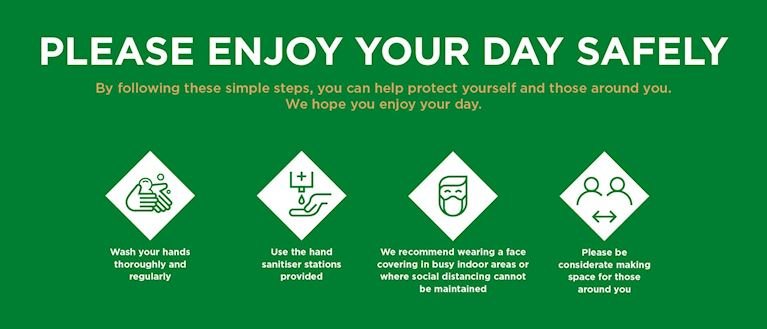 COVID-19 GUIDELINES
All racegoers are recommended to observe the following measures:
Wear face coverings in enclosed and crowded areas – there will be additional facemasks available on the entrance to the racecourse but we recommend you bring your own.
Wash hands regularly – there will also be hand sanitising stations around the racecourse on the day and we recommend you use them frequently.
Observe social distancing where practicable and enjoy the vast amounts of space around the racecourse and avoid congregating in busy areas.
Be Covid-19 double vaccinated and any booster when offered, depending on personal circumstances, or undertake a Lateral Flow Test 48 hours prior to the raceday to identify positive cases.
If you feel you may be experiencing any of the recognised symptoms of Covid-19, please put on a face covering and speak to a member of staff in a well-ventilated area.
It is best to travel home if it is safe to do so. Please do not attend if you are feeling unwell or are self-isolating.
Thank you so much for your continued support and co-operation. We hope you have a wonderful day with us.
As well as the extraordinary action out on track, there's plenty to look forward to off it as well with the Guinness Village and The Orchard™ offering live entertainment throughout the day. There's even a chance to treat yourself to an extra gift in our Shopping Village.
That's not forgetting our excellent range of food and drink options, which are available across the course.
As the action moved to the New Course on Day Three of The Festival™ supporting WellChild 2021, there was yet more drama and some scintillating front-running performances.
Brilliant Rachael Blackmore landed her fourth Grade One race of the week, Willie Mullins proved his team are just as formidable as we thought they would be and there was a big upset in the first race.
Tickets
100% Money Back Guarantee
Attend with total peace of mind that your safety is our priority
Find Tickets
Hospitality
100% Money Back Guarantee
Attend with total peace of mind that your safety is our priority
Find Tickets